Globe Life Field
In 2020, the Texas Rangers unveiled Globe Life Field. The ballpark features eight LED displays, a fully-integrated 1,450 LCD IPTV (Internet Protocol Television) system, and Daktronics powerful Show Control System. All but one LED board is HDR-capable bringing better image quality to the content shown.
MLB Display Installations
From street to seat, Daktronics creates the ultimate fan experience that people cannot get from watching the game from home and a unique environment where fans can catch the action from every seat in the stadium.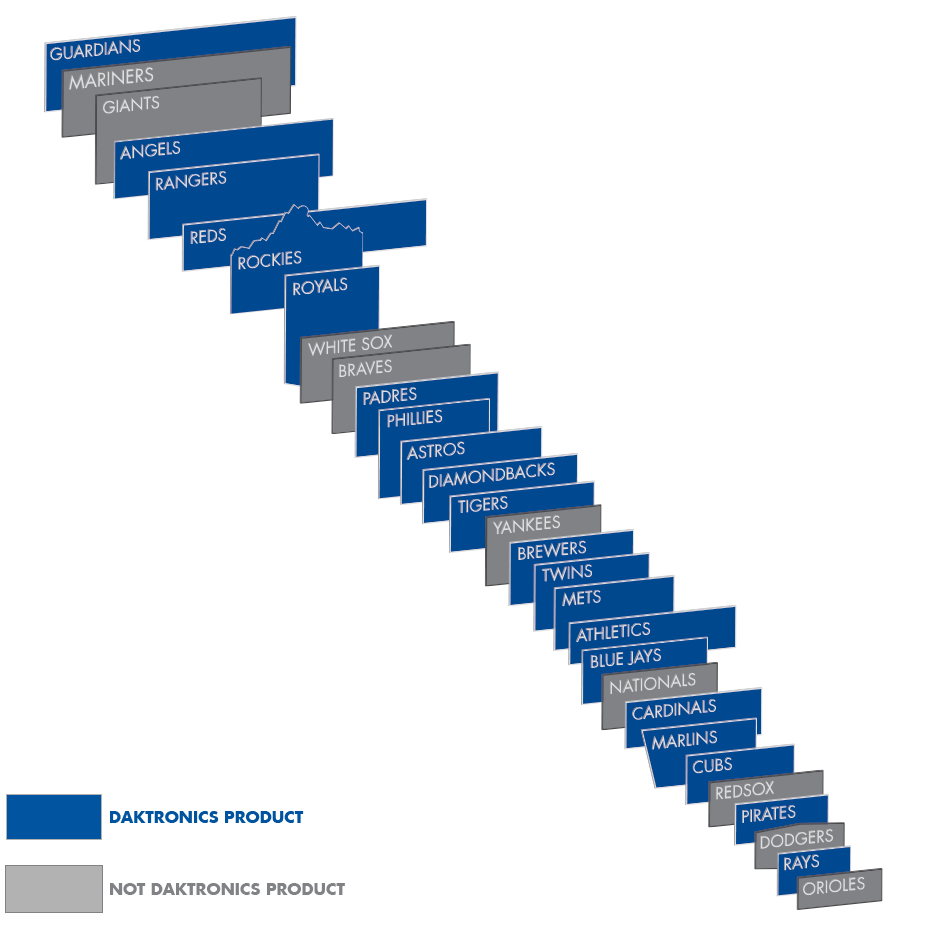 22

of 30
MLB Facilities have Daktronics Large LED Video Display Super Systems
Find out how you can create an exciting fan experience.
We can help you improve the fan experience at your stadium from the street to the seat. You can customize your stadium using displays to create the ultimate fan experience, including:
Digital billboards along the transit
Parking information displays when reaching the venue
Marquee and ticket window displays outside of the stadium
Concession displays when entering the concourse
Auxiliary and fascia ribbon displays on the way to their seats
Main video displays to catch all of the action
From new construction to renovation projects, we can help you design an integrated system for your stadium, then manufacture and build your super system.
With crisp detail and vibrant colors, Narrow Pixel Pitch (NPP) LED displays are used as interior design elements to create luxurious space to feature digital art and advertising.
Daktronics Show Control is the most powerful, flexible, and proven live event control system in the industry backed by Daktronics unmatched service capability.
Get the Latest News in Your Inbox
Curious if you're missing an opportunity at your facility? Sign up for the Daktronics Major League Sports newsletter to help keep you, your organization and your facility informed on the latest trends in audio-visual solutions. Find out what's new, who's doing what and where, and learn about innovative trends in major league sports facilities around the big leagues.