Outdoor Sports Video Displays
Daktronics has firmly established itself as the world's leading designer and manufacturer of large-screen LED video displays. A commitment to product evolution, combined with manufacturing technology developed over decades of research, ensures our customers have the industry's most advanced video screens.
From the Rec Field to the Big Leagues
Get the most out of your system and create excitement at every sport.


Find the right solution for you:
Find the Perfect Fit for Your Stadium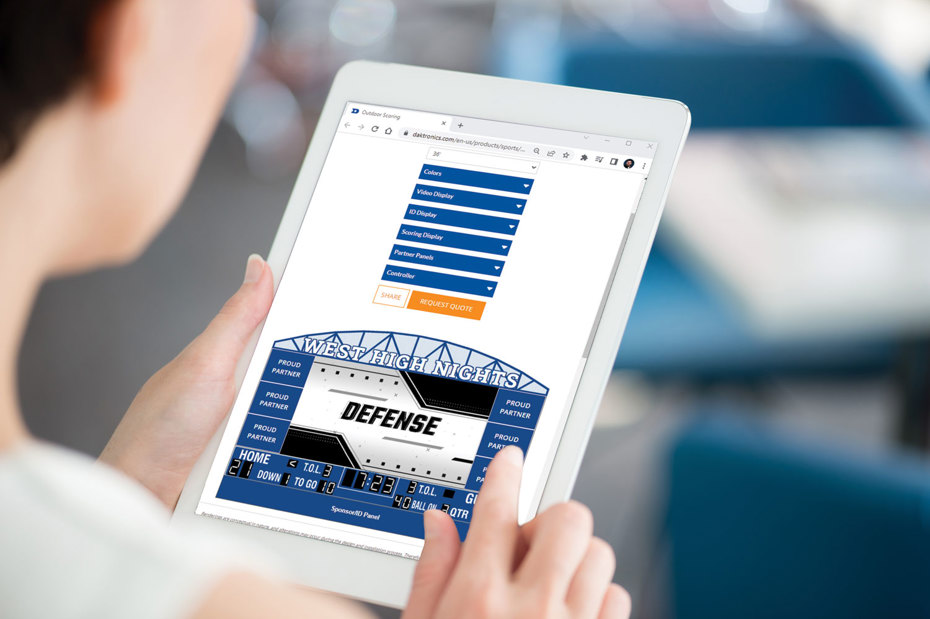 Browse our most popular scoring systems, choose the one that fits your stadium, and customize the design with your school name and colors.
Choose a sport to get started:
What You Get With Daktronics
Quality Control
Your display is built to last with the best components and assembled by us, the manufacturer. Having control over the process from product selection to installation ensures you get the best product for durability, performance and maximum visual impact.
Maximum Impact
We don't stop with manufacturing. Get the most impact from your equipment thanks to our professional services teams that work with you to create engaging content, help you maximize sponsor revenue, and make the a memorable game day experience.
Long-Term Commitment
We are your long-term partner. Whether your system is standard or a never-been-done-before project, we are committed to getting you the best for your needs. We focus on all the details to ensure everything runs smoothly from installation to the most important moments on game day.
Every Moment Matters
Operating your system doesn't have to be complicated. Enhance the fan experience without complex production workflows with Show Control as the control hub for your entire system. Our versatile and user-friendly interface makes creating big moments with your system as easy as the click of a button.