Experience the Daktronics
DIFFERENCE
Daktronics Ireland has been providing solutions for the transportation industry around the globe for over 40 years. We are the world leader in producing LED displays with over 2,700 employees worldwide and installs in more than 120 countries. We continually invest in future technology and modify our products to best serve our customers' communication needs.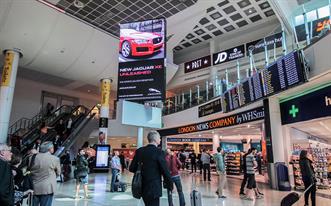 Flight information display systems, advertising, way finding, drop off, security, parking, directories, & entertainment.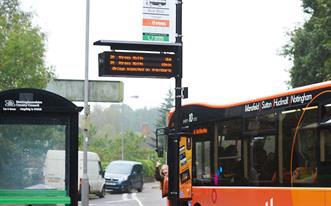 Scheduling systems, advertising, platform notifications, and more for bus and rail systems.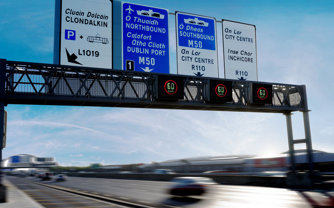 Leading the way in intelligent motorways, inter-urban, urban, bridges, tunnels, tollways and variable speed limits.

Daktronics Ireland
Whether it's station departure times, roadway management or changing travel information, every sign along the way serves an important purpose and should help ease the stressful minds of your travelers.
That's why at Daktronics we're dedicated to manufacturing dynamic display solutions that provide information to both traffic managers and the public which directs and enables intelligent decision making. Our goal is to make the travel experience an effortless one by offering displays that keep the passengers informed at all times. From concept to installation and support thereafter, we take pride in working with you to deliver messaging that not only compliments your location's environment but also integrates into your proven software systems.
We thoroughly understand the voice of the customer and our goal is to provide the best fit for each individual need in the transportation industry.
Public Transport - Rail & Bus
Guide passengers through the station, designate boarding locations and announce arrivals and departures. These displays reinforce audio announcements while withstanding brake dust, vandalism and harsh weather on rail platforms and bus terminals.
These durable displays feature IP65 sealed cabinets and connect with third-party software to provide an intelligent solution for a demanding environment.
We offer a wide range of electronic information displays to provide clear and up to date passenger information, all of which can be tailor made to satisfy individual requirements. With over 14,000 railway displays and 15,000 Bus/Tram displays supplied worldwide, Daktronics is a specialist in displays for real time passenger information (RTPI) and customer information systems (CIS) for bus and rail networks. Our displays help people enjoy their travel experience by providing the security of being well informed.
View the Public Transport Catalog for Rail & Bus Stations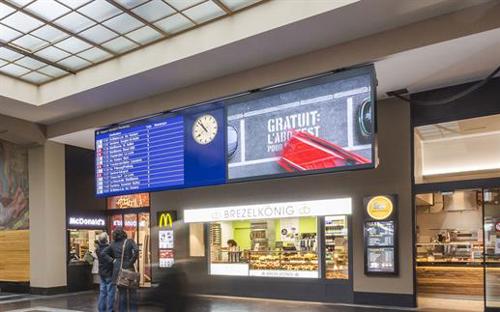 Airport Solutions
LED technology can ease travelers' minds by making their visit seamless. Reliable and rugged digital LED displays guide travelers as they arrive, depart and everything in between. Immerse travelers in an unforgettable experience with eye-catching digital display designs and content, creating a relaxed environment. Entice their interests with third-party advertisements, all while increasing ROI and non-aeronautical revenue.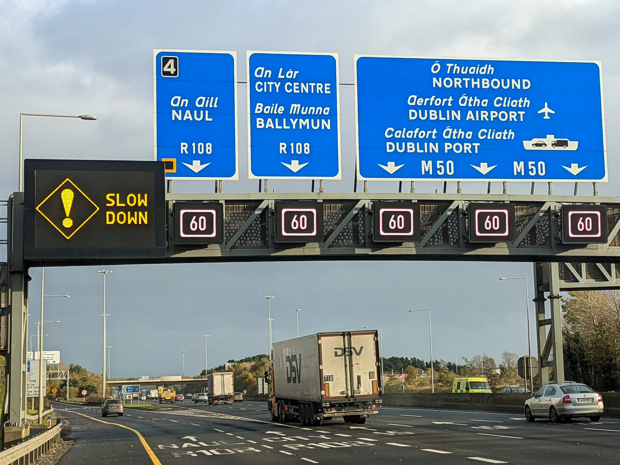 Convey clear, effective messages to high-speed traffic with variable message signs (VMS) from Daktronics. Available in monochrome or full-color models, these full-matrix VMS can show symbols and text to increase comprehension in very short viewing times.
Daktronics' range of electronic variable message signs, driver information signs and Dynamic Route Information Panels (DRIPs) can help to make road and motorway networks run more smoothly by providing clear and reliable real time traffic and travel information.
VMS displays are a key element of Intelligent Transportation Systems (ITS). Depending on the traffic situation, the VMS displays can be programmed to inform, warn, and guide the motorist on motorways. Daktronics Variable Message Signs are certified to comply with the requirements of the European EN12966 standard and provide brilliant legibility, efficient use of energy and an excellent luminance ratio. VMS assist with smooth traffic flow and reduce and avoid road congestion.
View the Intelligent Transportation Systems Catalog for Traffic Applications
Committed to Customer Success Since 1968
Technical innovation goes beyond building LED signs; it's how a company works with its customers to solve their everyday challenges.
Contact Us
Daktronics Ireland Co. Limited
Deerpark Industrial Estate
Ennistymon, Co. Clare
V95 X6WV
Ireland
Tel: +353 (0) 65 7072 600
Fax: +353 (0) 65 7071 311
General Sales Email: salesdd@daktronics.com
Start Your Consultation
Fill out the form below for a free consultation with one of our solutions experts.