Business & Community
Creative Services
Professional LED Sign Content Gets Results
A digital display is a powerful advertising tool for your organization. Use it to connect to your community and your customers with content that gets their interest. People are hard-wired to notice images and movement. Using this in your display content will help generate a response from them. Daktronics understands that display owners are busy and managing their content is not their top priority. That is why we provide content support for our customers. We want you to get maximum results for your LED sign with minimum effort.
Content to Fit Your Needs
Content Creation Guides
Guide for LED
This guide will teach you how to successfully design content for your display. We'll break down the entire content process, describing how to communicate your message more effectively through good design principles.
Guide For LCD
Use this guide to help you understand the best practices when creating content for LCD displays. From design principles to branding to operating our software, we will walk you through the whole process.
Digital Campaign Best Practices Guide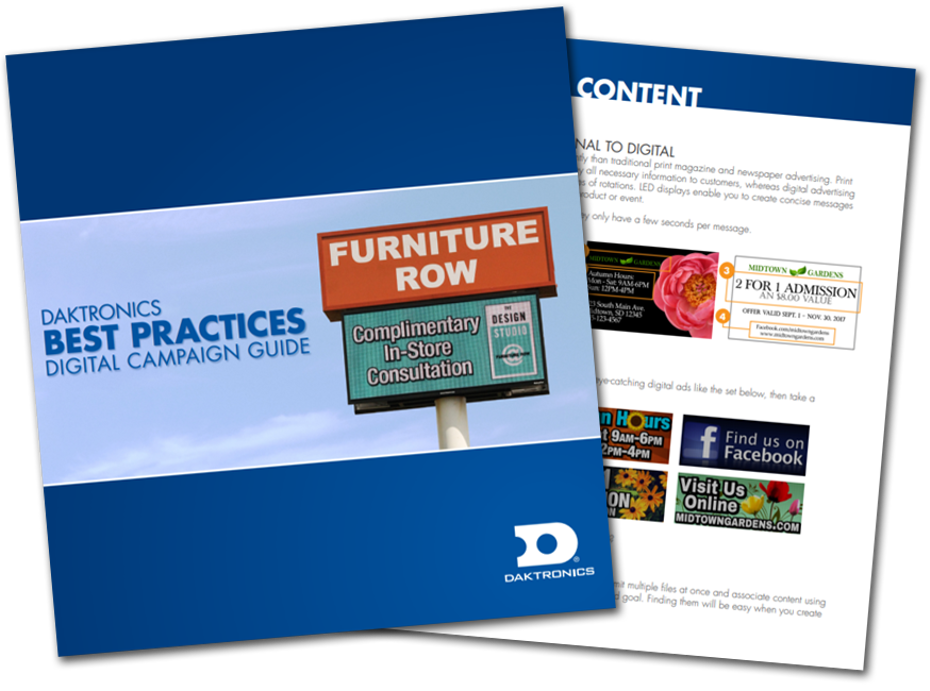 To help you develop a digital advertising campaign for your LED display, we created a guide with tips on creating the best-possible content. We'll focus on establishing your goals, planning the campaign, and creating content to build a long-term advertising strategy.
Need help with your order? We got it covered.