Digit & Petroleum Price Displays
Experience the convenience.
In today's ever shifting economy where gasoline prices seem to fluctuate more often than the
temperature outside, having a dependable, easy-to-change LED digit or price display has
become the ideal advertising solution for many areas of business.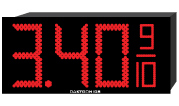 Price Displays designed specifically for the petroleum market
Available in Red, Green, or Amber
Allows users to make immediate changes to fluctuating gas prices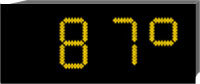 Four digit time displays
Available in Red or Amber
Provides a public service
Makes any facility that uses them a community landmark
Want to learn more? We're here to help.
Let our experts answer questions about the benefits of products customized for you.