Fuelight Petroleum Price Displays
Daktronics comprehensive line of FuelightTM gas price displays are specifically designed for the petroleum industry with high-contrast, full-height, broad-stroke digits that provide clear and highly legible fuel prices. The displays feature energy-efficient LED technology with outstanding visibility and impressive viewing angles.
Replace your changeable copy board with a FuelightTM price display. Travelers can see the highly visible LED digits from a long distance, and you can instantly update fuel prices with the FuelinkTM controller. Our LED gas price displays interface with several Point of Sale (POS) systems making updates easier. With Fuelight price displays, you have the option of updating display and fuel pump prices from a single location.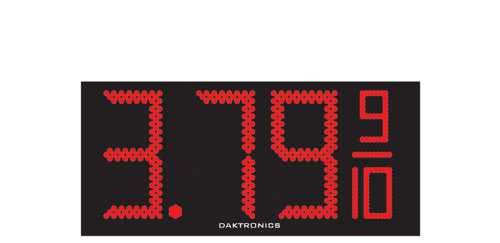 Drop-in design with full-height digits
Fully sealed components
Highly visible, programmable font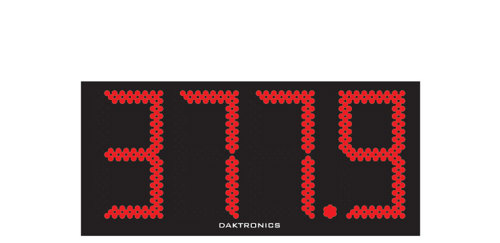 Specifically for international customers
Fully sealed components
Drop-in display design
---
Add-on option available for FL-3000 and FL-4500 displays.
Advertise incentives for customers to use cash or debit payments by adding a cash/credit display to your signage. Your business benefits by reducing your credit card fees.
This product allows you to advertise different prices for different types of fuel payment.
Three standard messages available: "Cash," "Credit" and "Debit"
Customization is available with support of up to three different price states
Available in red or green LEDs
Convenience stores now have the ability to easily promote fuel in their window using the FLW-3000 LED digit display. Designed for a street-facing window, the product shows up to four fuel grades and prices.
Window-digit design with 5" digits
Shows up to four fuel prices
Operates as a simple, stand-alone display or integrates into POS system
Looking for more information about price displays? Check out our petroleum resources for white papers, literature and manuals to learn more about LED display benefits.
Schedule a Free Consultation Today
Submit the form and we'll contact you to talk about your project. We'll also connect you with an experienced sign company who will evaluate your location, budget, and needs to recommend the sign best for you. They will also provide the product quote and install your display. Learn more about what a sign company can do for you.