Digital Menu Boards
Restaurants, convenience stores and even concession stands are turning to digital menus. Going digital makes it easy for operators and customers alike. Daktronics digital signage can help enhance the customer experience and let the menu do the selling.
Digital Menu Boards Boost Business While Saving You Time & Effort
Consistent Branding
Create templates that allow for quick change outs
Always-Accurate Menus
Change displayed items in real time, reduce menu printing costs
Trigger Impulse Buying
Showcase glamor shots of products to influence customer purchases
Minimize Perceived Wait Times
Engage customers with your digital content
Change Menu Items in Real Time
Digital menu boards allow you to seamlessly switch from breakfast to lunch to dinner every day. Eliminate out of stock items so your employees don't need to be the bearers of bad news. Instantly and dynamically update promotions and prices. It's so easy to do with the intuitive cloud-based Venus® Control Suite, which offers a quick and convenient way to change your menu and messaging throughout the day. We offer a full range of digital menu board solutions from single to multiple-screen configurations.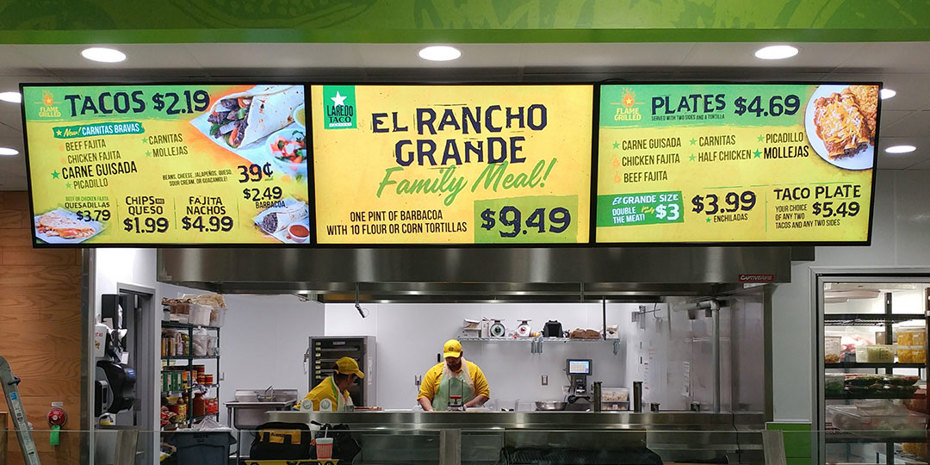 Restaurants and Convenience Stores
With strategic placement of digital screens around the facility, customers waiting to order can clearly see available menu items. Indoor and outdoor digital menu boards provide an easy way to highlight daily and weekly specials, upsell to increase each sale, and even include nutrition information for health-conscious customers.
Concessions
Digital menu boards are a practical solution to quickly get people through your line and back in their seats. They won't miss a single minute of the action. Easily change menu and messaging throughout the day, or even promote special stadium-wide events. Our digital menu boards make it easy to incorporate branding and co-branding so your stadium, your team, or your concessions supplier can share the screen.
Schedule a Free Consultation Today
Submit the form and we'll contact you to talk about your project. We'll also connect you with an experienced sign company who will evaluate your location, budget, and needs to recommend the sign best for you. They will also provide the product quote and install your display. Learn more about what a sign company can do for you.