It was a great marketing plan for us – how we were able to see everything broken down and what our investment was going to be.
– Keaton Kucera, First Bank of Utica
Anchor Sponsor at Centennial High School
Daktronics Sports Marketing
Helping Schools Fund Scoreboard & Video Projects Through Sponsorship Revenue
What if your video display or scoreboard could pay for itself and then keep earning revenue for your school? When you purchase your display from Daktronics, you have the knowledge and experience of Daktronics Sports Marketing (DSM) behind you. We've been working with schools like yours for more than 15 years, securing sponsorships and increasing revenue.
Here's the best part: Your DSM services are free when you purchase a display from Daktronics. Schools that work with us bring in an average of $40,000 per year – money directly benefits students!
Find out how DSM can help your school achieve its goals.
How We Do It
Facility Analysis
Your DSM team will review your existing sponsorship inventory and scout community businesses to asses your facility's revenue potential.
Project Design & Packages
We'll help you create custom video/scoreboard designs for high traffic areas and help develop packages that maximize your ROI.
Sales Training & Consultation
DSM pros will help you create a successful marketing campaign. You'll learn how to secure sponsors through a sponsor prospectus, social media ads, and animated design concepts.
Sponsorship Fulfillment
Your dedicated DSM pro will secure the logos, digital ads, and other assets needed for a sponsorship. We'll also provide a website, game scripts, and ideas for building lasting partnerships.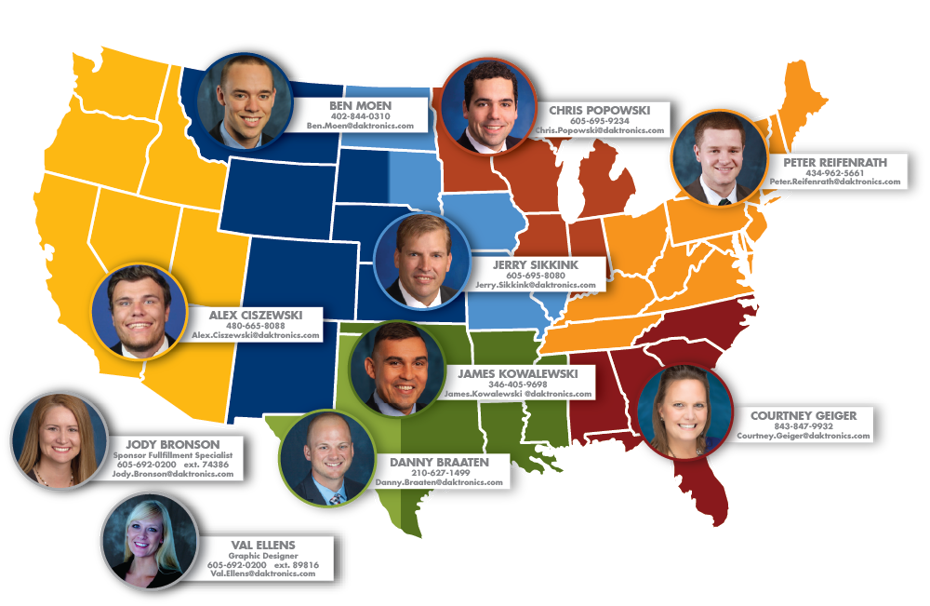 We Are Where You Are
No matter where you are, you have a DSM representative in your region. While our corporate office is in Brookings, South Dakota, our DSM professionals are strategically placed around the United States, so we can provide your school with on-site assistance for your new equipment.
Since 2012, the Daktronics Sports Marketing Team has helped more than 400 schools.
8
the average number of sponsors needed to complete a project
$50k
the average revenue created for a high school
36
different industries that typically advertise on a video display
300+
video displays installed thanks to DSM
800+
add-ons paid for by revenue raised
See How Daktronics Sports Marketing Will Benefit Your School
Take a moment to fill out this information and we'll be in touch soon!