Small School Reaches Big Goals With New Displays
Platteview High School is in Springfield, Nebraska, a town of about 5,000, that lies just southwest of Omaha. Having a smaller population doesn't hold them back from competing with their bigger neighbors, though.
1/27/2020
Categories: High School Sports
"We are a technology district," says Platteview High School Principal and Athletics Director Ron Alexander. "We want to compete with Metro Omaha districts with our facilities. That's why we went with 3.9-millimeter pixel and the size that we did."
PHS installed not one, but two 3.9-millimeter pixel pitch, 10 -foot by 17-foot 17 LED surface mount device video displays in their gym. Yes, those boards show the scores beautifully, but Alexander says they do far more than that.
"A big focus is that our kids are making all the content," he explains."We had our first home game last night. The students ran the board and created content. We have kids from a digital media course, part of an internship program and a technology club. Next fall, we will implement the Daktronics curriculum."
According to Superintendent Brett Richards, the curriculum was one of the reasons PHS chose to work with Daktronics. "Other companies don't have that," he says.
Funding two video displays
You may be wondering how a fairly small school district could justify installing two video displays at once. Richards says visiting other schools certainly helped them decide, as did their funding.
"We installed two boards because we saw the Sioux Falls Lincoln facility and really liked that," he says. "It fits with our school board's strategic plan. We also had a commitment from Facebook to contribute to the project, so we knew we could do it. We were in a unique situation with a big grant. We proposed it to Facebook for community enhancement. Their community relations director was really excited about it."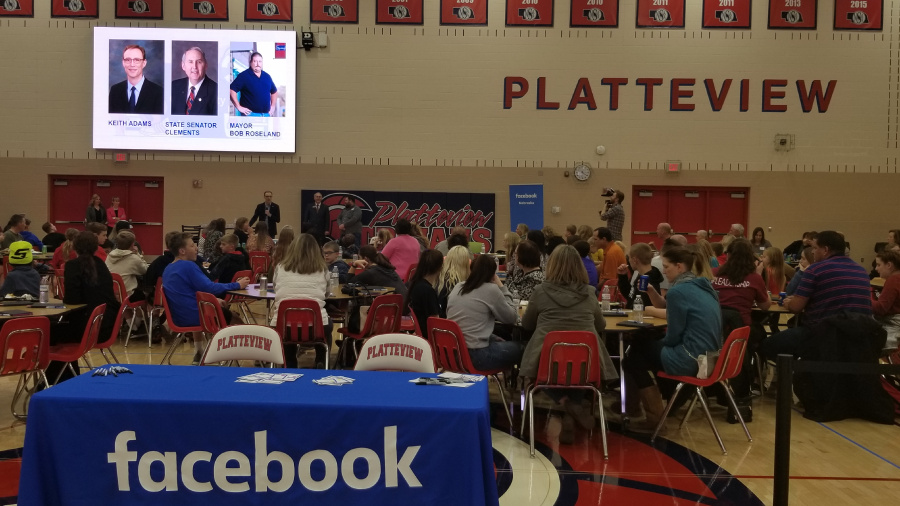 Facebook recently built a huge data center near the school district, and the company was searching for ways to engage with the community and encourage STEM education.
With the help of Daktronics Sports Marketing, PHS will start selling advertising on their displays this spring for fall sports. Because the boards are paid for, all advertising dollars will go straight back into helping students.
Richards explains, "Now all funding from sponsors will go to athletics and activities. It's already self-supportive, so we can buy uniforms and equipment, taking programs to higher levels."
"Also, we can be less reliant on fundraising on a daily basis," adds Alexander.
Or, as Platteview Director of Public and Community Relations Nichole Baugh says, "It's the gift that keeps on giving."
A visit to Brooking resulted in a lasting partnership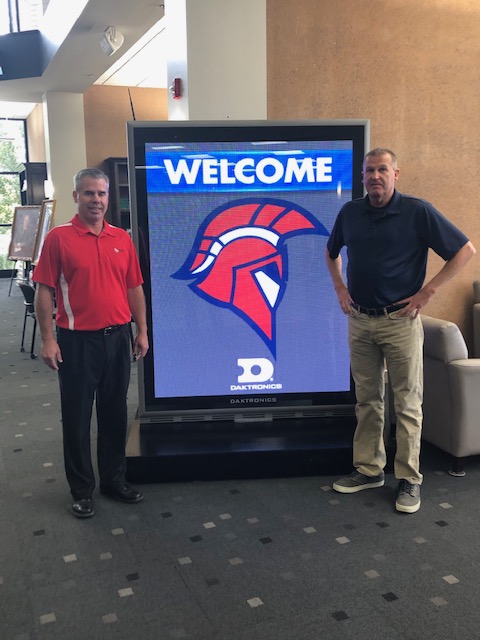 Richards says they were looking at different company solutions for their video display when their Daktronics sales rep Brandon Noel asked them to visit the company headquarters in Brookings.
"They originally had to talk us into going to Brookings, but that was a big deal," says Richards. "We were treated like the Atlanta Falcons. We left impressed with the history of the company and knew they'd be around. The Reliability Lab was amazing. They talked about how they get paid to break things."
Alexander adds, "We were looking for a partner in this. We got that from Daktronics. We talked about who they are as a company, and they will be with us for the whole journey, not just the installation."
"We could see that Daktronics had a better product than anyone else," says Richards. "The pricing, the quality of the board with a 3.9-millimeter pixel pitch versus a 5.9-millimeter pixel pitch. There's no annual fee for the software. Daktronics also has the curriculum."
Baugh didn't go on the Brookings trip, but she is also impressed with the Daktronics team. "When we have questions, Daktronics is very supportive. We had eight people here during installation. We can get on Facetime and get help when we need it. Plus, All Sport Pro (the controller for the video display system), is really easy to use."
---