Vanguard® VF-2360 Variable Message Signs
Reliable Operation. Safe Maintenance.
The VF-2360 is an EN12966 compliant Variable Message Sign (VMS) engineered by the worldwide leader of high-quality LED dynamic signage. Designed for a wide variety of transportation applications, this modular design provides superior uptime and high reliability while providing vital information to every passing traveler.
Features and Benefits
Daktronics creates your display solution using a team of industry and technology experts to ensure the product delivered is tailored to your expectations.
Developed specifically for the global transportation market, it provides a flexible, reliable, and serviceable solution.
Using the highest quality LEDs available, the Vanguard displays provide quick message recognition with crisp, vibrant full-colour graphic-aided messages.
IP67 sealed components provide long-lasting protection against the elements.
Redundant signal path ensures the failure of one module will not affect others, maximizing message comprehension and display uptime.
Variable display sizes to meet your needs, ranging from 1x1 meters to 6x30 meters.
Variety of mounting options allows for attachment to any structure.
Manage up to 8 signs from one controller for convenient operation.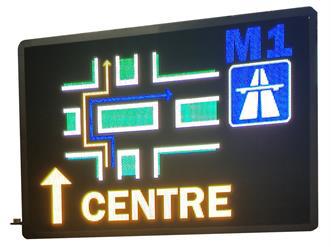 Model Specifications

EN12966 Compliant:
Both amber and full-color DMS compliant with EN12966
Pixel Pitch:
16 mm or 20 mm
Operating Temperature:
-34°C to +74°C
( -30°F to +165°F )
Viewing Cone:
B6
Contrast Ratio:
R3
Humidity Range:
0 to 99%, non-condensing
Power Requirements:
240 VAC, single-phase (3-wire plus ground)
Communication Options:
Cellular, fiber, direct Ethernet and Serial
---
Software and Controllers
The feature-rich Vanguard Central Control Software (optional) makes remote operation simple. Together, they provide continuously tested, NTCIP-compliant control to Daktronics DMS. Auxiliary Control Panel (optional) and DMS Equipment Cabinet (optional) are also available.
Learn more about DMS Controllers and Vanguard® v4 Control Software.
Daktronics On-Going DMS Support
Support Near You
Certified technical service specialists provide industry-acclaimed local support from nationwide Sales and Services offices.
Help Desk
Phone support from experienced help desk professionals.
Daktronics has a large inventory of spare parts ready for quick shipment.
Extended Service
Tiered extended service levels available to best fit your project requirements.
VMS Technology 101
Expand your knowledge of the technology that drives Variable Message Signs (VMS) and the Intelligent Transportation Systems (ITS) industry
The Effectiveness of Full-Color Variable Message Systems
Daktronics presents you with a variety of signage options that vary in color capabilities. See how full-color signage can increase your commuters' safety, deliver messages faster, and give you a bigger return on investment.