Largest Ever Double-Sided Arena Halo Display
Coming in 2024
Intuit Dome
LA Clippers
Built for the fan, by the fan. This technologically-advanced and basketball-obsessed arena, entertainment venue and outdoor plaza will deliver a uniquely intimate and intense experience that redefines what it means to be the best arena in the world. The massive LED halo board is almost a full acre of scoreboard that will build the ultimate fan experience at Intuit Dome.
We are excited to partner with Daktronics, an innovator in video displays, to develop a Halo Board that will create one of the most intense live experiences in sports.
– Gillian Zucker, LA Clippers, President of Business Operations
About the Halo Board
The Clippers designed and engineered the Intuit Dome roof specifically to accommodate the unique double-sided Halo Board. Placing priority on the viewing experience of upper-bowl seats, they optimized sightlines from all angles. The inner halo will measure 32 feet high by 623 feet in circumference, and the outer halo will measure 28 feet high by 661 feet in circumference. The entire display will be 4K resolution, HDR-capable, and feature a tight 3.9-millimeter pixel layout.
Making Progress
One Module at a Time
At the end of 2022, we started making something BIG! It all starts with one module and then builds its way into an amazing video display. Check out what the LA Clippers  have in store for their new home at Intuit Dome.
Seeing the Progress in Person
In early 2023, those involved with the Intuit Dome project visited our corporate headquarters in Brookings, SD. From progress updates to mock installs, it was great to have them on site as this huge project continues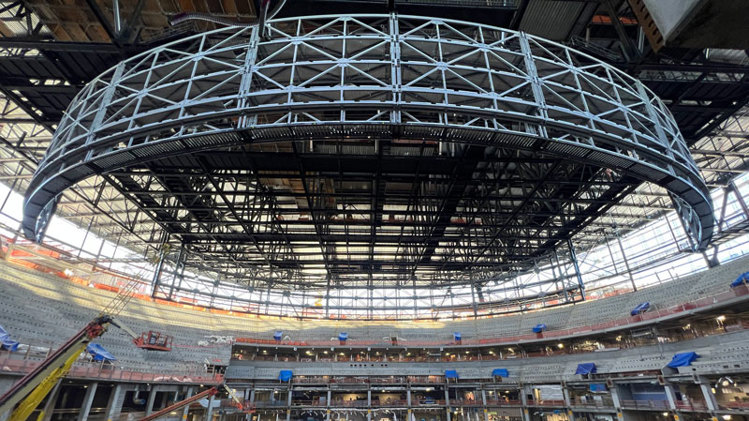 Project Overview Podcast
As the Clippers get closer to the completion of their brand-new arena in Los Angeles, we caught up with Daktronics Project Executive Luke Tingle to hear about the progress and what fans can expect to see in 2024.
Mini Halo Display
Intuit Dome Experience Center
Before the new arena is completed, the LA Clippers opened their Intuit Dome Experience Center with a mini halo to show what fans can expect in 2024. Find more imagery and information on the upcoming arena on the NBA's website.
Intuit Dome's Halo Board is a significant undertaking for our company and we are excited to be part of the team that will deliver this unprecedented, double-sided halo display for the Clippers. The preparation, development and conceptualizing done through intense cooperation between our engineering and Creative Services teams was critical in developing a vision for this project.
– Reece Kurtenbach, Daktronics President & CEO