Activate the Sportsbook Environment
Incorporate LED Video Walls into Your Space
The U.S. Supreme Court's landmark 2018 ruling frees up all states to conduct sports gambling. States taking advantage of the ruling and venues leading the way have the most to gain. Many racing, casino, and sporting event facilities are now thinking about how they can incorporate sports and racebooks into their spaces.
Stand Out with Interactive Betting
Entertain Bettors During Matches
Keep Bettors Informed 24/7
Creating an Entertainment Destination
Tight LED Pixel Spacing for Close-Viewing Quality
Daktronics NPP Series is a line of LED displays with close-viewing quality and efficient processing for 4K/Ultra High Definition (UHD) resolutions and beyond. Compared to LCD screens, NPP displays offer sportsbooks a bezel-free viewing experience because of their tight LED pixel spacing. Fine-pitch LED video walls also maintain high brightness levels throughout the life of the system – making the product ideal for sports and racebook broadcast-quality expectations.
Design a Dynamic Atmosphere
Westgate Hotel and Casino
Stadium and Arena Sportsbook Applications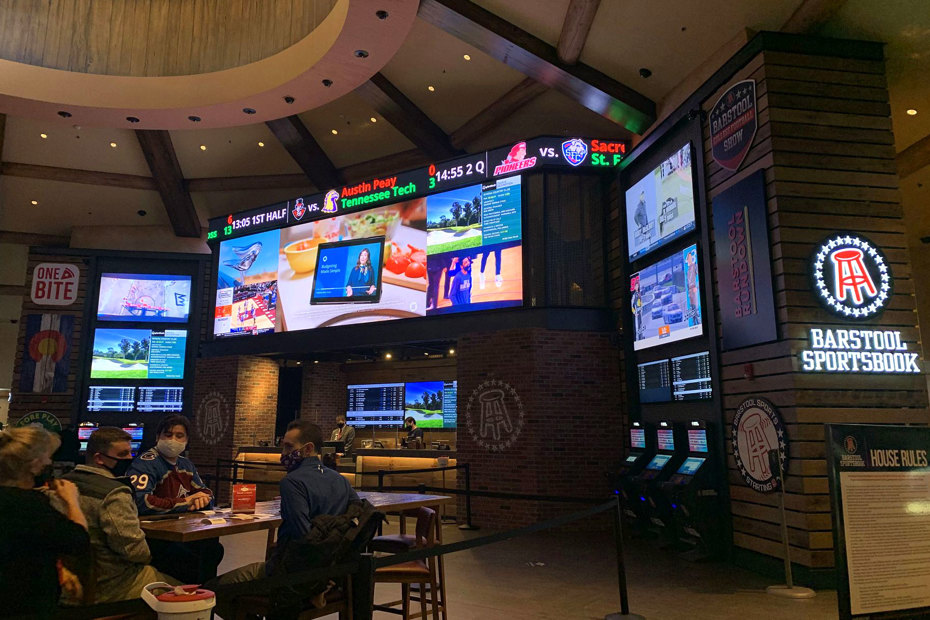 Sportsbooks are no longer confined to the traditional brick & mortar gaming and casino spaces. Today, stadiums, arenas and the mixed-use developments surrounding them want in on the action. Many are tasked with keeping bettors informed and entertained by creating dedicated sportsbook locations inside their venues.

Viewers will receive the same superior, broadcast quality they would see from the big screen inside the seating bowl. Facility operations managers and more can cover their patrons from big bets to small bets and from the big screen to the small screen with Daktronics LED technology.
About LED Video Walls
High-Quality Imaging
Whether indoors or out, our video boards' adjustable brightness, deep contrast, and narrow pixel-pitch maximize visibility. The "wow" factor mixed with reliable, high-quality technology gives every visitor an engaging, thrilling experience.
Get the Sportsbook LED Video Walls Download
Looking for more information? Fill out the form below and download our Sportsbook LED Video Walls brochure. Learn how race, casino, and sporting event venues are now incorporating sports and race books into their spaces and are including LED video walls to keep fans and bettors informed.