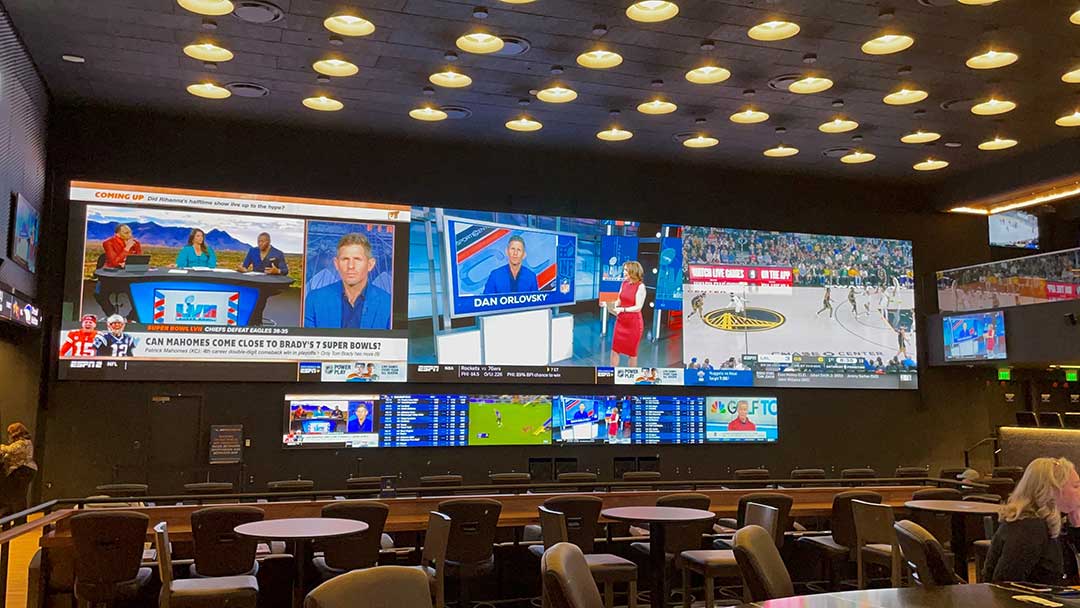 LED Displays Bring Rivers Casino Portsmouth To Life from Daktronics
10 displays at nearly 5,000 square feet inform and entertain visitors
BROOKINGS, S.D. – Apr. 17, 2023 – At Rivers Casino Portsmouth, Daktronics (NASDAQ-DAKT) of Brookings, South Dakota, designed, manufactured and installed 10 LED displays ahead of the casino's grand opening early in 2023. Located in Portsmouth, Virginia, the BetRivers sportsbook features a huge indoor video wall and ticker display around the bar as well as marquee displays welcoming guests to the venue both along the roadside and mounted to the building's façade. In total, 10 displays deliver nearly 5,000 square feet of digital canvas at the venue.
"We're very pleased with the scale, image clarity and technology provided by Daktronics," said Roy Corby, general manager of Rivers Casino Portsmouth. "The visual impact of these high-end displays help to elevate the gaming and entertainment experience for our guests."
Indoor Displays
As visitors get settled in for live sporting action, a massive 12.5-foot-high by 64-foot-wide LED video wall shares all the betting information and odds as well as the live broadcasts of the games. The display features 1.3-millimeter pixel spacing to deliver crisp details and vibrant imagery to keep viewers enthralled in the action and aware of all the important sportsbook details during their visit.
"The sportsbook experience has evolved to large-scale LED video displays that can show multiple feeds and information so guests can see everything they need by looking at one screen, and this project at Rivers Casino Portsmouth is a shining example of that experience," said Daktronics Managing Director of Spectaculars Division Josh Francois. "This display is something the casino can be proud of and will serve as a focal point inside the venue for years to come."

Above the bar area, a ticker display stretches around three sides to show critical betting information. This display measures more than 1 foot high by 107 feet wide and features a 2.5-millimeter pixel spacing.
In a separate area called The Sound Bar, which is dedicated to live music, comedians and other entertainment, another display was installed. This video wall is mounted behind the stage as an entertainment backdrop and measures 8 feet high by 26 feet wide. It features a 2-millimeter pixel spacing for up-close viewing of all content including live video, animations, branding and any other digital imagery the casino would like to share.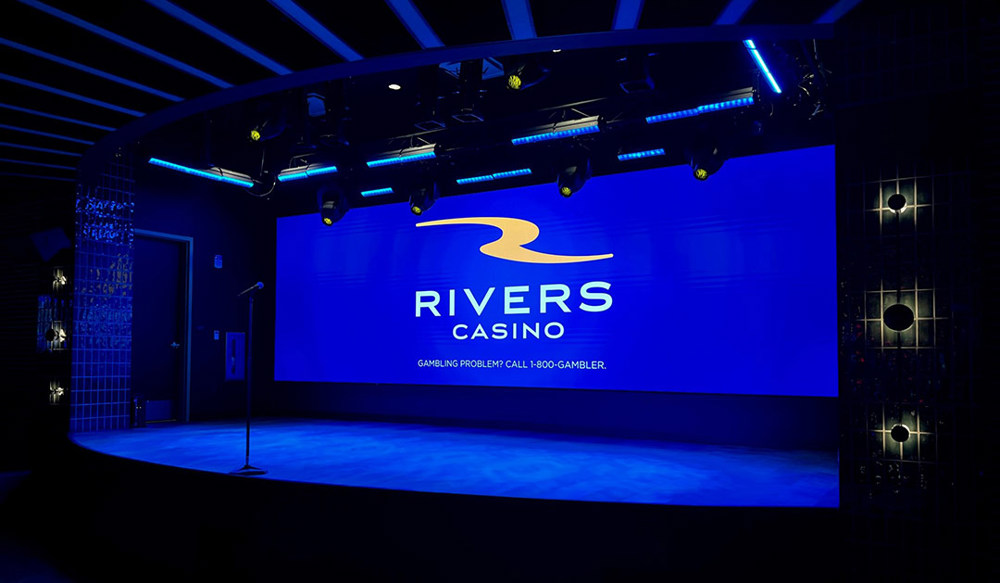 Outdoor Displays
Welcoming visitors to the casino and sportsbook, a double-sided marquee stands tall along the roadside to capture attention and drive traffic to the venue. Both sides of this welcome pylon feature LED displays measuring roughly 18 feet high by 11 feet wide.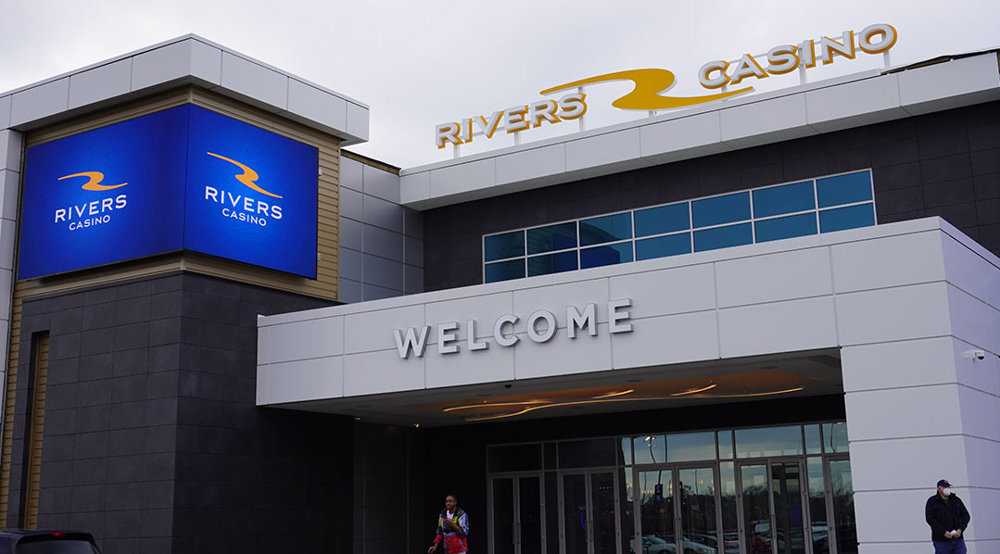 At the southeast corner and the east corner entryways are marquee LED displays featuring 90-degree corners. On the southeast façade, the display measures nearly 22 feet high by 84 feet wide, and on the east façade, the display measures 12 feet high by 36 feet wide.
Also on the east side, a ticker display is mounted to the building measuring 6 feet high by 96 feet wide. Above The Event Center entrance, a display measures 14.5 feet high by 37 feet wide.
All of these displays allow for enticing imagery and branding for the casino. They can share details of upcoming events, current specials or anything to make guests feel welcome and comfortable.
When visitors drive up to the porte-cochère, they can see a 1-foot-high by 60-foot-wide narrow ticker display welcoming them. This shows casino branding and additional messaging as desired.
All outdoor displays feature 10-milimeter pixel spacing.
About Rivers Casino Portsmouth
Rivers Casino Portsmouth is a world-class destination—a $340 million local investment—located along Victory Boulevard, south of I-264. As part of Portsmouth's New Entertainment District, the complex currently features a full-service casino, poker room, BetRivers Sportsbook, event and conference venues, premier restaurants, and more. Rivers Casino Portsmouth is Virginia's first permanent casino and the latest addition to Rush Street Gaming, one of the fastest-growing casino and entertainment companies in the country. Rush Street Gaming and its affiliates have developed and operate successful casinos in Pittsburgh, Pennsylvania; Philadelphia, Pennsylvania; Des Plaines, Illinois; and Schenectady, New York. All Rush Street Gaming casinos have been voted a "Best Place to Work" or "Top Workplace" by their Team Members. For more information about Rivers Casino Portsmouth, including ongoing career opportunities, please visit RiversCasino.com.
About Daktronics
Daktronics helps its customers to impact their audiences throughout the world with large-format LED video displays, message displays, scoreboards, digital billboards, audio systems and control systems in sport, business and transportation applications. Founded in 1968 as a USA-based manufacturing company, Daktronics has grown into the world leader in audiovisual systems and implementation with offices around the globe. Discover more at www.daktronics.com.