Sportsound 250 Indoor Sound System
This Sportsound® standard indoor sound system provides high speech intelligibility and quality music reproduction with even coverage and levels capable of overcoming crowd noise for a variety of mid-sized indoor gymnasiums. The single-point speaker cluster is suspended above center court mounted directly to the ceiling structure, while the control enclosure is wall-mounted remotely.
Features & Benefits
Turnkey audio system – all components integrated and optimized by Daktronics
Ideal for gymnasiums up to 160' x 130' (49 m x 40 m), up to 25 rows high
Separate lockable control enclosure allows for easy service access while keeping components secure
Built-in overload protection for high-frequency devices and peak limiters
Pre-configured crossover and equalization for ease of setup
Compatible with any Daktronics audio control system (see DD2367302)
Coverage Pattern
The image shows the ideal mounting location to get the most effective audio coverage. Main loudspeakers adjustable 0-25° down vertically in 5° increments and court loudspeakers adjustable vertically 0-90° down for independent seating area coverage.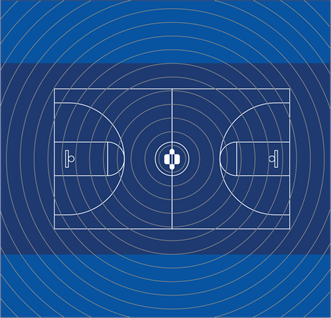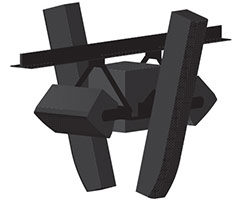 Specifications

Dimensions (H x W x D):
4' 7" x 3' 4" x 2' 11" (1.40m x 1.02m x 0.89m)
Weight:
250 lbs (113 kg)
Speaker Cabinet Documents
Announcer's Rack Documents
Hearing is Believing
Contact us for a free, no obligation demo at your venue.