GO TOP SHELF WITH DAKTRONICS
Whether it's shots on goal or who's sitting in the penalty box, your scoreboard should help fans follow along with every second of the game.
Hockey Scoreboards and Video Displays
From a basic scoreboard that keeps track of score and time to the more advanced hockey scoring systems, we have you covered. When hockey fans come to your ice arena, they shouldn't have to keep track of anything in their head or on their hands.
Integrating LED Displays into Your Scoring System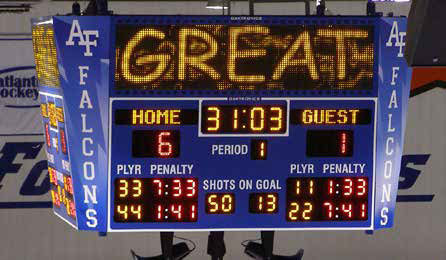 Message center modules feature provide wider viewing angles and closer viewing distances to prominently display exciting animations, colorful graphics, and text messages.
Bring your scoring to new levels with live video, animations and replays. Contrast-enhancing capabilities along with unrivaled uniformity make our video displays the industry's most effective.
​​Best Hockey Rink in Minnesota
See what sets the Red Baron Arena and Expo apart
Awarded the best hockey rink in Minnesota, the Red Baron Arena & Expo installed a video display that doesn't disappoint. This display sets the arena apart – drawing in fans, schools and organizations from near and far.​
Not only does the display provide those hard-hitting, in-your-face experiences you can't get from sitting in the stands, it also provides a hands-on learning experience for students at Southwest Minnesota State University.
​ It doesn't stop at games either - this display brings the community closer together with sponsored events and movie nights as well.
What makes Daktronics the best value in the industry?
Ongoing research and development, with unmatched technical expertise
81% of all service calls are within 60 miles of a Daktronics representative
Straightforward operation, so people of any skill level can run the scoreboard
Comprehensive training and online tutorials and FAQs for display operation