Dakstats Basketball Software
Easy to operate. Quick to learn. Accurate stat reports in an instant.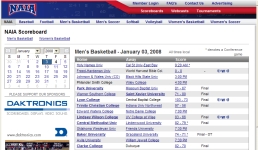 The Web-Sync service greatly reduces the effort needed to collect league statistics. Any group of teams using DakStats, such as conferences or state associations, can easily compile league leaders and game-by-game statistics. It takes just seconds to report the stats from DakStats and you can immediately view your stats on a website dedicated to your league.
How Does Web-Sync Work?
Once stats are entered in DakStats, you connect to the Internet and start the Web-Sync. Your roster, teams, and schedules are instantly synchronized and stats are uploaded. Opponent rosters are also available for quick download into DakStats to cut down on pre-game setup.
Web-Sync Statistics Website
Complete game-by-game statistics for each player are accessible via the Internet. The Web-Sync statistics site is designed to fit the needs of any organization and grow as your statistics needs change.
Instant Scores, Stats, and Standings
Provide coaches, media, recruiters, and fans with all the information they need to follow your teams.
Save Time and Effort
Cut down on pregame and post-game work by eliminating manual stats re-entry for reporting stats to the media or league offices.
Complete Career Stats
Archive stats from previous seasons and display career stat totals for individual players and entire teams.

Generate Ad Revenue
Create new sources of funding for your teams by displaying advertisements and sponsor logos on Web-Sync pages.
Improve Your Website
Add dynamic content to your school's athletics website by linking to the Web-Sync statistics pages.
Increase Athlete Exposure and Recognition
Fans can follow their favorite athletes throughout the season and give them the recognition they deserve.