Safer Journeys
Transforming Nevada's Most Congested Highway
Project Neon, the largest and most expensive public works project in Nevada, enhanced the busiest stretch of highway in Las Vegas. The initiative reconstructed nearly 4 miles of Interstate 15 between Sahara Avenue and the "Spaghetti Bowl" interchange in downtown. From safety and traffic control to alerts and lane restrictions, the State of Nevada turned to Daktronics digital signage as part of Project Neon to manage increasing traffic in Las Vegas.
300

,000
daily traffic count
25

,000
lane changes per hour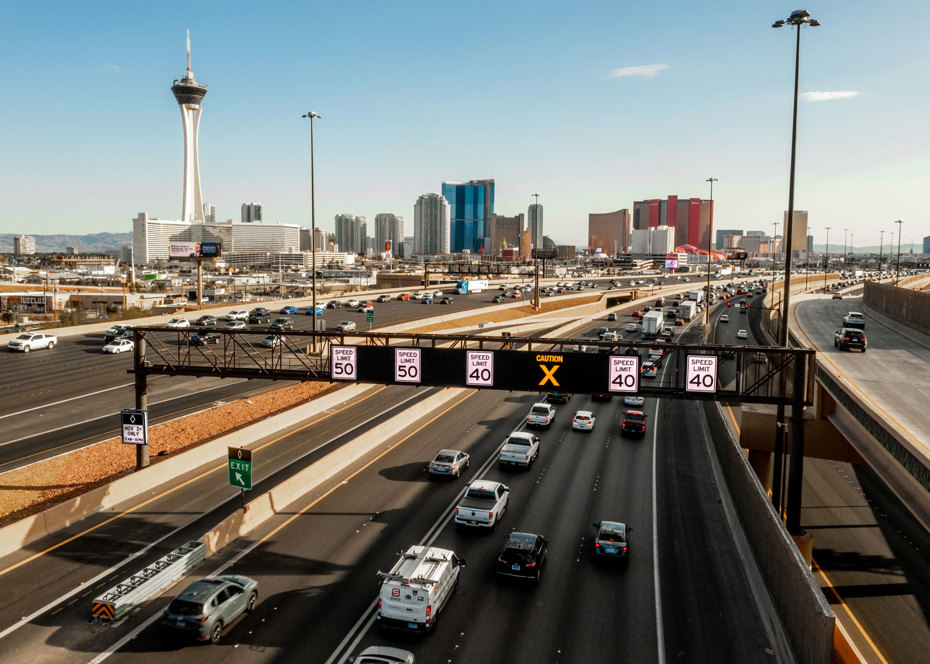 The 42 Daktronics active traffic management (ATM) signs are placed along the roadway to help with wayfinding, safety, and messaging for travelers. They have sensors that detect traffic conditions and calculates the proper speed limit accordingly. If there is construction, an accident, or even congestion, the digital signs change the posted speed limit to keep travelers safe.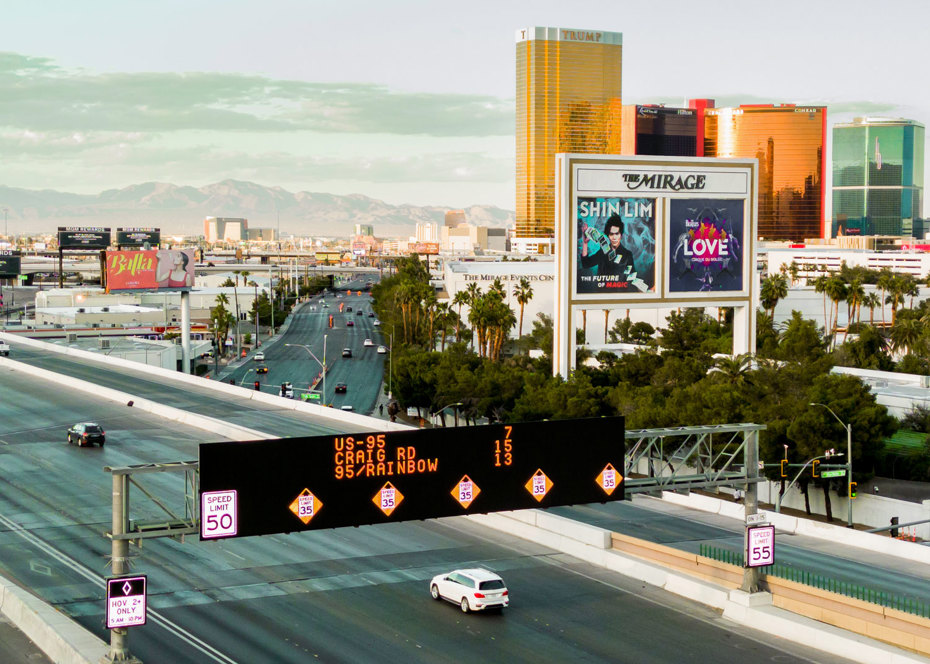 The initiative included 63 lane miles of new concrete and asphalt paving to provide significantly easier access into downtown Las Vegas, Symphony Parks, and the Medical Arts districts. Additionally, the Daktronics digital displays are strategically placed to improve mobility into busy areas, including displays that span the roadway and displays placed in travelers' direct line of sight as they use exit ramps.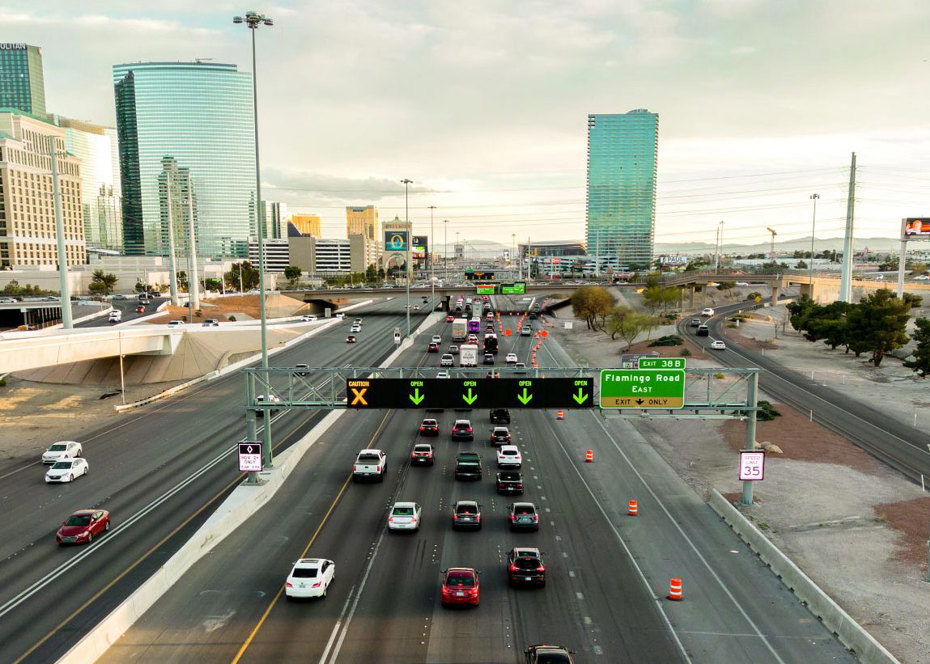 Project Neon was truly a collaborative process between stakeholders, involving 717 various companies, resulting in 4,000 direct, indirect and induced local jobs. Kiewit Infrastructure West Co. was the design-build general contractor, with Atkins North America Inc. as the lead designer. The improvements are timely with traffic through the corridor expected to double during the next two decades. The Daktronics digital signs create a smoother traffic flow, and as traffic increases, the DOT and travelers can count on the reliability they provide.
Active Traffic Management
Active traffic management is a method of increasing peak capacity and smoothing traffic flows on busy major highways. Techniques include variable speed limits, hard-shoulder running, and ramp-metering controlled by overhead variable message signs. See ATM in action with traveler-perspective videos:
Variable Speed
Speed limits must change to accommodate weather conditions, lane closures, and traffic volume. ATM signs have sensors that detect traffic conditions and automatically calculate a proper speed limit.
Lane Management
When lanes are blocked by construction or accidents, ATMs are updated from traffic management centers instantly, providing sufficient time to merge and avoid congestion.
Queue Warnings
Providing time for traffic to adjust prevents congestion. ATM signs can display messages in advance of narrow lanes, tunnels, bridges, round-a-bouts, or other structures.
Lane Assignment
ATM signs produce high-quality imaging with legible text and graphics, communicating which lanes are dedicated to carpooling, require tolls, and lead to an exit.
Project Neon greatly improves traffic congestion, motorist safety and commuter delays, thereby improving the quality of life for all Nevadans while improving visitor experiences to our state.
More Information on Project Neon
Project length is equivalent to
17

Stratospheres laid end-to-end
Total paving is nearly
15%

longer than the Panama Canal
Enough asphalt paving for
3,000

average-sized driveways
Enough earthwork to fill 
324

Olympic-sized swimming pools
Roadway barrier rail equivalent to 
2,600

school buses laid end-to-end
Total man-hours worked: 
2.3 million

hours
Find Your Regional Sales Manager
Find contact information for your transportation regional sales manager.