Freeway Dynamic Message Signs
Convey clear, effective messages to high-speed traffic with dynamic message signs and variable message signs from Daktronics. Available in monochrome or full-color models, these full-matrix DMS can show MUTCD symbols and text to increase comprehension in very short viewing times.
Freeway DMS & VMS require large character heights for legibility in fast-moving traffic. Higher-resolution, full-color DMS & VMS improve AMBER Alert™ information and provide crisp MUTCD graphics and text.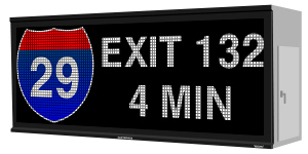 Proven performance and a high-contrast masked face in a convenient walk-in cabinet