Vanguard® VS-5360 Variable Speed Limit Signs
An integrated and affordable part of a traffic management system.
The signs provide high legibility 18-inch digits that are easily changed as traffic and weather conditions change.
Features and Benefits
Front accessed for easy maintenance
Designed to Industry Standards: NTCIP and NEMA TS 4Modules accurately replicate static speed limit signs with black text on a bright white background
Internal NTICP-compliant controller, cellular, fiber, Ethernet, and other communication devices
High-quality LEDs use latest technology
External brightness sensor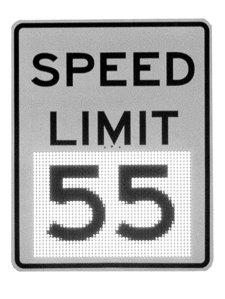 Fill out the short form to specify which DMS shop drawings you would like us to send you.
Markets Using This Product
Software and Controllers
The feature-rich Vanguard Central Control Software (optional) makes remote operation simple. Together, they provide continuously tested, NTCIP-compliant control to Daktronics DMS. Auxiliary Control Panel (optional) and DMS Equipment Cabinet (optional) are also available.
Learn more about DMS Controllers and Vanguard® v4 Control Software.
Daktronics On-Going DMS Support
Support Near You
Certified technical service specialists provide industry-acclaimed local support from nationwide Sales and Services offices.
Help Desk
Phone support from experienced help desk professionals.
Daktronics has a large inventory of spare parts ready for quick shipment.
Extended Service
Tiered extended service levels available to best fit your project requirements.
Compare, Learn, Schedule a Demo