How to Attract More Patients in the Midst of a Pandemic
Communicating with your patients and community is crucial to providing excellent healthcare services. Sharing your hours, wait times, and regulations improve your patient experience.
Learn how exterior and interior digital signage are key communication and advertising tools that allow healthcare to attract more patients in our increasingly dynamic environment.
This webinar will give you a deeper understanding of how to:
Communicate with patients to increase your volume
Align your traditional advertising campaigns; print and broadcast, with non-traditional methods, like social and digital signage
Use digital technology to meet your short-term and long-term objectives
More Information about Digital Signage in the Healthcare Industry
---
Gina Kuck
Business Development, Daktronics

Gina Kuck is an industry expert in LED content creation and campaign strategy for commercial applications. She began work at Daktronics in 2004.
In 2007 she joined the Commercial Division of Daktronics, one of three verticals for the worldwide organization, focusing on Out of Home, National Account and On-Premises customers. She led a creative team that supports pre- and post-sale business and developed the design philosophy and best practices guidelines for creating dynamic and engaging content for LED displays. For the past 2 years she has shifted her focus to Business Development for National Accounts.
Jess Bern
Marketing, Daktronics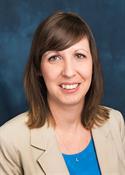 Jess Bern holds the role of Strategic Marketing for Daktronics On-Premise business segment. This business segment includes commercial businesses and non-profit organizations of all sizes. She has 17 years of marketing experience for Daktronics and works every day to demonstrate the essential role indoor and outdoor digital signage plays in her customer base's marketing strategy. She recognizes that healthcare systems have the opportunity to influence the decisions of their communities and elevate the experience of their patients through the use of digital signage.
Watch the On-Demand Recording