Scoreboard Options & Personalization
Customize your scoreboard to fit your needs. Use sponsor panels to increase sponsorship revenue. Dress up your scoreboard with colorful striping and channel letters. Provide the ultimate experience for your fans by choosing from a wide variety of Daktronics products to add to your scoreboard.
150+ Colors at No Extra Charge
Only from Daktronics
Regardless of the color, Daktronics offers high-quality, long-lasting display finishes designed to resist fading due to ultraviolet rays. All Daktronics scoreboard paints and primers are lead-free and chromate- free, which makes the paint safer for the environment. Paint colors may vary depending on the viewing screen. Contact your salesperson to verify correct colors.
​Caption Styles​



Vinyl Captions
Scoreboards typically come with white captions stating HOME and GUEST. A popular low-cost upgrade is to change HOME to your school's team name.
Backlit Captions (Outdoor Only)
Backlighting highlights white vinyl letters for optimal nighttime visibility.
Electronic Captions
Change team names or all captions for tournaments or multi-sport use.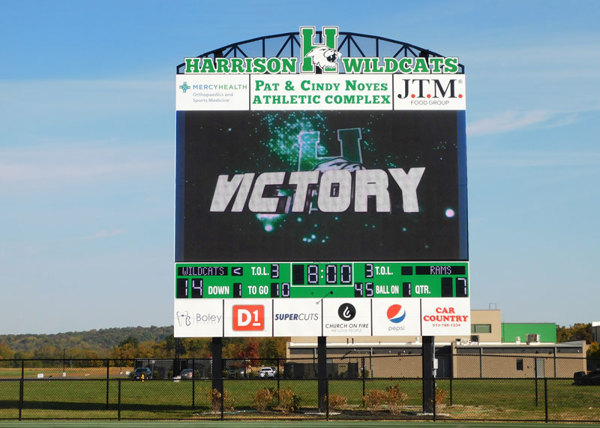 Logo & Sponsor Panels
Personalize the Display

Daktronics logo and sponsor panels are digitally printed on flexible, waterproof vinyl or cut from solid colored vinyl. More than 700 pre-configured horizontal and vertical sizes are available to complement any type of display. Choose from numerous vibrant colors for your team logo or custom design.

Recognize Sponsors

Set the display apart with a backlit or non-backlit sponsor panel. Backlit panels are illuminated with LEDs for excellent night time viewing. The panels are encased in a durable aluminum cabinet and are mounted in the same fashion as other Daktronics displays.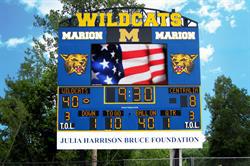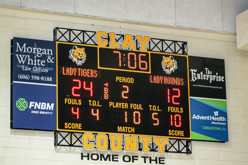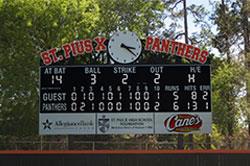 ID Panels
Highlight your team, school or main sponsor with an ID panel on above or below your scoreboard.
Striping
Personalize your scoreboard with colorful striping. Choose from more than 50 colors to coordinate with your school's colors.
Channel Letters
Choose from backlit or nonbacklit channel letters to highlight your team or school name.
Accents
Choose from more than 15 styles of accents made of durable, weatherproof materials.


Protective Screens
Daktronics has protective screens to protect your scoreboard, timer and statistic displays from damage. They do not hinder visibility or reduce the LED intensity.
Solar Power
If your facility is ready to go green or if electrical power just isn't practical, consider using solar power. It is available for many of our smaller scoreboard models as well as many custom designs.
Radio Control
Run your scoreboard without signal junction boxes. Eliminate extra wiring and save money on installation costs. Radio control is available with the All Sport 1600 and All Sport 5000 series consoles.
Design Your Dream Scoring System
Choose a scoreboard size, enter your school colors and name, add a video board, and accessorize! Use our scoreboard configurator to develop a personalized scoring system and request a quote for your creation.
Download the Catalog
Daktronics numeric scoreboards, video scoreboards and timing systems are fully customizable and can be integrated into any facility, from small parks to major league venues.
Looking for an easy way to find a scoreboard for your sport? Our catalog gives you all the information about our products in an easy-to-read format. Learn more about the scoreboards, options, related products and more.