MLS LED Display Installations
From street to seat, Daktronics creates the ultimate fan
experience that people cannot get from watching the game
from home and a unique environment where fans can catch
the action from every seat in the stadium.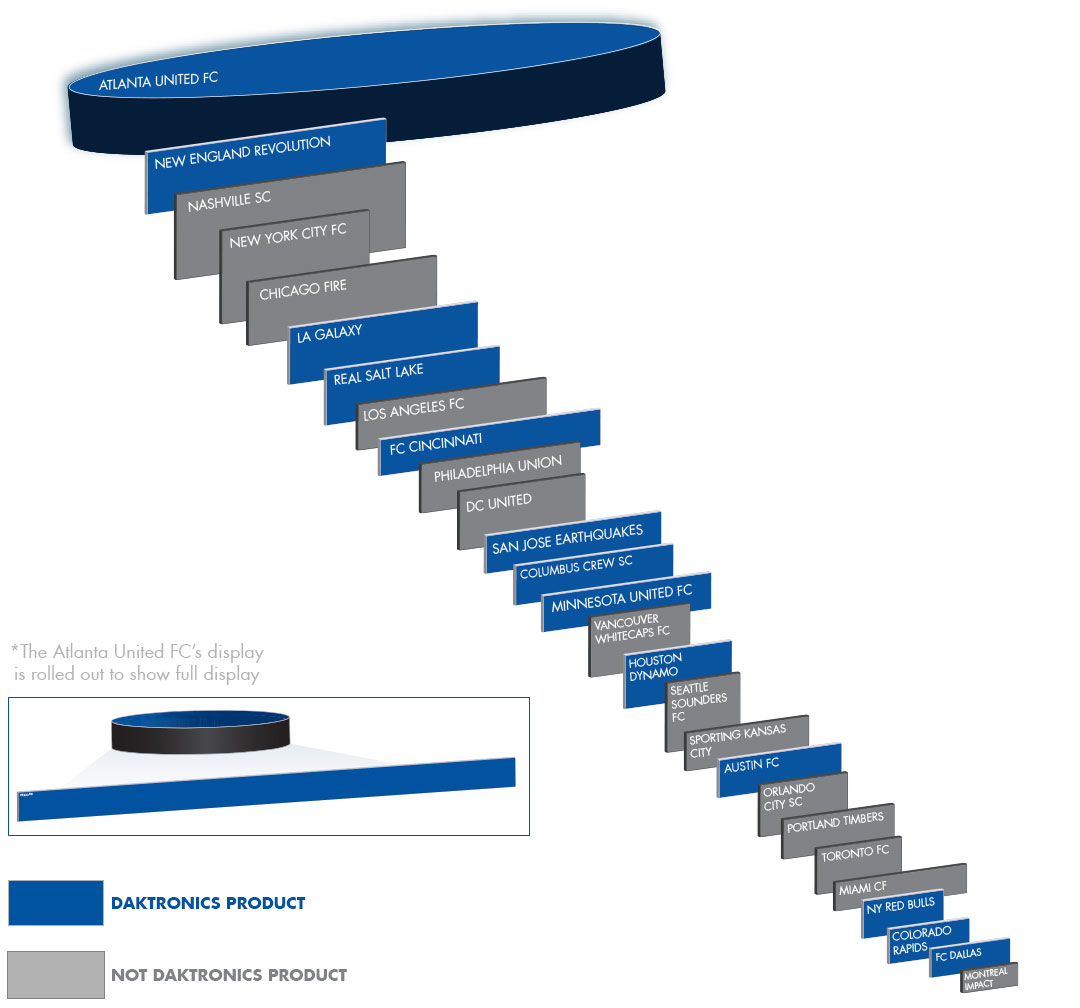 MLS Video Display Size Comparison Chart
The chart illustrates all MLS teams' display sizes based on square footage of largest video display face; blue displays represent Daktronics product installation. Each display is shown to scale in comparison with all others.
Atlanta United FC
Mercedes-Benz Stadium
Spacing: 15HD
Dimensions: 58' x 1,075' (17.56 m x 327.72 m)
Go Inside the Stadium Project Photos and Testimonials Read the Blog Post
LA Galaxy
Dignity Health Sports Park
Spacing: 13HD
Dimensions: 36' x 128'4" (10.973 m x 39.116 m)
Real Salt Lake
Rio Tinto Stadium
Spacing: 13HD
Dimensions: 35' x 119' (10.668 m x 36.271 m)
New England Revolution
Gillette Stadium
Spacing: 15HD
Dimensions: 41' x 94' (12.5 m x 28.7 m)
FC Cincinnati
Nippert Stadium
Spacing: 13HD
Dimensions: 31' x 114' (9.4 m x 34.7 m)
San Jose Earthquakes
Avaya Stadium
Spacing: 13HD
Dimensions: 24' x 120' (7.315 m x 36.576 m)
Minnesota United FC
Allianz Field
Spacing: 15HD
Dimensions: 22'9" x 115'3" (6.934 m x 35.128 m)
Houston Dynamo
BBVA Stadium
Spacing: 15HD
Dimensions: 34' x 73' (10.4 m x 22.3 m)
NY Red Bulls
Red Bull Arena
Spacing: 10SMD
Dimensions: 24' x 55' (7.32 m x 16.76 m)
Colorado Rapids
Dick's Sporting Goods Park
Spacing: 23mm
Dimensions: 22'6" x 59'0" (6.858 m x 17.983 m)
Columbus Crew
Mapfre Stadium
Spacing: 15HD
Dimensions: 16'8" x 66'0" (5.080 m x 20.117 m)
FC Dallas
Toyota Stadium
Spacing: 13HD
Dimensions:18' x 54' (5.49 m x 16.46 m)
14

of 27
Facilities with Daktronics Large LED Video Display Super Systems
Find out how you can create an exciting fan experience.
We can help you improve the fan experience at your stadium from the street to the seat. You can customize your stadium using displays to create the ultimate fan experience, including:
Digital billboards along the transit
Parking information displays when reaching the venue
Marquee and ticket window displays outside of the stadium
Concession displays when entering the concourse
Auxiliary and fascia ribbon displays on the way to their seats
Main video displays to catch all of the action
From new construction to renovation projects, we can help you design an integrated system for your stadium, then manufacture and build your super system.
With crisp detail and vibrant colors, Narrow Pixel Pitch (NPP) LED displays are used as interior design elements to create luxurious space to feature digital art and advertising.
Daktronics Show Control is the most powerful, flexible, and proven live event control system in the industry backed by Daktronics unmatched service capability.
Get the Latest News in Your Inbox
Curious if you're missing an opportunity at your facility? Sign up for the Daktronics Major League Sports newsletter to help keep you, your organization and your facility informed on the latest trends in audio-visual solutions. Find out what's new, who's doing what and where, and learn about innovative trends in major league sports facilities around the big leagues.