Texas Rangers - Globe Life Field
In 2020, the Texas Rangers unveiled Globe Life Field. The ballpark features eight LED displays, a fully-integrated 1,450 LCD IPTV (Internet Protocol Television) system, and Daktronics powerful Show Control System. All but one LED board is HDR-capable bringing better image quality to the content shown.
18

,

600

+
Square Feet of LED
Integrating Systems
Curious how we make LED displays like the integrated LED system at Globe Life Field? History - Testing - Electronic Assembly - Final Assembly - Final Installation, all covered at the Texas Rangers new ballpark. Every step of the process is highlighted!
Achieving Your Final Goals
Globe Life Field is highlighted by eight individual LED displays, including the 5th largest video board in MLB. The ballpark incorporates more than 18,600 square feet of LED and 8.8 million LEDs, including the first-ever LED backstop display in MLB. Globe Life Field offers displays of several different pixel spacings providing the ultimate viewing and game-day experience from the concourse to the main seating bowl.
Explore the Integrated System
Globe Life Field | Texas Rangers
Click the pins on the image to see more information about each display.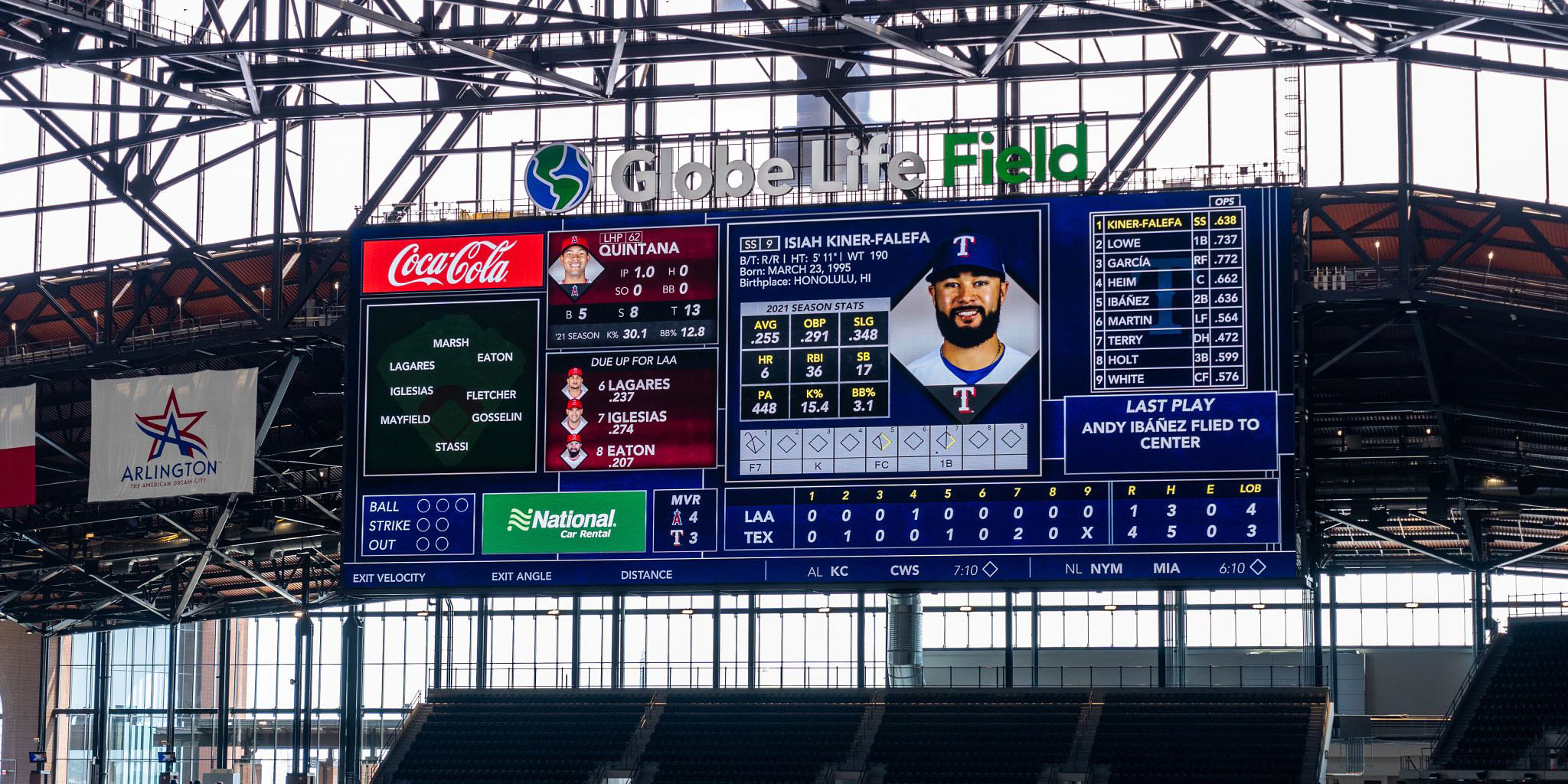 Right Field Display
Spacing: 15SMD
Dimensions: 58' x 150' (17.68 m x 45.72 m)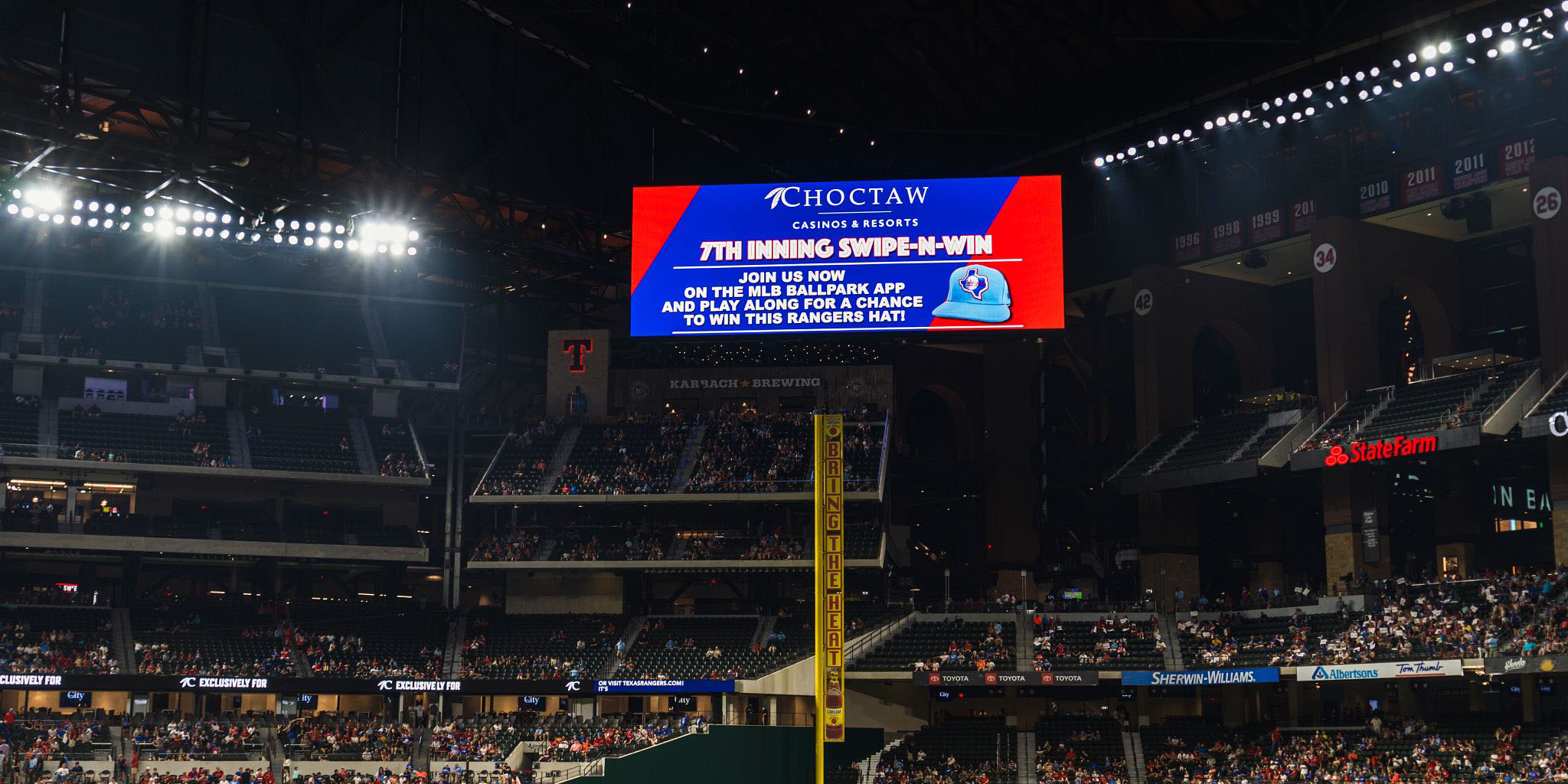 Left Field Display
Spacing: 15SMD
Dimensions: 40' x 111' (12.19 m x 33.83 m)
Center Field Display
Spacing: 15HD
Dimensions: 80' x 20' (24.38 m x 6.1 m)
Main Ribbon Display
Spacing: 15SMD
Dimensions: 2.5' x 924' (.76 m x 281.64 m)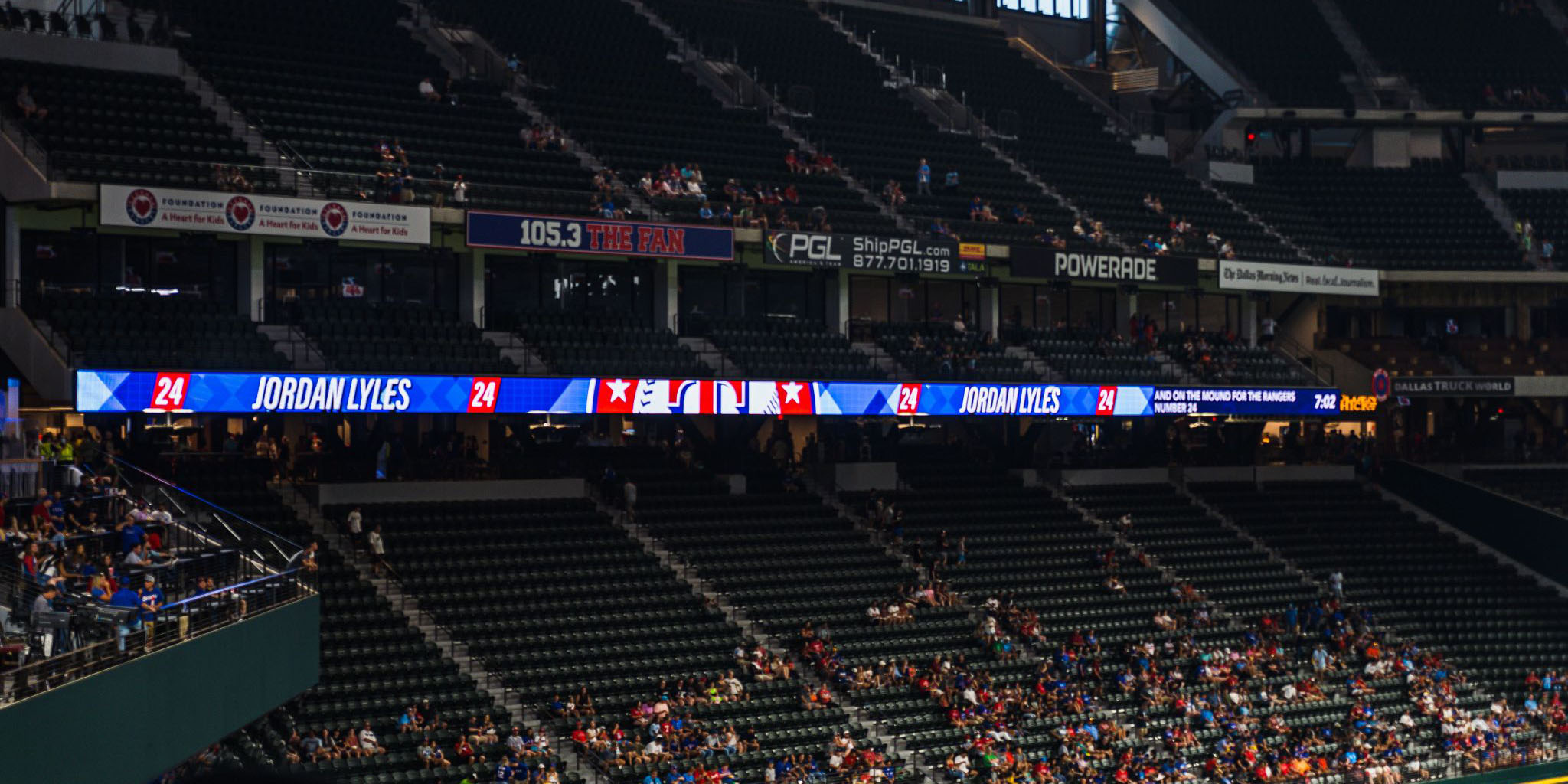 Office Ribbon Display
Spacing: 15SMD
Dimensions: 3.5' x 211' (1.10 m x 64.31 m)
Texas Sky Porch Display
Spacing: 3.9 mm
Dimensions: 11' x 20' (3.35 m x 6.1 m)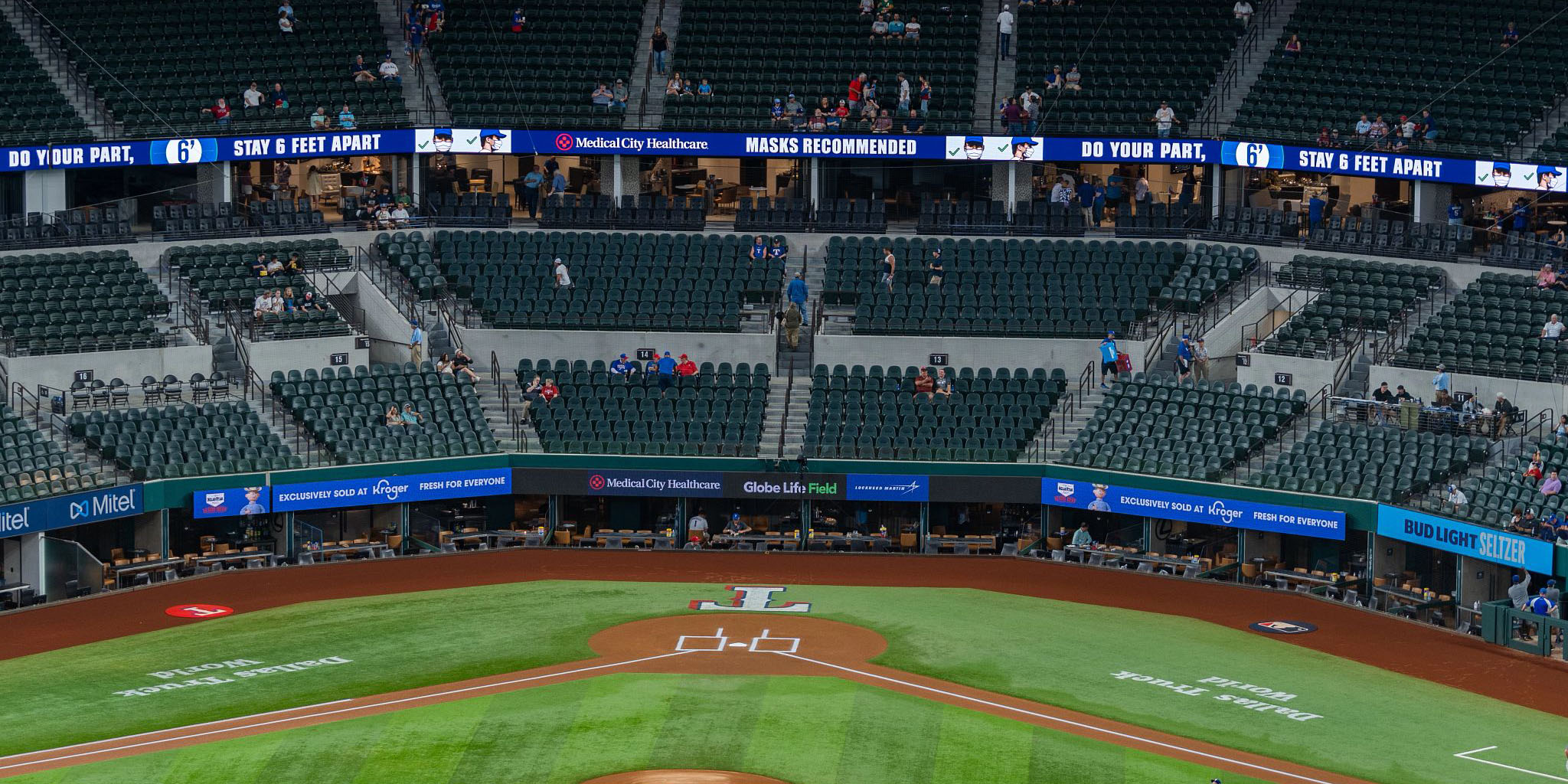 Backstop Display
Spacing: 6 mm
Dimensions: 2.5' x 116' (.76 m x 35.36 m)
Press Backdrop Display
Spacing: 2.5 mm
Dimensions: 6.5' x 13' (1.98 m x 3.96 m)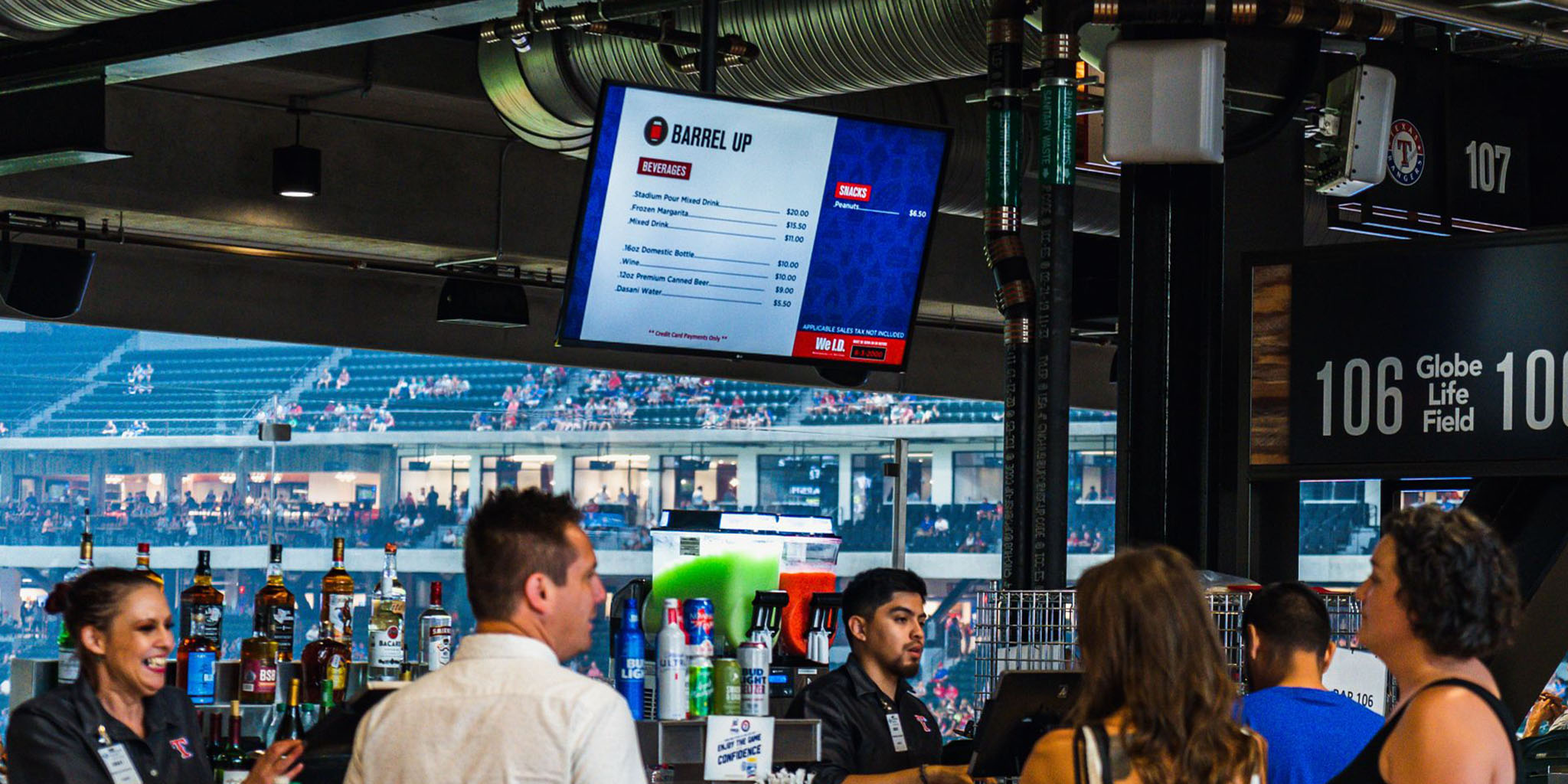 IPTV
Quantity: 1,450+ LCD IPTV System
Texas Rangers Taking Control At Globe Life Field
Integrating a new video display system is no simple task. Explore the challenge and details of creating a complete HDR-capable video display system, fully-integrated control system for seamless production, all while delivering the best possible Texas-sized game-day experience. The Texas Rangers selected Daktronics to design the system for their new home at Globe Life Field including 8 LED displays, Show Control, Camino, Live Clips and a massive IPTV system including more than 1,450 LCDs.
At the end of the day we decided that HDR capable displays and content was the way to go. Our next step was finding a partner who could help us deliver this experience and tackle all of the challenges that the HDR world involves. In Daktronics we found that partner and they have delivered in every way we could ask.
- Chris DeRuyscher, Senior Director Ballpark Entertainment, Texas Rangers
Sustaining Your Investment - No Matter the Event
From high school graduations to the National Finals Rodeo to the World Series, Globe Life Field has hosted many events all with Daktronics by its side for support. Daktronics Creative and Professional Services team also help to both create and implement new content and layouts for all display displays at the ballpark.
After the installation of any LED display system, turning it on and walking away isn't an option. We remain committed to providing the best service and support in the industry for the lifetime of the display no matter the event you're hosting. We give our customers one number to call at any time – day or night – 24/7.
Learn More About the 2020 MLB Playoff Bubble
Our Commitment to the Rangers
Daktronics history with the Texas Rangers dates back to 1994 and the opening of Globe Life Park. That long-standing relationship continues on at Globe Life Field in 2020 and beyond.
1994

Message Display

2003

Right-Center Field Video, Left-Center Field Video, Monochrome Scoring, Marquees

2009

Fence Display, Ribbon Boards

2011

Right Field Main Video, Center Field Video, IPTV System

2012

Plaza Video

2016

Left Field Video

2020

Globe Life Field Integrated System
The Rangers and Daktronics have enjoyed a great partnership that dates back to 1994. With its state-of-the-art technology, Daktronics has assisted us in providing the best possible ballpark entertainment for our fans for many years. 
- Chuck Morgan, Texas Rangers Executive Vice President, Ballpark Entertainment