Concourse Displays
Keep fans entertained even away from their seats.
With the highest amount of concentrated foot traffic in most venues, concourses grant the greatest opportunity to tell visitors the story of your venue in the first 10 steps. They're the place where fans can get a peek of teams warming up, get amped up finding their seats before the game and where they celebrate the win with their fellow fans after the game.
Create a Better Fan Experience
See how venues use digital displays in their concourse spaces.
Clubs/Bar
Sports bar experience meets modern tech. Club and bar displays create a cool environment for fans to watch the game in high resolution, celebrate with the crowd in the stands when synced game prompts show throughout the stadium and keep in touch with other games happening around the country right from their seat at the bar.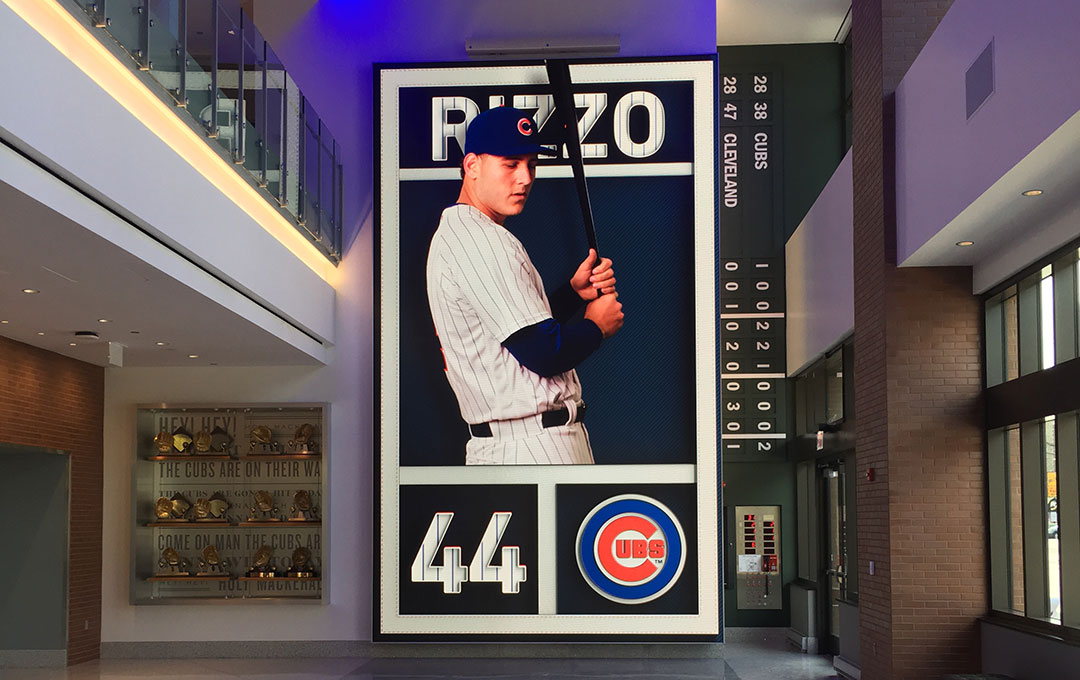 Entrance/Lobby
Large welcome displays create a great opportunity to immerse your fans in team pride immediately when they walk in the door. Inspiring team imagery shown in vivid color energizes fans for the game and makes them feel proud to support the home team.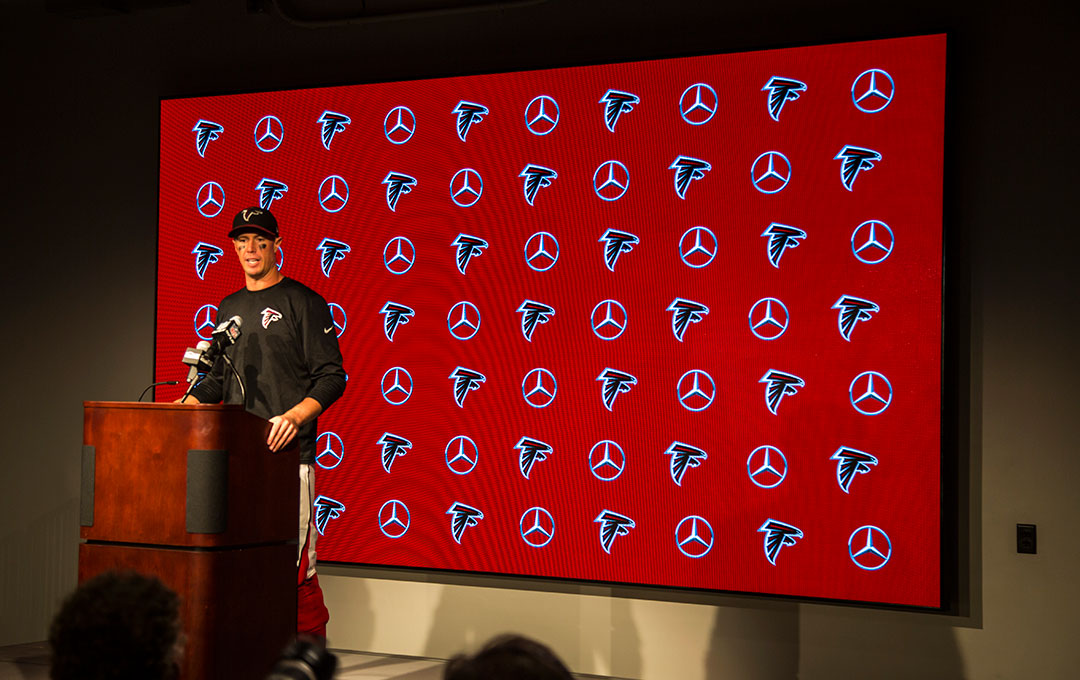 Media Rooms
A growing sports broadcast trend is using LED displays as press backdrops instead of static canvas. LED is the preferred option because it looks great in front of TV cameras with superb color, resolution and clarity, and sponsors' content can dynamically change at the click of a button.
Suites
Digital signage in suites can use IPTV to show exclusive content on custom media channels, providing premium ticket holders with an insider look at game footage, team interviews and tailored sponsor messages.
Team Store
Team store digital signage modernizes the shopping experience by showing dynamic content such as live video, promotions and team branding.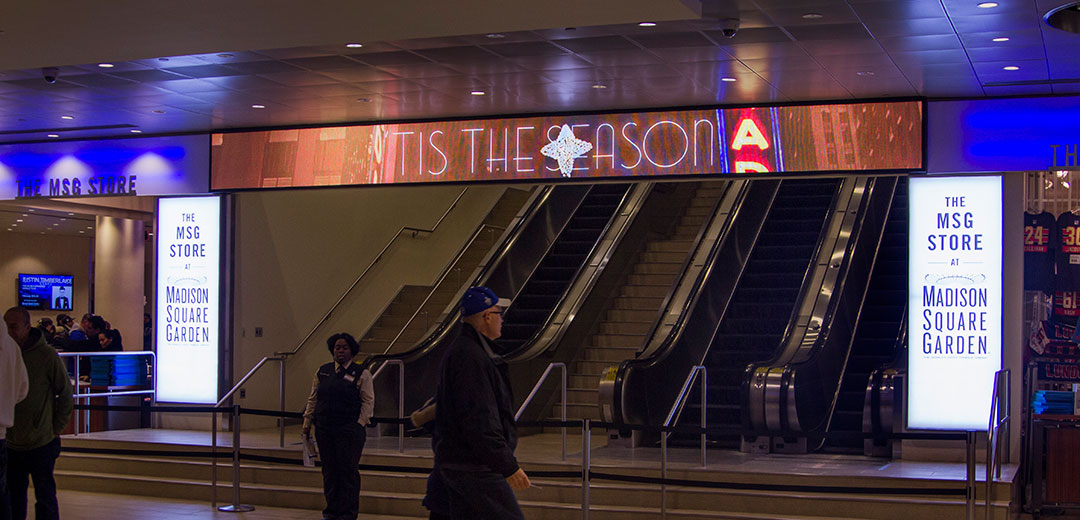 Above the Exit
Digital signage at the exit creates an opportunity to thank your fans and invite them to come back or show advertisements for surrounding businesses they may want to visit after the event.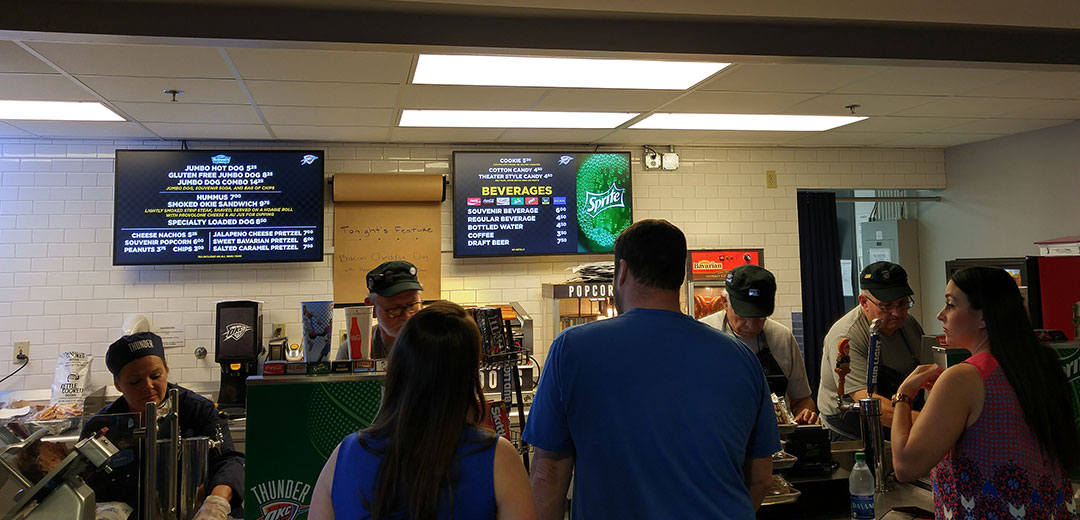 Concessions
At concession stands, use dynamic HD content with real-time advertising data to draw attention to special offers and ultimately increase sales.
Make a Big Impression with Video Walls
Large LED video walls built with Narrow Pixel Pitch (NPP) products infuse fans with energy at the entrance and improve viewer experience in flagship spaces within your venue. They provide more digital real estate to show big, beautiful full-screen visuals to captivate your audience. Integrating content with audio or adding interactive elements to your display experience opens the door to new memorable experiences for your fans.
Connect with Fans at Every Turn
A digital media network (DMN) provides greater advertising inventory per location, delivering the right message at the right moment at several points throughout the fan journey. Use dynamic HD content with real-time advertising data to draw attention to special offers at the concession stands, show wayfinding information to drive traffic to key areas within your venue and open the door to many more possibilities with DMN.
What to Know When Evaluating Indoor LED Display Solutions 
Learn about key considerations when evaluating indoor display solutions.
Should you choose LCD or LED video displays?
Which product is right for your lighting conditions?
What will you show on the display?
Do regulations impact your options?