Career Opportunities
Daktronics is the technical and innovation leader in our industry. We recruit smart, hardworking employees to deliver products and services to our growing markets.
The Daktronics team includes more than 1500 people at our corporate headquarters in Brookings, South Dakota. We have established a sales and service network located throughout the United States and internationally. Our employees work with high-profile customers to develop new products, install them on-time, and effectively support our customers' events before thousands of fans. Daktronics offers competitive benefits in addition to interesting work and competitive pay.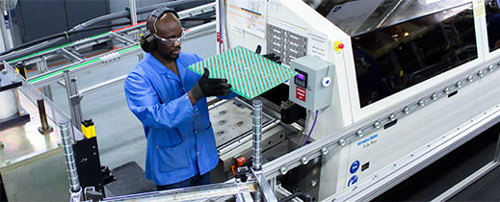 View Career Employment Opportunities
Daktronics strives to make Daktronics.com accessible to any and all users. If you would like to contact us regarding the accessibility of our website or need assistance completing the application process, please contact Human Resources at recruiter@daktronics.com.
Equal Opportunity Employer
Looking for more information?
Brookings, South Dakota
Brookings is a nationally recognized, award-winning community offering a dynamic, safe and family-friendly place to live. Be part of something special.
Health, Dental & Vision Plans
Health Insurance
Dental Insurance
Vision Insurance
Reimbursement Accounts
Health Savings Account (HSA)
Dependent Care Flexible Spending Account (FSA)
Retirement/Investment Planning
401(k) Plan
Employee Stock Purchase Plan (ESPP)
Time Away from Work
Paid Time Off (PTO)
Nine Paid Holidays
Leave of Absence
Maternity Leave
Parental Bonding Leave 
Military Leave
Funeral Pay
Jury Duty
Life, Disability & Leaves
Life Insurance
Optional Life Insurance
Short-Term Disability
Long-Term Disability
Voluntary Benefits
Critical Illness Insurance
Accident Insurance
Education & Development
Daktronics Training & Development
Adult Education Program
Tuition Reimbursement Program
Travel & Accident Plans
Travel Accident Life Insurance Policy
Global Travel Health Plan
Other Benefits
Employee Discount Program
Employee Assistance Program (EAP)
Fitness Reimbursement
Adoption Assistance
Corporate Sponsorship Program
The Daktronics Story: 50+ Years of Innovation
S, Daktronics has been innovating and engineering new solutions for our customers. Today, we are the world leader in designing and manufacturing electronic scoreboards, programmable display systems, and large screen video displays. With locations across the globe, our products are everywhere; from small to large businesses, high schools, colleges, professional sports, roadways, billboards, airports, and beyond.
Daktronics Careers Videos