4 MLS Venues with a New Video Experience in 2021
What stadiums are offering a new video display experience for MLS fans in 2021? Read on to find out!
Justin Ochsner on 8/2/2021
Categories: Pro Sports and Colleges
In 2021, Major League Soccer (MLS) has four venues unveiling new LED video displays to pull fans further into the match-day excitement. This includes the Columbus Crew at Lower.com Field, FC Cincinnati at TQL Stadium, Austin FC at Q2 Stadium and New England Revolution at Gillette Stadium. Now, they all kicked off their seasons on different days, but they all have one big thing in common, Daktronics technology! Lets dig a little deeper into each stadium and their tech.
1. Columbus Crew / Lower.com Field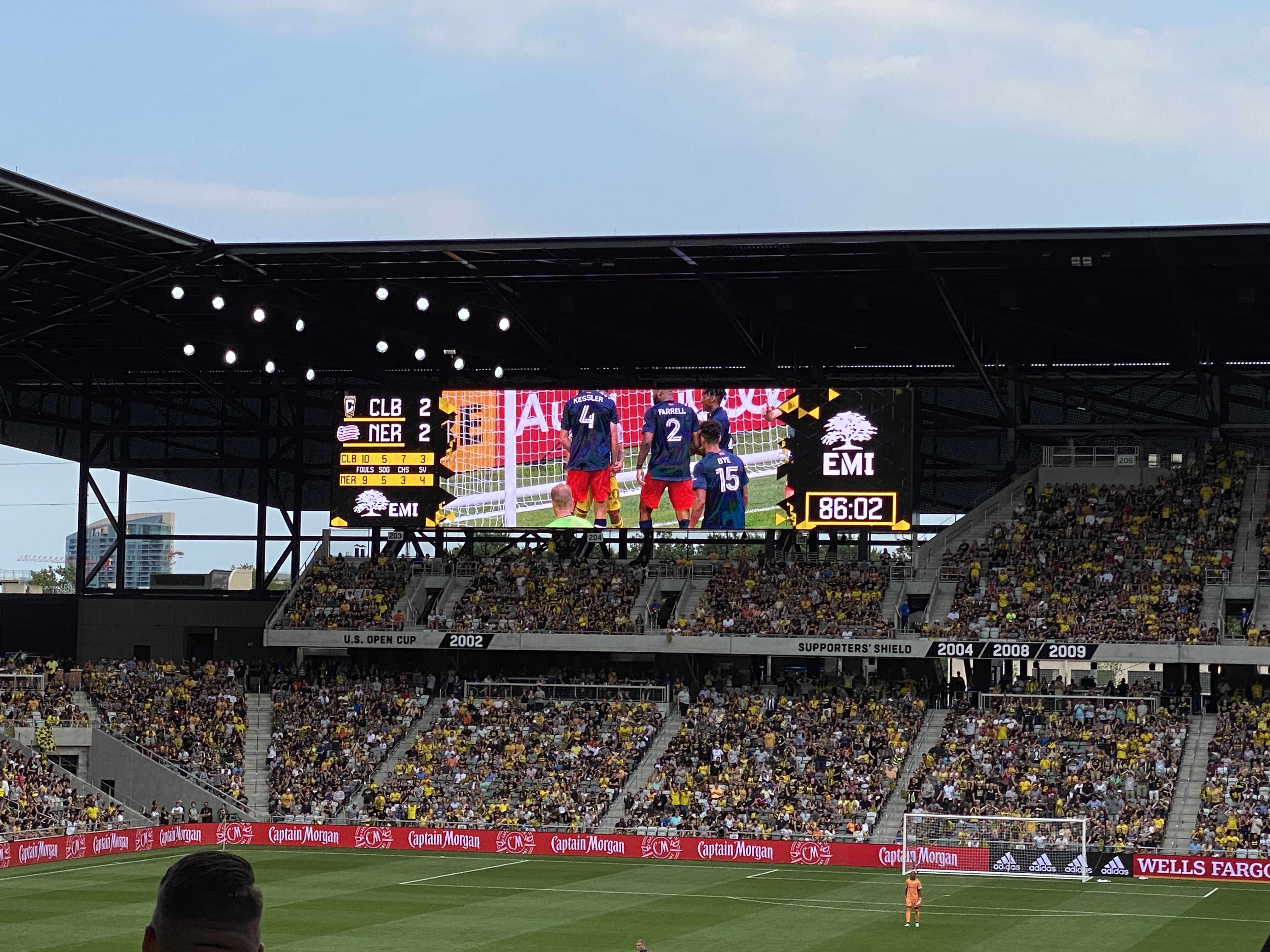 The Crew have been longtime Daktronics partners dating back to their previous venue, Crew Stadium and Mapfre Stadium. Moving into the new downtown stadium, Lower.com Field, the Crew were welcomed with 8,700 square feet of digital display space. Talk about a commitment to the fan experience!
The six new displays were unveiled for the defending MLS Champions on July 3, highlighted by the two main end zone displays. The northeast corner display measures 25 feet high by 44.5 feet wide and the southeast display measures 25 feet high by 108 feet wide. Both feature 13HD pixel layouts to ensure a beautiful picture and resolution is delivered with every video, replay, highlight and more.
Don't just take my word for it. Here's what Steve Lyons, Executive Vice President and Chief Business Officer of Columbus Crew SC, had to say:
"We are excited about partnering with Daktronics as we prepare to open New Crew Stadium. Daktronics' state-of-the-art LED screens will provide our supporters with engaging and interactive match content and help elevate the match-day experience at our new stadium, creating a true home-field advantage for our team."
Adding to the fan experience, this project includes a pitch perimeter display surrounding the action on the field. It measures 3 feet high by 942.5 feet long!
For more on this project, click here.
2. FC Cincinnati / TQL Stadium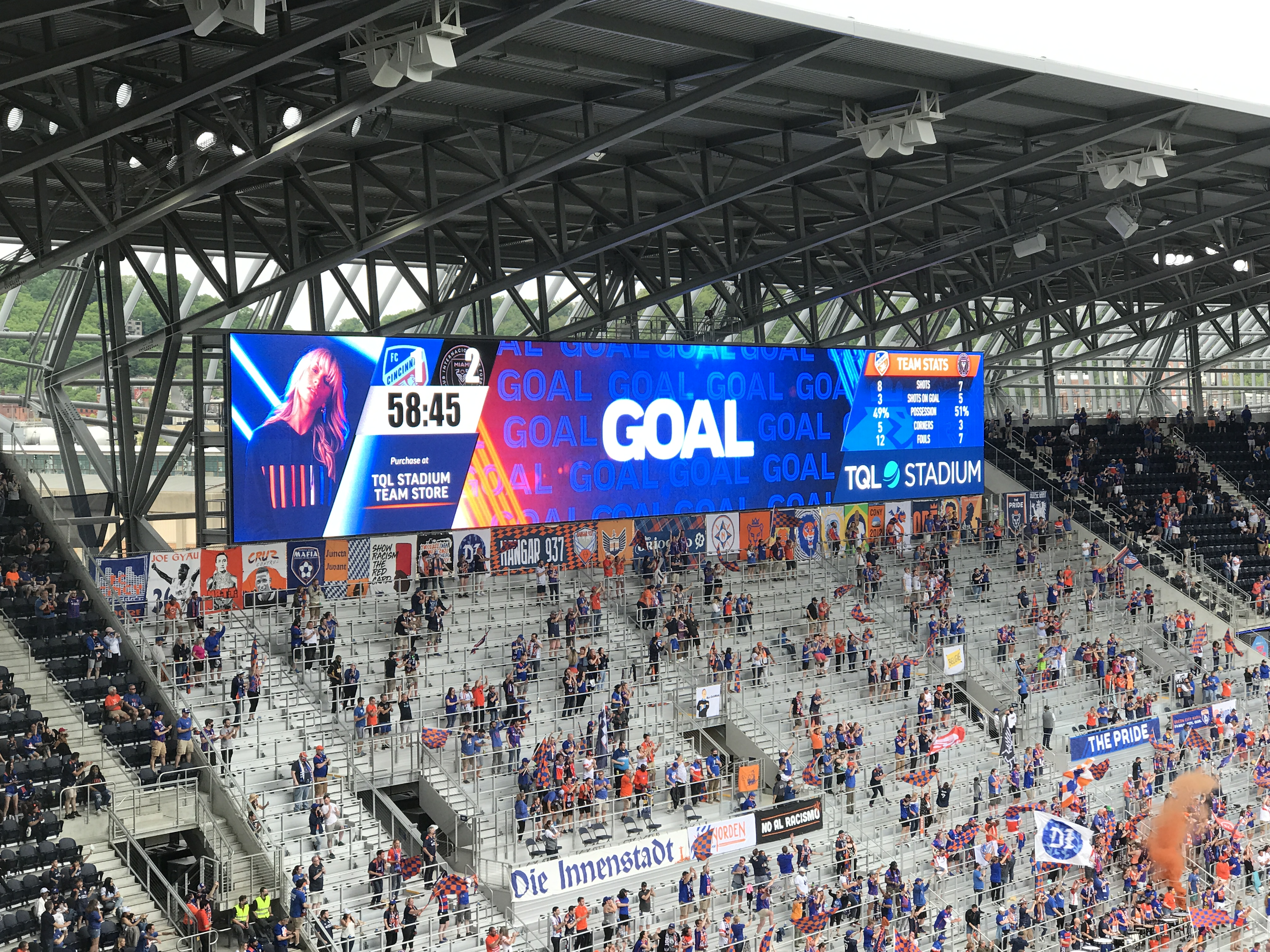 Just a few weeks before the Crew, FC Cincinnati showed off their new LED technology with 8,000 square feet of displays at TQL Stadium. Two video displays, two ribbon displays and a pitch perimeter display engulfed their fans in the live event experience at MLS games in Ohio.
The main video display installed in 2020 to prepare for unveiling in 2021 measures 23 feet high by 151 feet wide – the widest main video display at a soccer-specific stadium! When commiting to an engaging and immersive fan experience, they really went all in and included an auxiliary display that measures 23 feet high by 50.5 feet wide. Both displays feature 13HD pixel layouts.
"The main video board is a key element to our fan experience," said FC Cincinnati CMO Meg Ryan. "It is not only the widest screen in MLS, but it is also the most dynamic. Our partnership with Daktronics allows us to develop immersive fan experiences with unique content that runs on their platform. We're excited to showcase this technology with Cincinnati and MLS."
That pretty much says it all! It's an amazing place to catch a match. The team came over to the new stadium this year after previously playing at Nippert Stadium (home of the University of Cincinnati), another venue filled with Daktronics technology.
One thing the team did move over from Nippert Stadium to their new home is the pitch perimeter display that Daktronics provided in 2019. Again, this technology is close to the pitch and in the background of almost every view of the action – great for sponsors to get their messages seen!
To read the full news release, click here.
3. Austin FC / Q2 Stadium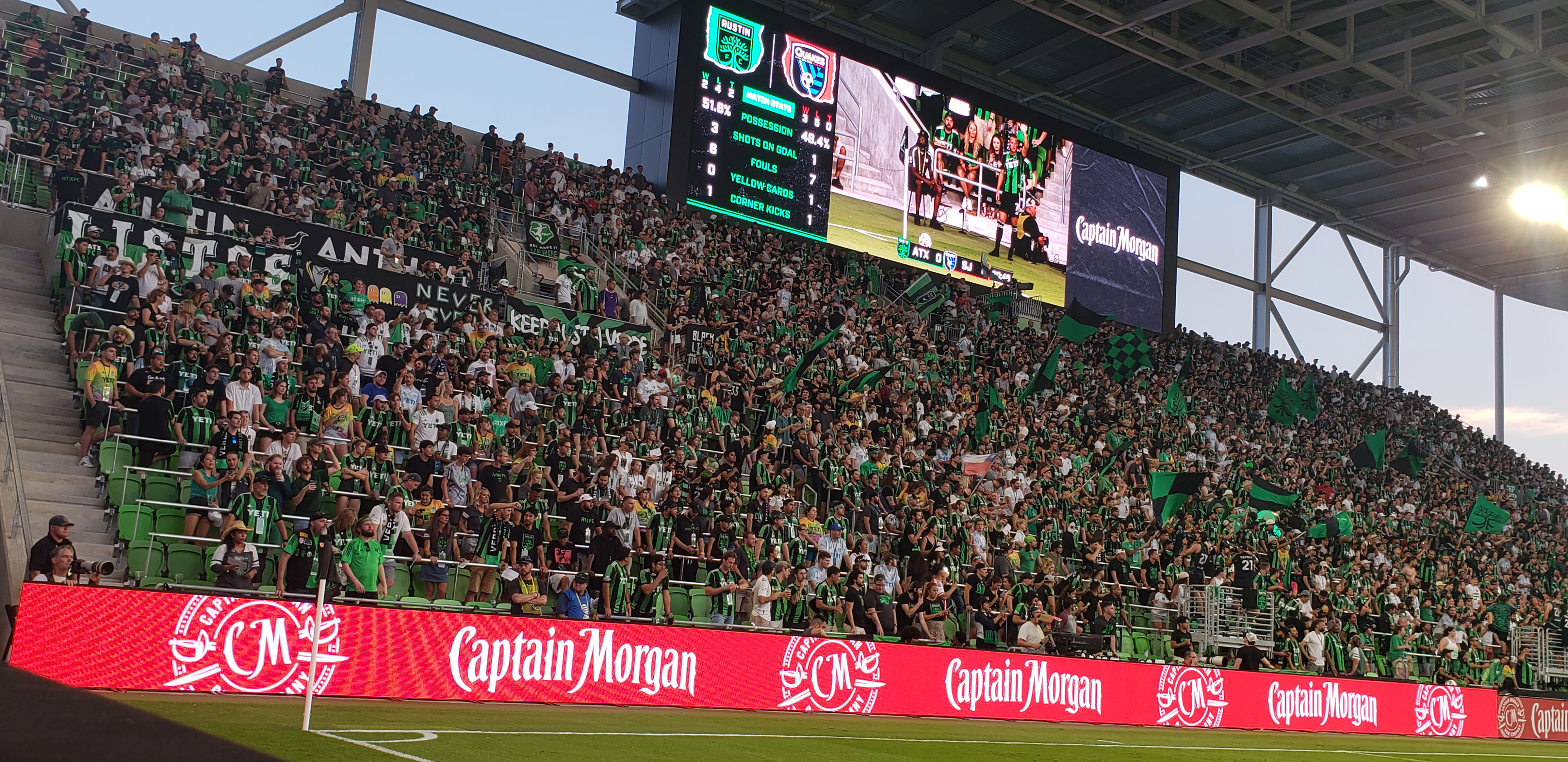 Also debuting its new Daktronics video displays in May 2021, Q2 Stadium in Texas is home of the brand new MLS expansion team Austin FC. And a new team needed a new stadium outfitted with 5,960 square feet of new LED technology to blow their fans away!
The centerpiece of the installation measures 24 feet high by 84 feet wide and sits at the north end of the stadium. This video display captures fans attention and provides them all of the content, stats and information they expect at a live soccer match. Not to mention, all six of the LED displays in the stadium feature 10-millimeter pixel spacing for improved resolution and better image quality.
"After a competitive review process, Austin FC is pleased to announce that we have chosen Daktronics' industry-leading LED technology to enhance the stadium experience in our world-class venue," said Andy Loughnane, President of Austin FC.
The venue also added ribbon displays along the seating fascia and pitch perimeter displays to add an extra element of immersion to the game-day experience. It also gives them more digital space to share recognition of their sponsors.
Talk about a great way to bring a new team into the league! For more details on this installation, click here.
4. New England Revolution / Gillette Stadium
Finally, on July 7, the New England Revolution welcomed fans to see their new 11,595-square-foot, HDR-capable video display at Gillette Stadium. The massive screen in the south end of the stadium is the second largest in MLS and measures just under 53 feet high by 220 feet wide.
Ahead of the first use of the display, Kraft Sports and Entertainment Chief Operating Officer Jim Nolan had this to say, "We're proud to extend our partnership with Daktronics to enhance Patriots and Revolution fans' game-day experience. This new video board is best-in-class and we look forward to sharing it with our fans."
Share it with fans they did. It features 10-millimeter pixel spacing and integrates with the entire Daktronics LED system within the stadium. As a bonus, the New England Patriots also get to use the display during the American football season later this fall.
The big display is certain to make a big impact on game day for Revolution fans, Patriots fans and even the fans of opposing teams that visit the stadium. More details of this project are available by clicking here.
BONUS!
Looking ahead to 2022, Nashville SC will share a new video display experience with their fans as well. Six displays will be installed at Nashville's new stadium before next season kicks off, including a main video display measuring 34 feet high by 60 feet wide. In the opposite corner of the stadium, an auxiliary display will measure 20 feet high by 54 feet wide. Both display will feature 10-millimeter pixel spacing for that higher-resolution viewing experience.
Daktronics is certainly excited about this project coming together, as noted in this quote from Regional Sales Manager Kyle Adams, "The LED technology at Nashville SC Stadium will help create an amazing atmosphere for the club and their fans. We're thrilled to be a part of bringing soccer to Nashville and helping them succeed. It's an honor to work with their team and we look forward to the unveiling of the stadium and technology when they host their first games in 2022."
To dig into the details of this project, click here.
Daktronics has been involved with many MLS stadiums bringing an awesome, edge-of-your-seat experience to their fans over the years. To see more of those projects and installations, visit us at www.daktronics.com/mls.
Enjoy the rest of the 2021 season!

---