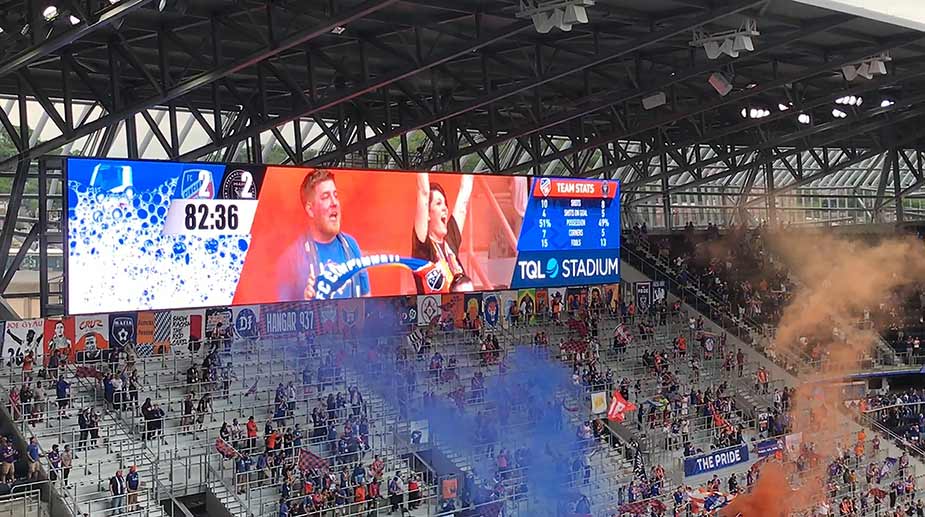 ​LED Display System from Daktronics to Entertain FC Cincinnati Fans at TQL Stadium
Two video displays, two ribbon displays and a pitch level display to surround fans in visual experience at professional soccer matches in Ohio
BROOKINGS, S.D. – May 27, 2021 – When fans come to TQL Stadium, they will be entertained by the play on the pitch and the visual experience provided by Daktronics (NASDAQ-DAKT) of Brookings, South Dakota, at FC Cincinnati matches. Four LED displays totaling more than 6,200 square feet were designed, manufactured and installed in 2020 to be ready for the 2021 season at the professional soccer venue located in Cincinnati, Ohio. A pitch-level display was also moved to the new stadium to provide a combined total of 8,000 square feet of LED signage.

"The main video board is a key element to our fan experience," said FC Cincinnati CMO Meg Ryan. "It is not only the widest screen in MLS, but it is also the most dynamic. Our partnership with Daktronics allows us to develop immersive fan experiences with unique content that runs on their platform. We're excited to showcase this technology with Cincinnati and MLS."

Video displays at each end of the stadium and ribbon displays along each sideline's seating fascia will surround fans in a visual experience only available inside the stadium. The main video display will measure approximately 23 feet high by 151 feet wide – the longest main video display at a soccer-specific stadium – and the auxiliary display will measure 23 feet high by 50.5 feet wide. Both displays will feature 13HD pixel layouts to bring excellent image clarity and contrast to all imagery shown for fans to enjoy.

"The amazing new venue with the latest technology in displays and control systems will deliver an unforgettable fan experience," said Daryl Mihal, Daktronics regional manager. "We're grateful and excited to be part of this new chapter for FC Cincinnati. We can't wait to see the newest crown jewel of the Queen City roar to life for the first match."

Two LED ribbon displays will be installed to supplement the main displays with information and graphics while also allowing the opportunity to highlight sponsors throughout events. One display will measure 2.5 feet high by 332.5 feet long and the other will measure 2.5 feet high by 366 feet long. Both feature 16-millimeter pixel spacings.

Additionally, pitch level displays provided in 2019 will be moved to the new stadium to continue surrounding the playing field in LED technology. This offers a desirable advertising medium and more digital space for dynamic graphics to elevate the game-day experience.

The main and auxiliary displays are capable of variable content zoning allowing each to show one large image or to be divided into multiple zones. These zones can show live video, instant replays, up-to-the-minute statistics, graphics and animations, and sponsorship messages.

Daktronics will also be including its powerful Show Control solution with this installation. This industry-leading system provides a combination of display control software, world-class video processing, data integration and playback hardware that forms a user-friendly production solution. For more information on Show Control, visit www.daktronics.com/show.

All Daktronics LED displays feature industry-leading environmental protection to ensure the displays endure the outdoor elements and perform as expected in all forms of weather.

In addition to the equipment installation, FC Cincinnati will also receive a content package that will be produced and delivered by Daktronics Creative Services.

Daktronics has grown with the sports industry from the company's beginnings in 1968. Today, the company has integrated LED super systems in nearly 60 percent of all professional sports facilities in the United States. For more information on what Daktronics can provide, visit www.daktronics.com/professionalsports.

​About Daktronics
Daktronics helps its customers to impact their audiences throughout the world with large-format LED video displays, message displays, scoreboards, digital billboards, audio systems and control systems in sport, business and transportation applications. Founded in 1968 as a USA-based manufacturing company, Daktronics has grown into the world leader in audiovisual systems and implementation with offices around the globe. Discover more at www.daktronics.com.
Safe Harbor Statement
Cautionary Notice: In addition to statements of historical fact, this news release contains forward-looking statements within the meaning of the Private Securities Litigation Reform Act of 1995 and are intended to enjoy the protection of that Act. These forward-looking statements reflect the Company's expectations or beliefs concerning future events. The Company cautions that these and similar statements involve risk and uncertainties which could cause actual results to differ materially from our expectation, including, but not limited to, changes in economic and market conditions, management of growth, timing and magnitude of future contracts, and other risks noted in the company's SEC filings, including its Annual Report on Form 10-K for its 2018 fiscal year. Forward-looking statements are made in the context of information available as of the date stated. The Company undertakes no obligation to update or revise such statements to reflect new circumstances or unanticipated events as they occur.