Build Your Scoring System
Want an awe-inspiring system, but don't know where to start? Browse trending systems crafted by our professional scoreboard design team to give you an edge next season. 
Baseball Scoreboards and Pitch Displays
Trusted by the local ballparks and major league stadiums alike.
You need a baseball scoreboard system that is reliable, easy to operate and takes fan experience to the next level. We know it doesn't stop there. We're committed to helping our customers design the baseball scoreboard system that's right for their facility while maximizing the impact from their investment. Whether it's developing a sponsorship strategy, creating engaging content for your video scoreboard, or providing friendly local service, see why Daktronics is the best value in the baseball scoreboard and video display industry.
What makes Daktronics different?
Weather-sealed digits ensure durability and long life
More than 150 standard paint colors, all designed to resist fading from exposure to sunlight
Extra choices, such as white LED digits, which create a sleek, fresh-looking display and complement any team colors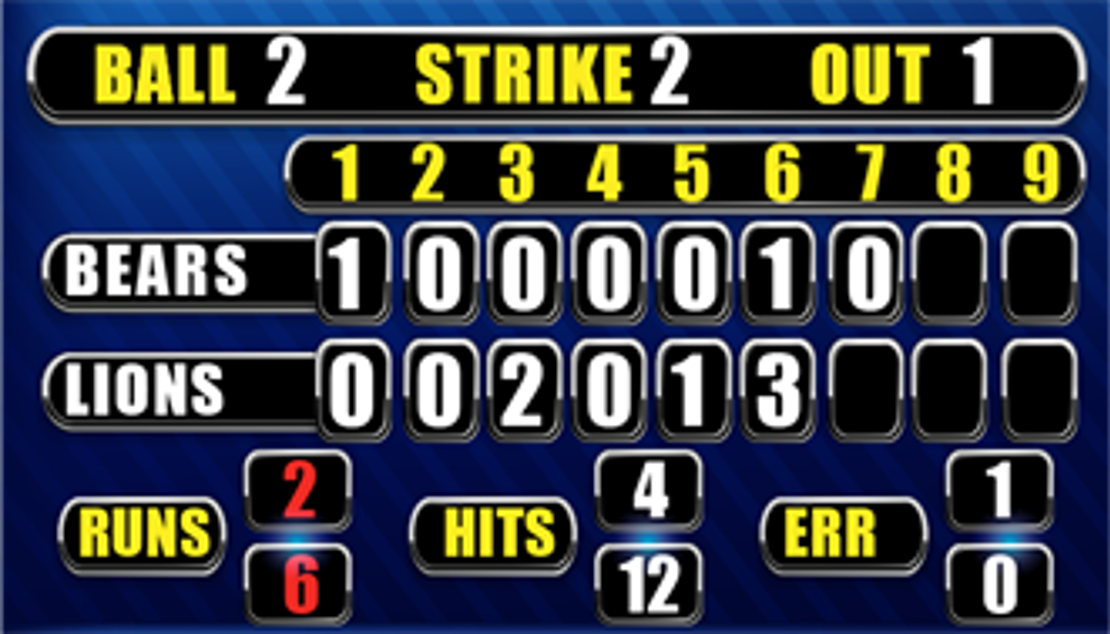 Showcase player stats and headshots and advertise upcoming games and events

Pitch Count Displays Pitch Speed Displays Pitch Timer Displays
---
Daktronics Releases the DAK Score App for Baseball
We listened. You wanted an easier way to score baseball games. Cut down on the time needed for setup, teardown and manpower during the game.
It's here. Daktronics released an exclusive app for select iOS and Android devices that will control your wired or Gen 6 wireless baseball scoreboards. Currently available for Home and Guest boards.


LED Video Displays
The same technology professionals trust, sized right for your facility and budget. Show live play-by-play of game action, instant replay of major game events, and fan cams to immerse your audience into the action.
Personalized Add-ons to Complete Your System
Achieve superior sound quality for music and announcements, overcome crowd noise with a single-point sound system, identify your school or sponsors on printable mesh.
What makes Daktronics the best value in the industry?
Ongoing research and development, with unmatched technical expertise
81% of all service calls are within 60 miles of a Daktronics representative
Straightforward operation, so people of any skill level can run the scoreboard
Comprehensive training and online tutorials and FAQs for display operation