Portable Sound System
Sportsound SSP-100
Announcements everyone can hear and understand. Music that's crystal clear. An amped-up atmosphere. Make it happen with the Portable Sports Sound System (Sportsound® SSP-100) from Daktronics. From the soccer field to the cross country course to the gym or the cafeteria, this PA speaker system adds a new level of excitement to every event.
The Portable Sports Sound System has built-in overload protection and peak limiters, and even pre-configured crossover and equalization. What does that mean to you? Sound that's never distorted, but always clear and understandable.
Features & Benefits
• Durable sound cabinet protects internal speaker and internal amplifier components
• Protective cover for inclement weather and safe storage
• Pressurized gas shock in tripod lifts speaker with little effort
• Sets up and tears down in minutes
• Built-in overload protection and peak limiters
• Pre-configured crossover and equalization
• Compatible with any Daktronics audio control system (see DD2367302)
• Included wired microphone and XLR cable
Take Your Sound Anywhere
This portable system includes a built-in amplifier with Bluetooth® wireless technology to connect smart phones, tablets or laptops. If you want wired connections, you're covered with XLR inputs. A wired microphone and XLR cable are even included with your Portable Sports Sound System from Daktronics.
You can set up and tear down your sound system in minutes. The cabinet has integrated handles for easy carrying, and the extendable tripod lets you set up your speaker at any height up to 6'7" (2.01m). Plus, your durable sound cabinet is fitted with a protective cover for safe storage.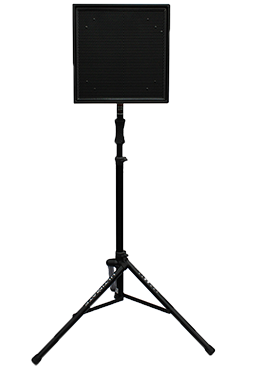 Specifications

Dimensions (H x W x D):
1' 6.25" x 1' 6.25" x 1' 3" (0.46m x 0.46m x 0.38m)
Weight:
44 lbs (20 kg)
Paint Color:
Black
Construction:
Speaker Cabinet: Copolymer Polypropylene; Tripod: Aluminum
Speaker Cabinet Documents
Announcer's Rack Documents
Hearing is Believing
Contact us for a free, no obligation demo at your venue.