Sportsound 150 Indoor Sound System
The Sportsound® 150 indoor sound system is specially designed for small indoor gymnasiums. This single-point system is permanently wall-mounted and provides even coverage throughout the gymnasium. This sound system has the ability to overcome crowd noise so everyone will hear crystal clear music and announcements. The front, a wraparound mesh is perfect for showcasing advertisements or customized graphics.
Features and Benefits
Cost effective option for gymnasiums up to 120' x 120' (37 m x 37 m)
Complete audio system – all components in one location for ease of installation
Durable sound cabinet protects internal speaker components from air-filled sport balls
Built-in overload protection and peak limiters for superior sound quality and low distortion
Crossover and equalization already configured for easy setup, even for first-time buyers
Mid and high-frequency speakers adjust horizontally and vertically to have complete control over speaker's audio pattern flow
Separate, lockable control enclosure allows for easy access while keeping components secure
Printable mesh for school identification or for generating sponsor revenue for your school
Compatible with any Daktronics audio control system to allow for easy add-ons as necessary (see DD2367302)
Coverage Pattern
The image shows the ideal mounting location to get the most effective audio coverage. Mid and high frequency speakers adjust both horizontally and vertically to better fit the needs of the facility.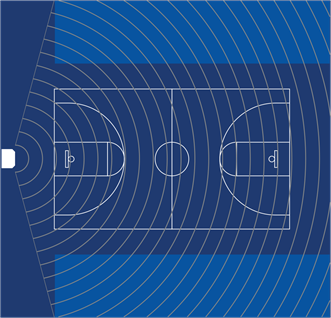 Specifications

Dimensions (H x W x D):
8' x 2' x 1' 5" (2.44m x 0.61m x 0.43m)
Weight:
175 lbs (80 kg)
Paint Color:
Semi-gloss black. More sound cabinet colors are available for an additional fee.
Construction:
Aluminum
Speaker Cabinet Documents
Announcer's Rack Documents
Hearing is Believing
Contact us for a free, no obligation demo at your venue.