Show Control Live
Show Control Live provides products designed for video production with easy-to-use workflows and powerful features for streaming and broadcast applications. Solutions are pre-packaged into application-specific configurations for your video control room utilizing video outputs.
Live Products Comparison
Purpose

Portable Graphics Server

Rackmount Graphics Server

Rackmount Clips & Graphics
Hardware Platform
Laptop
 
 
Rackmount Computer
 
Software Included
Display Studio
 
 
Content Studio
 
 
DMP-8000
 
 
VTX Real-Time-Render Engine
Camino
Optional
SportApp
 
Venus Control Suite
 
 
Capabilities
Channels
1 or 2
2
2
Output
NDI or SDI
NDI or SDI
SDI
External Key/Fill
Internal Key
Play Clips
 
 
Play Graphics
Traditional CG Workflow
 
Show Control Integration
 
 
External Trigger Support (RossTalk / Pbus)
 
 
Fullscreen Playback
 
 
Learn More
Learn More
Learn More
Live Book GFX
Portable Graphics Solution
The Live Book GFX™ is designed with flexibility in mind to fit every production environment and facilitate evolving work flows. Whether you're broadcasting over IP, or using SDI for internal or downstream keying, the Live Book GFX™ will be able to adapt to your environment.
Live Server GFX
Our custom rackable systems can be built with the memory, GPU, and Video IO combination that will satisfy even your most demanding project's needs.
Flexible Graphics--Intuitive suite of Score Bug playout applications
Reliable Solution--Proven technology runs on hundreds of systems 24/7/365
Real-time 3D Editor--Powerful template editor included for limitless customization
SportApps
The SportApp™ suite allows graphics playout control with connections to data feeds from various scoreboard controllers to assist broadcast operators with accurate information and graphics for the sport or league being aired. Every SportApp uses sport-specific playout panels for intuitive ease of use. Panels can be controlled manually or through connected data feeds.
Live Clips
Multimedia Broadcast Server System
Live Clips is a dual channel multimedia broadcast server system, designed for game entertainment and live production. Streamline your workflow with professional, broadcast-quality playback of unified clips with video, audio and alpha keying.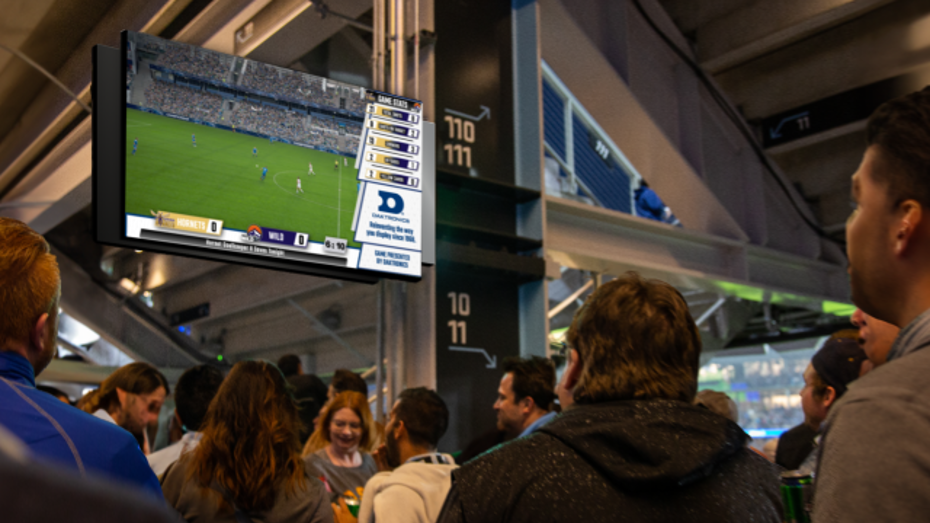 Live Channel
Never Miss a Moment
Live Channel brings the excitement and live action to the entire stadium with real time broadcasting directly to your TV network. When you expand your digital presence, you extend your reach over fans and attract more sponsors. In-venue broadcasting catches the action of the game with attention grabbing graphics, targeted messaging, up to the second game updates, and impressionable advertisements that will draw in more fans, sponsors, and advertising revenue.
Interested in a solution for display control?
Check out our Show Control Studio product family!
Questions? Let us put you on the right path.
Ask about demos, pricing, integration, or anything else, our Professional Services team is here to help.