Show Control Studio
Show Control Studio combines an easy-to-use display control interface with powerful content composing, state-of-the-art playback hardware, cutting-edge image processing and dynamic data integration to offer a complete set of powerful production tools all in one package. Show Control Studio is designed to suit all your LED display needs. 
---
Software
Display Studio
Easy To Use Interface for Content Playback
As a complete control solution, Show Control Display Studio gives operators the freedom to instantly
deliver multimedia to any destination throughout your facility. Easily control video displays, ribbons,
concourse monitors, fountains, lights and more with the simple click a button.


Customizable Workspaces
Create and save customized workspaces to fit your personal workflow and organizational preferences. Design, layout, and organize buttons on pages, tabs and containers. Customize the size and location of buttons or include for easy visual reference thumbnails. Change the background and color scheme to create a workspace that is unique to your team or venue.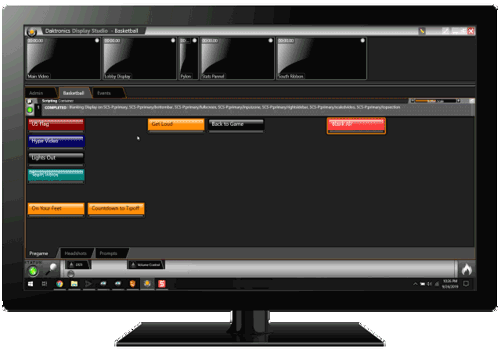 Smart Buttons
From playing basic animations to launching advanced scripts, smart buttons enable users to instantly deliver an endless variety of multimedia and control commands. Quickly and easily script each button with our intuitive step by step button creation wizard. Once buttons have been created, use the "broken button" search feature to ensure that everything has been created effectively.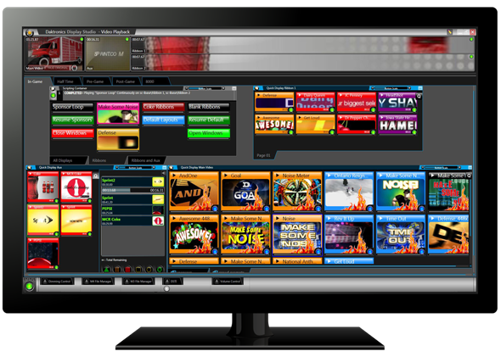 Integration
Easily view your data sources to track and ensure they are connected properly. Make your production more streamlined by controlling or allowing the system to be controlled by other products.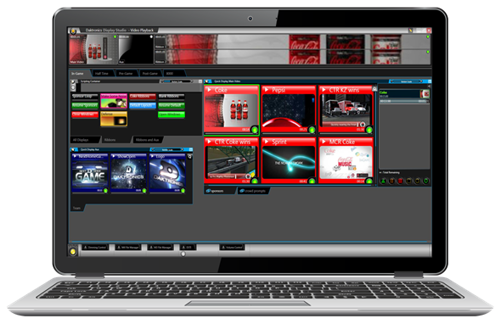 Content Studio
Content Compositor that Combines Graphics & Data
Content Studio allows users to combine images, animations, text and real-time data for game in progress
layouts, insert graphics, lower thirds and more.
Flexible Environments
Edit, trim, arrange and stylize presentations in a flexible editing studio that features both storyboard and timeline-based production environments.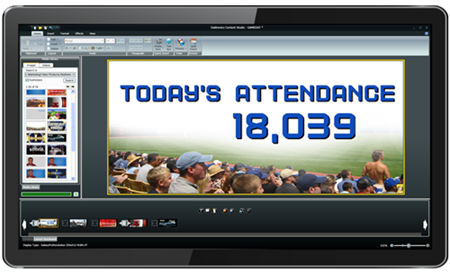 Storyboard View
For advanced presentations containing multiple layouts, storyboard editing allows designers to organize and rearrange different layouts into a storyboard sequence. Once a sequence is laid out, designers can apply a variety of graphic transitions between individual clips to provide a smooth, seamless transition from clip to clip.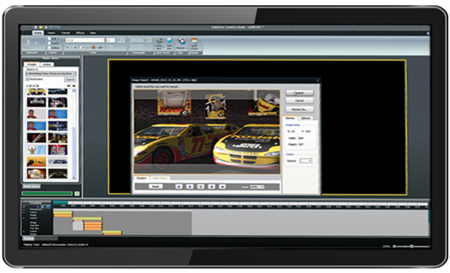 Timeline View
Flexible timeline editing allows designers to arrange video clips, animations, images and text on a linear timeline where they can adjust the in and out points of each presentation element. A variety of zoom and viewing options makes it easy to zoom in on individual presentation elements for precision adjustment.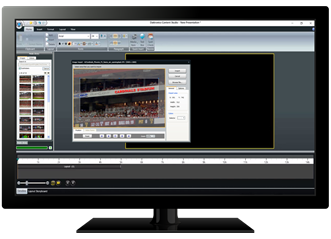 Import Assets
Support for all major multimedia types allows designers to import, edit and layer a variety of different graphics, animations and video clips.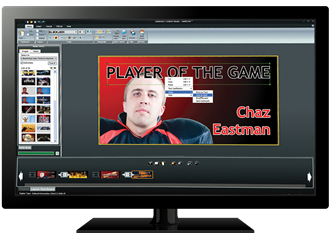 Layering
Create more interest in your content by layering multiple objects within one layout. Separate objects can be sorted and brought forward or sent backward at any time.
Text
Convenient inline text editing allows designers to place text frames on any graphic layout. Once placed, the frames can be resized (link to shrink to fit info) and layered to fit design specifications. Text can be edited and formatted at any time, giving designers the flexibility to instantly update layouts.


Drag-&-Drop Real-Time Data
Real-time data (RTD) integration allows designers to drag-and-drop data enhanced text fields onto any graphic layout using a collection of programmable sports and information data profiles. When displayed, RTD fields show live, up-to-the-second team and individual player scores, statistics and much more.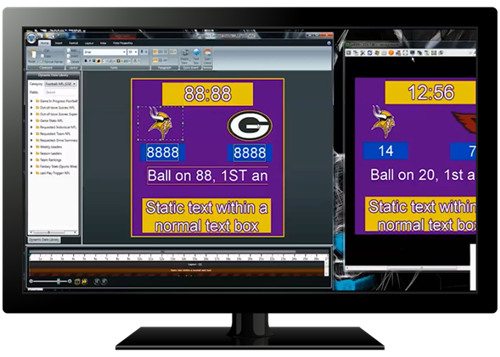 Transitions & Effects
Graphic Transitions
From fades and dissolves to scrolls and wipes, an extensive bank of clip transitions allows designers to create broadcast quality presentations with smooth, eye-pleasing transitions. An additional bank of video effects allows users to add a variety of real-time effects to any clip in a layout, making it easy to create polished, movie-like presentations in minutes.
Data Transitions
Apply transitions to data fields to create a more dynamic layout or call attention to the change in information.
Camino
Camino is a flexible, intuitive, real-time 3D template authoring system. The system includes full Unicode support, advanced text formatting, support for multiple graphic file formats, video and audio clip playback, real-time keyframe based non-linear animation, 3D objects, and 3D DVE. Rich, dynamic, content can be easily generated to create a unique look for your sports Score Bug.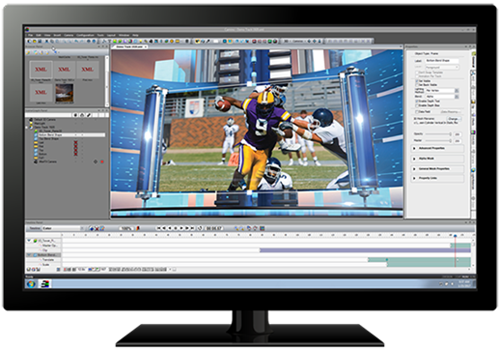 Data Studio
Set Up, View, Compare, & Output Stats
Easily integrate with the industries largest data library to enhance game action by showing predictive, seasonal and career stats, as well as league scores and social media content.
You can now combine data with text fields into one element, including real-time data, stats, and media RTD.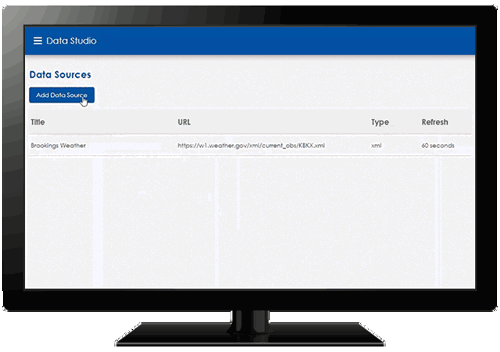 Venus Control Suite
Create Zones Within a Display Canvas
Maximize display potential by dividing a display screen into multiple zones to enable zone-specific content scheduling of stats, videos, ads, prompts and more. Venus Control Suite automatically implements zones to digital media players.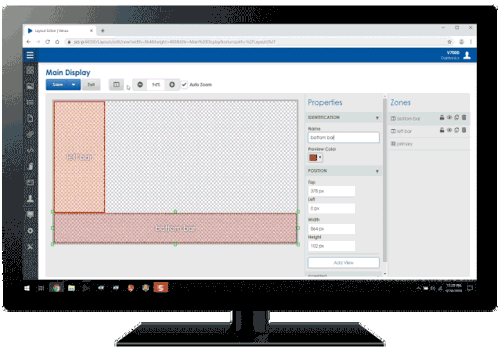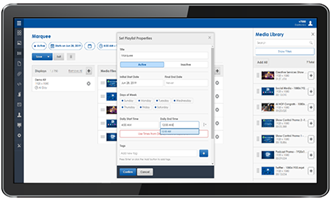 Optimal Effective Scheduling
Attract advertisers of all sizes, with varying needs and budgets, while maximizing revenue.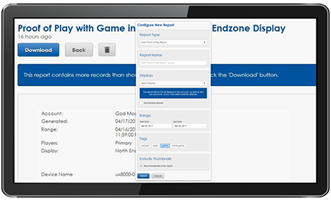 Impactful Reporting
Proof of play, proof of play with game in progress, event proof of play, scheduled content report, version report.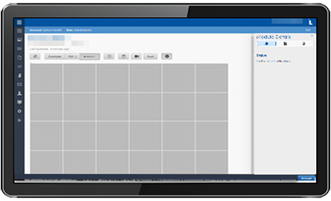 System Health
Get diagnostic information on your digital display from computer to module components.
All-In-One Control
All Sport Pro
The All Sport Pro laptop is designed with portability in mind. Operators can unplug from the press box and create their show anywhere. Load content, create Display studio buttons and more–the options are endless.
Daktronics DMP-8000 series digital media players distribute content, including real-time data, graphics, animations, and live video to digital display networks. They composite content onto a video output to seamlessly deliver playback to a single display or multiple displays.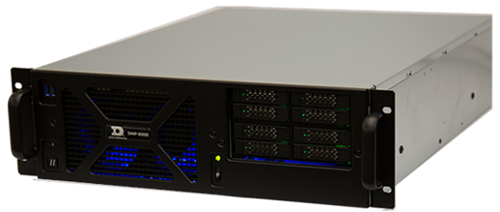 Video Processors
VP-6000 Processor
LED displays are fundamentally different from flat panel monitors and projectors; they produce color
differently and are unlimited in resolution and aspect ratio. We've applied our experience with LED
displays to create our 6000 Series processing engines which easily convert and route signals to your LED
display system, showing high quality video content clearly, smoothly and vibrantly.
Features and Benefits
Fast signal transmitting to display with low latency
Pixel-accurate color and motion reproduction
Signal is delivered to the exact size of your display, scaling content to exact dimensions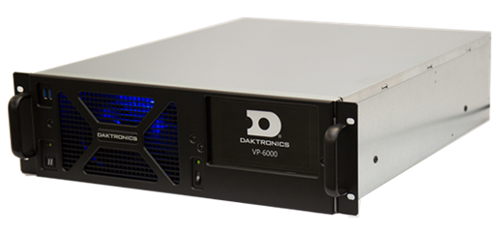 DakStats
Quickly track game, season and career statistics and compile detailed reports with DakStats. In addition to recording, the unrivaled display capabilities of DakStats make it easy to show live stats on LED displays for fans in the stands or online so anyone around the world can follow the game action.
Interested in a broadcast or streaming solution?
Check out our Show Control Live product family!
Questions? Let us put you on the right path.
Ask about demos, pricing, integration, or anything else, our Professional Services team is here to help.