Top Airport Digital Trends
Automation and technology are on the rise in today's airports. Travelers want more from their travel experiences, from interactive wayfinding to eye-catching entertainment. Airport professionals require effective real-time communication at every step.
10/5/2022
Categories: Transportation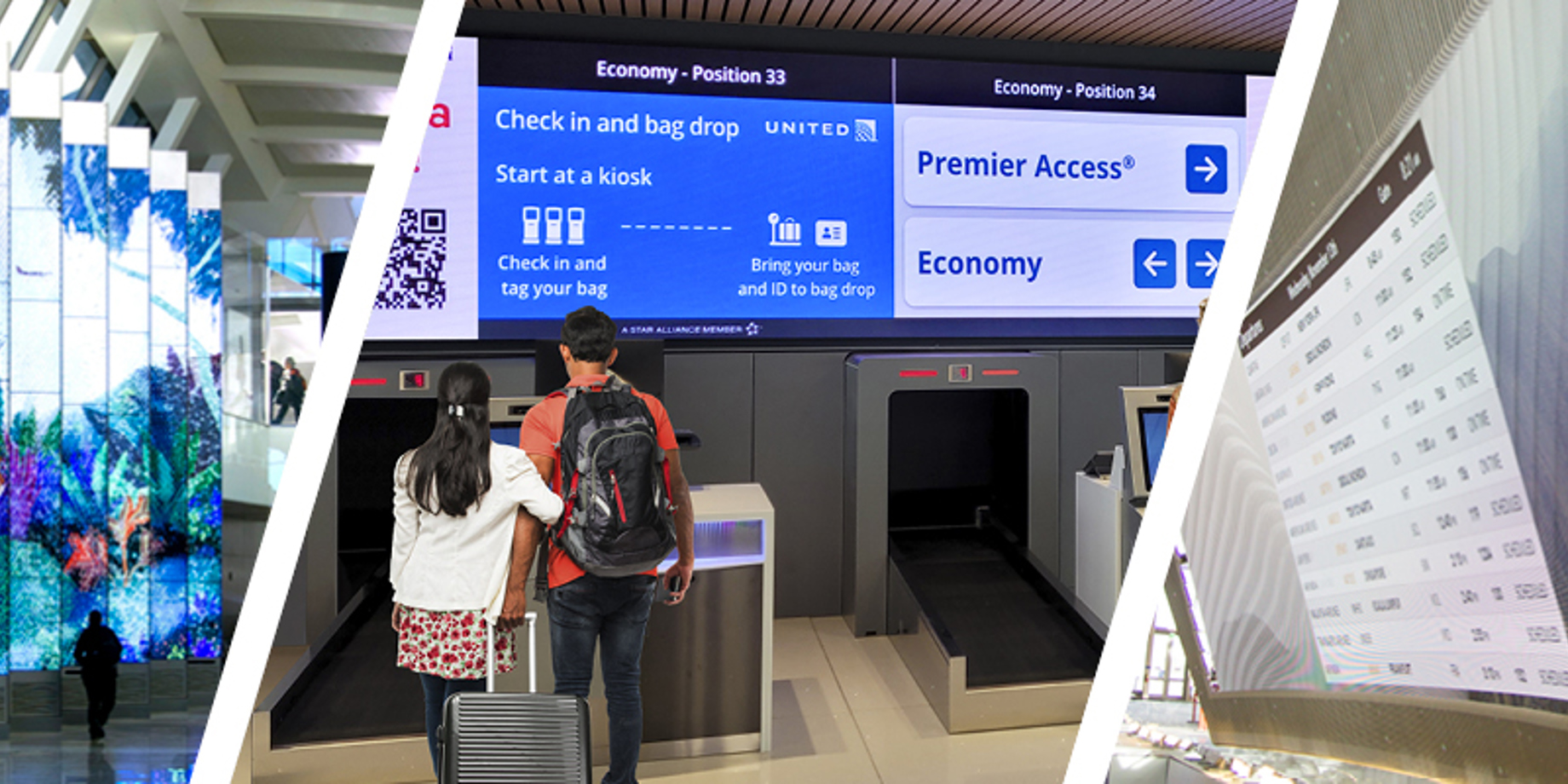 The Daktronics aviation team is always learning and discovering how to help airports meet their goals. We attend conferences, talk with airport professionals and evaluate their needs to discover the latest trends – and all the ways digital signage can help them meet their goals.
Increased Automation Technology
From interactive wayfinding and automated people movers to biometric screening and self-service bag drops, airports are finding new ways to automate the travel process. Self-service options are simplifying the travel process while maintaining higher safety standards.
While no one is recommending taking the human element away completely, technology provides greater efficiency. Wayfinding displays allow for real-time updates, keeping travelers informed and able to adapt plans quickly to minimize travel frustrations. Digital displays assist with automation by providing real-time instruction at each step in the process, minimizing wait times.
Digital displays send the right message. Daktronics is the world leader in LED technology, with more than 30 years of experience engineering, installing, and maintaining digital displays in more than 200 airports worldwide.
Our installation at Denver International Airport features LED displays as part of their state-of-the-art baggage handling system which has decreased the average passenger transaction time by nearly 50 percent.*
Immersive Passenger Experiences
It's not just about the destination anymore. Travelers want more interesting experiences at every step of the journey. Airports are embracing this trend by incorporating LED technology into architectural elements to display beautiful images throughout the facility. Pairing structures with digital displays can add beauty and elegance to strategic spaces, while providing interesting canvases for information, advertising and even traveler information.
Combine function and innovation. Direct-view LED displays empower airports to explore, bigger, brighter and bolder content.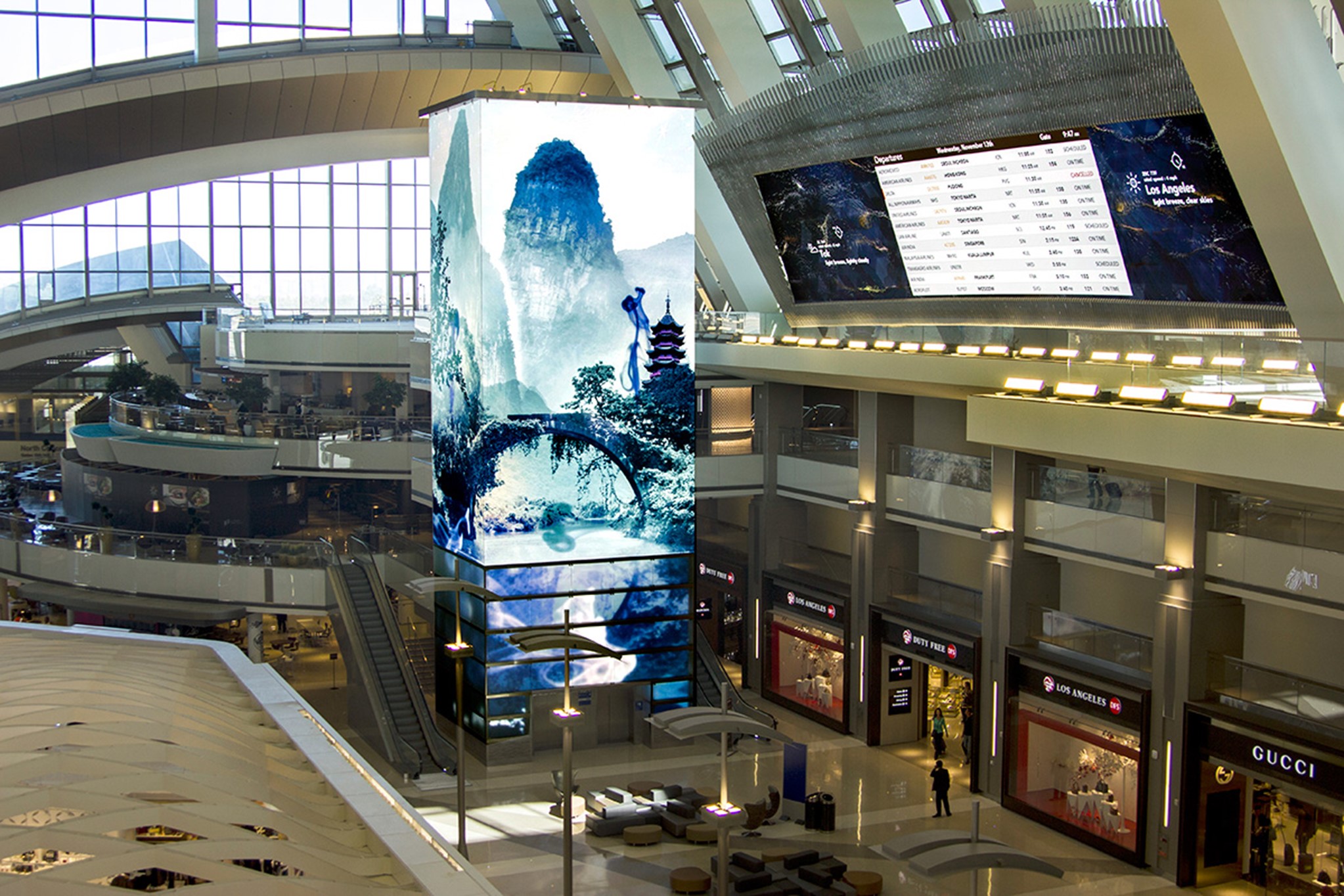 For example, the 72-foot, four-sided clock tower is the iconic centerpiece at the Tom Bradley International Terminal at LAX. The airport exhibits artistic imagery and compelling advertising on a display that looks incredible at a resolution well beyond 4K.
Reliability Requirements for Airport IT Professionals
Travelers rely on technology for a seamless experience, but Chief Information Officers and IT Directors often don't get to choose the technology they maintain. It's critical to provide reliable equipment to ensure functionality and 100% uptime.
Daktronics tests products beyond their limits. Our designers and engineers are so adamant about the reliability of our displays that we have our own extensive on-site Reliability Lab. We put every component through a vigorous 63-step process, testing everything from electrical components to plastics to LEDs. See our Reliability Lab at work.
Take your airport experience to the next level.
* Denver International Airport Collaborates with Materna IPS on US' Largest Self-Bag Drop Installation – Airport Technology (airport-technology.com)
---