Minor League Baseball Under The Bright Lights Of Las Vegas
Minor League Baseball's Triple-A Championship held at Las Vegas Ballpark, a venue with Daktronics LED displays.
Justin Ochsner on 9/30/2022
Categories: Pro Sports and Colleges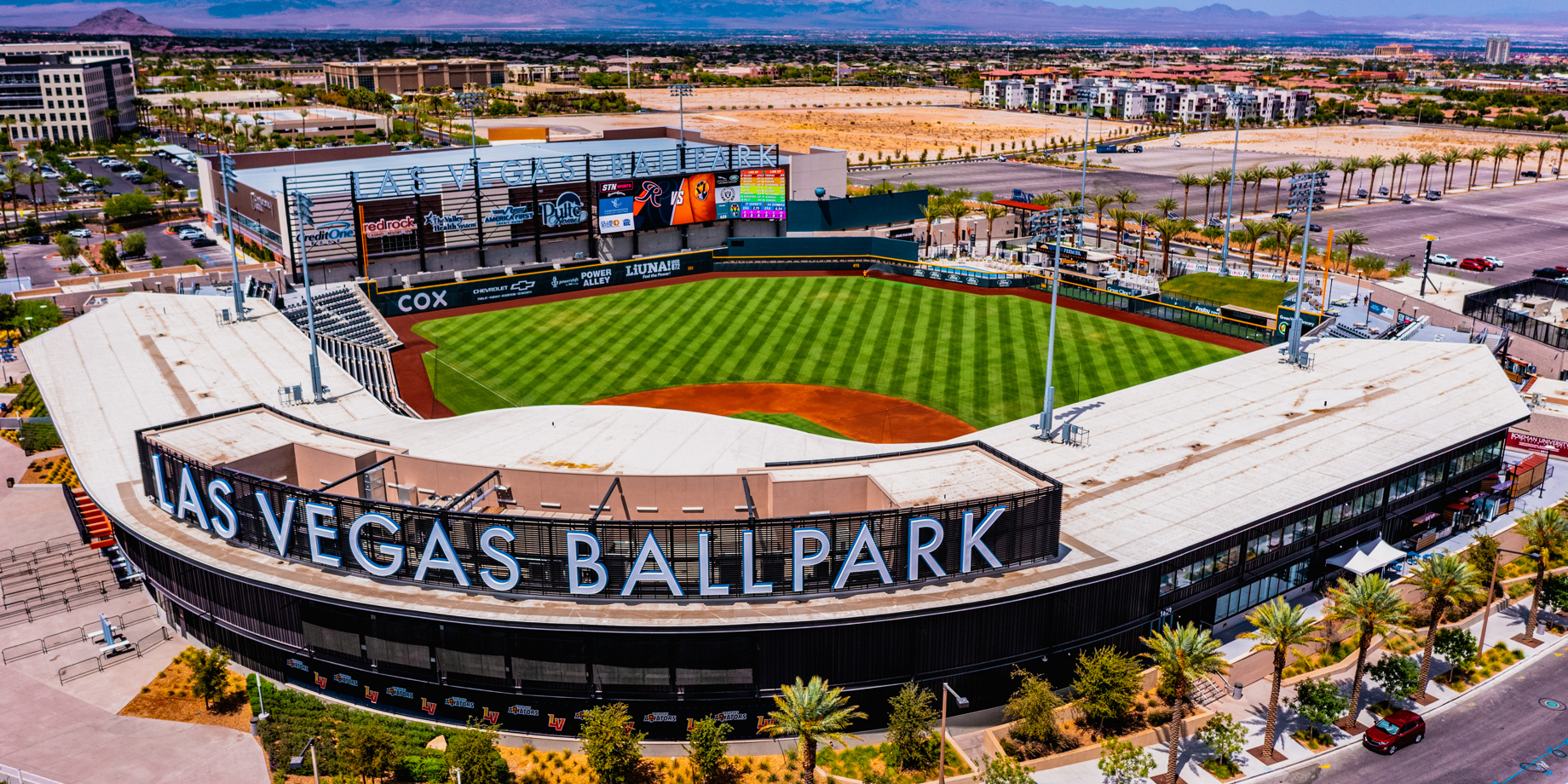 If you're a fan of Minor League Baseball, you're well aware of the upcoming tournament weekend. If you're not up to speed, keep reading to learn what's happening in Las Vegas!
The home of the Las Vegas Aviators, Las Vegas Ballpark, will host the inaugural Triple-A Championship Weekend with the three-game series beginning today, September 30, and ending on Sunday, October 2, with the crowning of the overall Triple-A National Champion.
So, what will fans see when they attend the games or watch them on television? Only the largest LED display in all of MiLB! If you want a preview, check out this video!
Let's dig into the stats to see what we're really looking at in and around this ballpark. The main (massive) video display is more than 31 feet high by 126 feet wide (!) and features a 13HD pixel layout. It also features a cool angle on the right side that matches the architecture of the outfield wall. This display is the visual centerpiece, aside from the game itself, of course! It shows all the live video and replays you can handle as well as the statistics and graphics that keep fans entrenched in the game of baseball.
What were the Aviators expectations of this main video display and the entire ballpark in general? Let's hear it directly from them:
"Las Vegas Ballpark is a game-changer for us. It has given us the opportunity to do things that no other minor league club has ever done."
– Don Logan, President and COO, Las Vegas Aviators
"We're more than just baseball. We're trying to make this a place that the community can enjoy as well."
– Gary Arlitz, Director of Game Entertainment, Las Vegas Aviators
Okay, you want more details of this eye-catching display? To start it would take 442 60-inch televisions to cover the entire display face. It also features a total of 3.2 million individual LEDs – a combination of red, green and blue – that put out light together to make the beautiful images your eyes can see from the stands.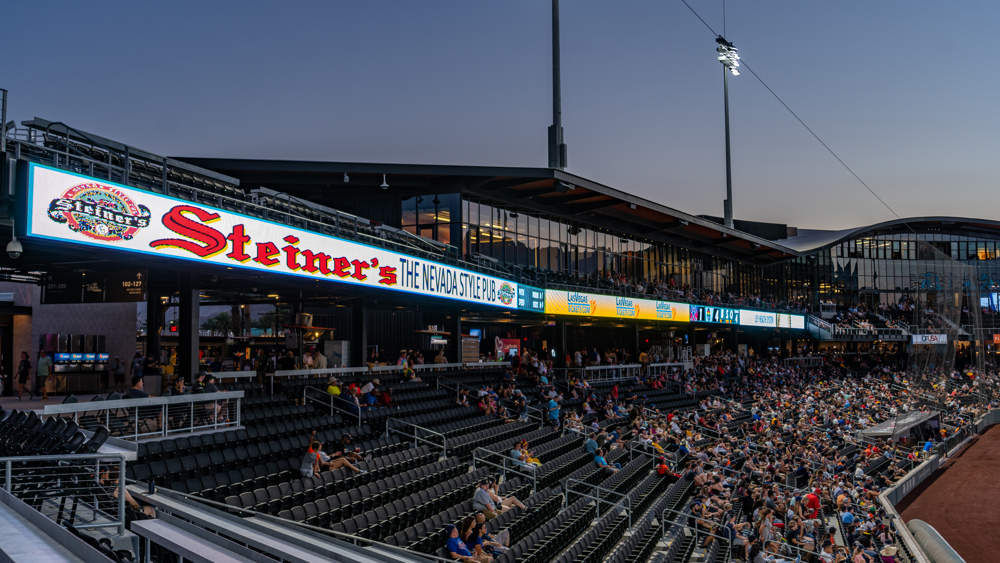 Looking along the seating fascia, two ribbon displays share additional statistics, graphics and sponsorship messages to highlight sponsors throughout events. Each measures 3.5 feet high by 90 feet wide and employs a 15HD pixel layout. Together with the main display, fans are delivered an amazing experience that helps immerse them in the game-day action.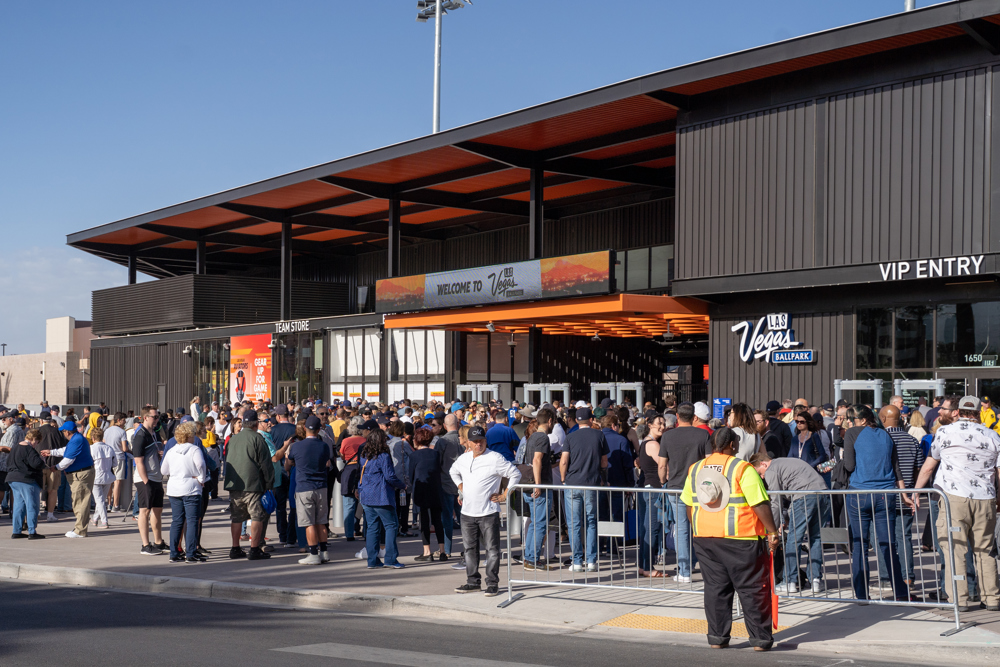 Something fans will notice when they arrive is a ribbon display above the main entrance near the team store. This welcomes audiences and connects with them instantly to begin their overall entertainment experience. Welcome messages, team store specials, team and ballpark branding, ticket information – all of it is possible on this versatile digital medium.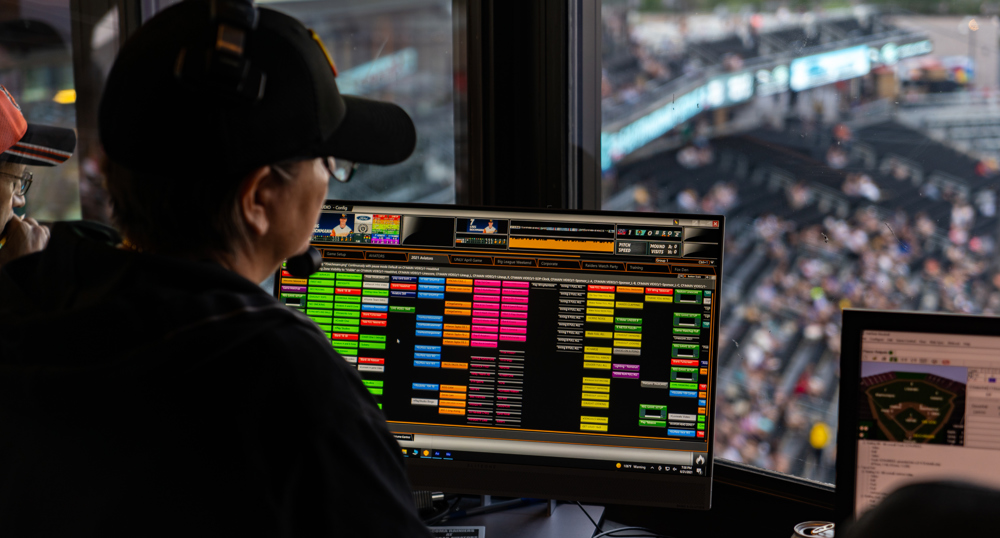 Bring a total control solution for the ballpark, Daktronics Show Control system was integrated with the displays to allow for content to be quickly and easily changed to match what is happening in the game. This includes displaying live video, instant replays, up-to-the-minute statistics, graphics and animations, and sponsorship messages.
This isn't the first time Daktronics has helped create a must-see game-day experience in the minor leagues. Our company has video displays featured in 22 of 30 Triple-A teams' ballparks and a 65% market share of all MiLB affiliates. This type of thing is truly what we do!
So, with all of that, are you ready for an amazing game-day environment for the Triple-A this weekend!? I know I am. Let's play ball!
---