School uses digital LCD boards to keep students informed and engaged
Monsignor Farrell High School uses eight digital signs to help faculty and students stay up to date, while adding a little excitement every day.
11/10/2020
Categories: High School Sports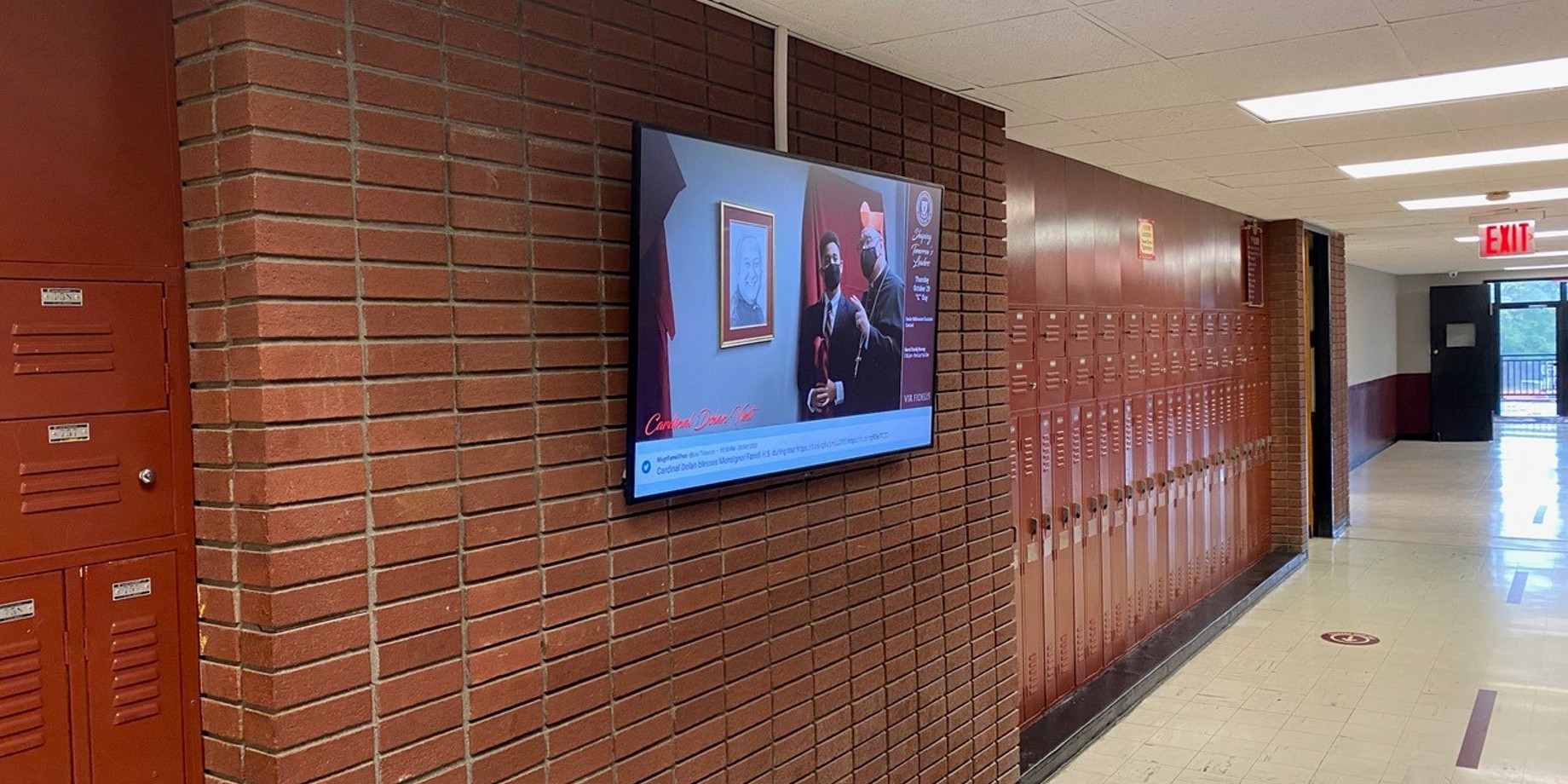 Monsignor Farrell High School is an all-boys Catholic school in Staten Island, New York, that was founded in 1961. The president of the school, Lou Tobacco, is always looking for better ways to communicate with their 800 students, keep a sense of community, and modernize the facilities.
One of the most effective ways he found to do that was to replace their old cork bulletin board with sleek new LCD signs from Daktronics. The school had a relationship with Daktronics already, as they have a large indoor video display in their gymnasium and a video scoreboard on their football stadium.
"I went to the athletic director when I was looking to expand with digital bulletin boards, and he put us in touch," says Tobacco.
---
"The digital boards are keeping in line with modernizing the school. Our old cork boards were archaic, with thumbtacks and paper. I want things in real time, modern and sleek, with current information and easily maintained."
---
They started with one 86-inch display in the cafeteria. Then they added two 65-inch signs on each of the three floors, and another one in the new Learning Commons, which also functions as the school library.
"They keep people informed," says Tobacco. "Our schedule is more confusing now with COVID. Every day we have the schedule on the board to help students keep track of where they should be that day. We also show special days, like testing and finals. Faculty and students can see schedules and room assignments. It has made things more efficient."
They also use the boards to remind students of protocols such as social distancing, hygiene, and following CDC guidelines.
Controlling information
All content goes through the school's Director of Communication, which keeps messaging current. There are no surprises for administrators, and it's consistent with the school mission. The school worked with Daktronics to set aside the bottom of the screen for social feeds.
---
"They're connected to Twitter, so I keep it updated with accomplishments, like when they win a game.
"Our boys get excited, seeing themselves and their achievements. If we win a game, do a service project or have a special accomplishment, we acknowledge it on the boards." Tobacco explains.
---
Recruiting and adding excitement
Recently, the Monsignor Farrell High School held an open house for prospective students and their parents, and they used the boards as a recruiting tool.
---
"We used them to promote programs and opportunities at the school, like sports, service clubs and academic clubs."
---
"We put slides up with pictures and text, and they showed throughout the open house. It reinforced our message visually," says Tobacco.
They also highlighted it when the Archbishop of New York, Cardinal Timothy Dolan came to visit the school recently.
"We showed lots of photos of his visit, and he was impressed with the way we used the boards."
Learn more about Daktronics Indoor Messaging Solutions
---