Here is whats new in Show Control version 2.20
Version 2.20 includes enhancements to playlist pause mode functionality Pause modes were previously a default setting done through a script button. Users could apply a pause on first or a pause on last mode for individual files. Here is the concept: Pause on the first – allows the director to see the first frame of the […]
Daktronics Control Panel on 3/20/2020
Categories: Pro Sports and Colleges
Version 2.20 includes enhancements to playlist pause mode functionality
Pause modes were previously a default setting done through a script button. Users could apply a pause on first or a pause on last mode for individual files. Here is the concept:
Pause on the first – allows the director to see the first frame of the content to know that it is queued up and ready to go.
Pause on the last – prevents content from going back to the beginning when the duration has ended.
The latest version of Show Control allows users to apply pause modes to playlists. This will play multiple files and will have the ability to pause on the first and/or last frame of the entire playlist. This is ideal for when wanting to show multiple files before switching back to other content without the possibility of showing a blank frame. For more details, see How do I use pause content in Show Control with DMP-8000?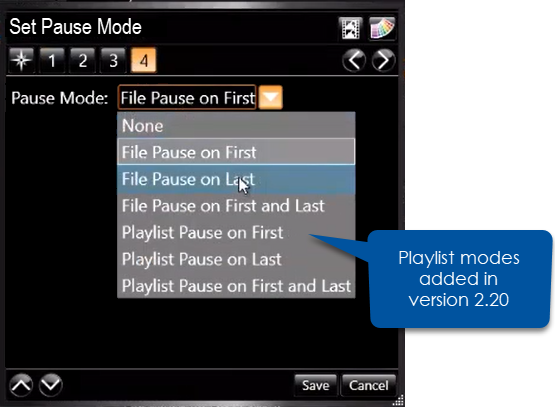 Also, users may want to customize their pause mode behavior on a specific Scripting or Quick Display button. This is now an option in the button configuration. For more details on this, see: How do I Create Scripting Containers and Buttons in Display Studio?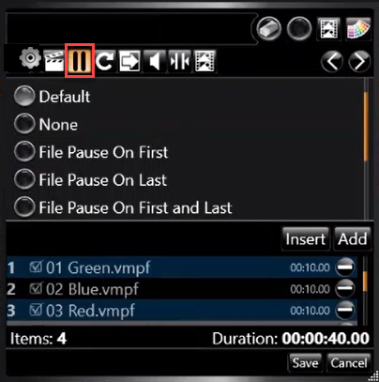 All Display Studio Changes
Allow Link to Library to work with sub-folders
Playlist Pause mode support
Allow Pause modes to be set on Quick Display and Script buttons
Show Pause modes in Quick Display queue
Send RossTalk commands for switcher from Display Studio
Option to ignore player version mismatches
Stop updating Monitor Wall when Display Studio is minimized – This reduced computer resource consumption will be helpful when using Content Studio or other applications on your machine.
Improved rank order for button search results- The search results will match exact full string first. For example, if two buttons are named "Jacks" and "Jacks Win" and "Jacks" is typed in the search. The search will prioritize the button called "Jacks" first in the list because it is the closest match.
All Content Studio Changes
Fixed Page 1 of paging not showing text or image properly
Fixed saving M3 content with text
Fixed field drop-list to show color, font, and flash fields
Fixed Profile Editor pointing to Content Studio V2 folder
Fixed "Open file from scripts only works for files the size of an output"
Fixed "Cannot add new images or videos to existing M3 content"
Content Studio switches to field properties tab when textbox doesn't have any field
Content Studio fails to open recent presentation when a display size is not found
Updated data profile includes new DIDs and DSRCs for MiLB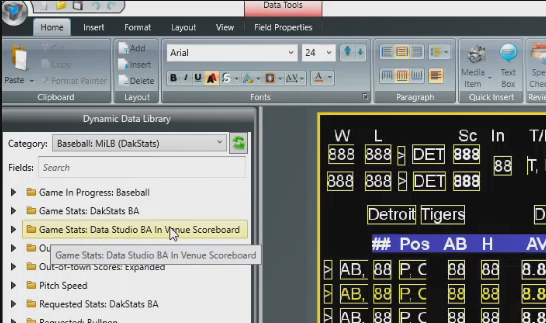 Interested in an update?
Please note, updates and improvements are often impacted by the type of system your Show Control interfaces with. Learn more by contacting our Professional Services Team.
---