Swim Club Makes Meets Memorable with Message Board
The Watertown Area Swim Club (WASC) use a universal scoring message display to allow for more than keeping score. They bring inspiration, entertainment, and fun to every meet.
1/20/2021
Categories: High School Sports
Going to Watertown, SD, for a swim meet is entertaining for swimmers and their fans. Of course, the races themselves are the main attraction, but Watertown Area Swim Club (WASC) keeps people engaged and entertained with their Daktronics 10mm scoreboard, too.
Donna Bierschbach is the team manager and one of the coaches for the team. Her husband Dan runs the scoreboard and audio for home meets. Parents work at all the meets, and even though the Bierschbach kids are out of the house, the family is still heavily involved.
Dan is a 35-year Daktronics employee who brings experience at the Olympics, including at the swim venue in Barcelona. That's one reason the Watertown Swim Club uses their board so effectively, but they hope to inspire others to do the same.
"We use it to entertain people, create an atmosphere and hopefully bring more people to our facility for meets."
Inspiration and entertainment
Dan manages the content through Show Control. He finds the content he wants, including video clips, trivia questions and more, and uploads it. Once his content is in place, it's a straightforward process.
"I find that setup takes a few keystrokes, but it isn't difficult at all," he says. "Once things are in there, I just have to click on them and they're ready to go."
Donna says it's fun to get swimmers and fans motivated during the meets. For example, they like to show video clips of Olympic swimmers during some of their most challenging victories.
"We show Michael Phelps breaking records, and the U.S. relay team winning in Beijing in 2008, with that amazing finish by Lezak: things that adults watched live, but many of these kids have never seen before so they get to experience it for the first time," she says.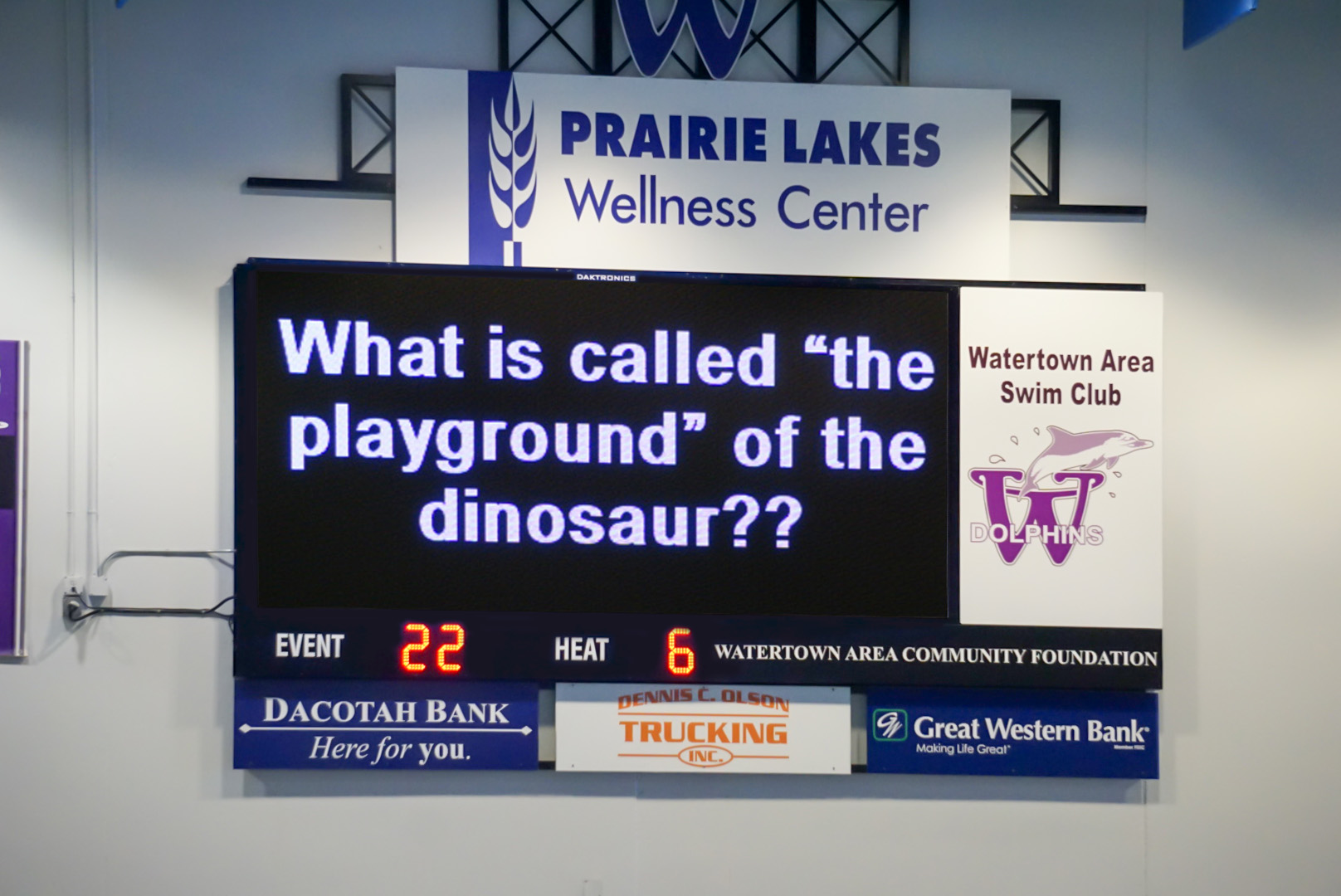 Trivia and the Shuffle Game are always big hits as well. They call swimmers to the deck for the chance to win prizes. They often play dance music and videos too.
"Baby Shark is always a hit," says Donna. "We even do the Chicken Dance!"
While Dan's background brings a lot to the (scoring) table, he hopes other swim clubs will sit up and take notice.
"We want to push other facilities, too. If someone from Sioux Falls sees what we're doing with our video board, the hope is that they'll do some of that at their meets."
The Swim Club has about 15 ads rotating on the board during every meet. Rather than keep everything static, they had a student from the local technical college create some interesting animation effects.

"He put some life into the ads," says Dan. "Now the logo flies in, we have transitions, things like that. It just gives it some life."
---