How Digital Displays Help Banks Retain Customers and Increase Foot Traffic
How can you use a digital sign to keep customers loyal and attract new deposits?
10/9/2019
Categories: Business & Community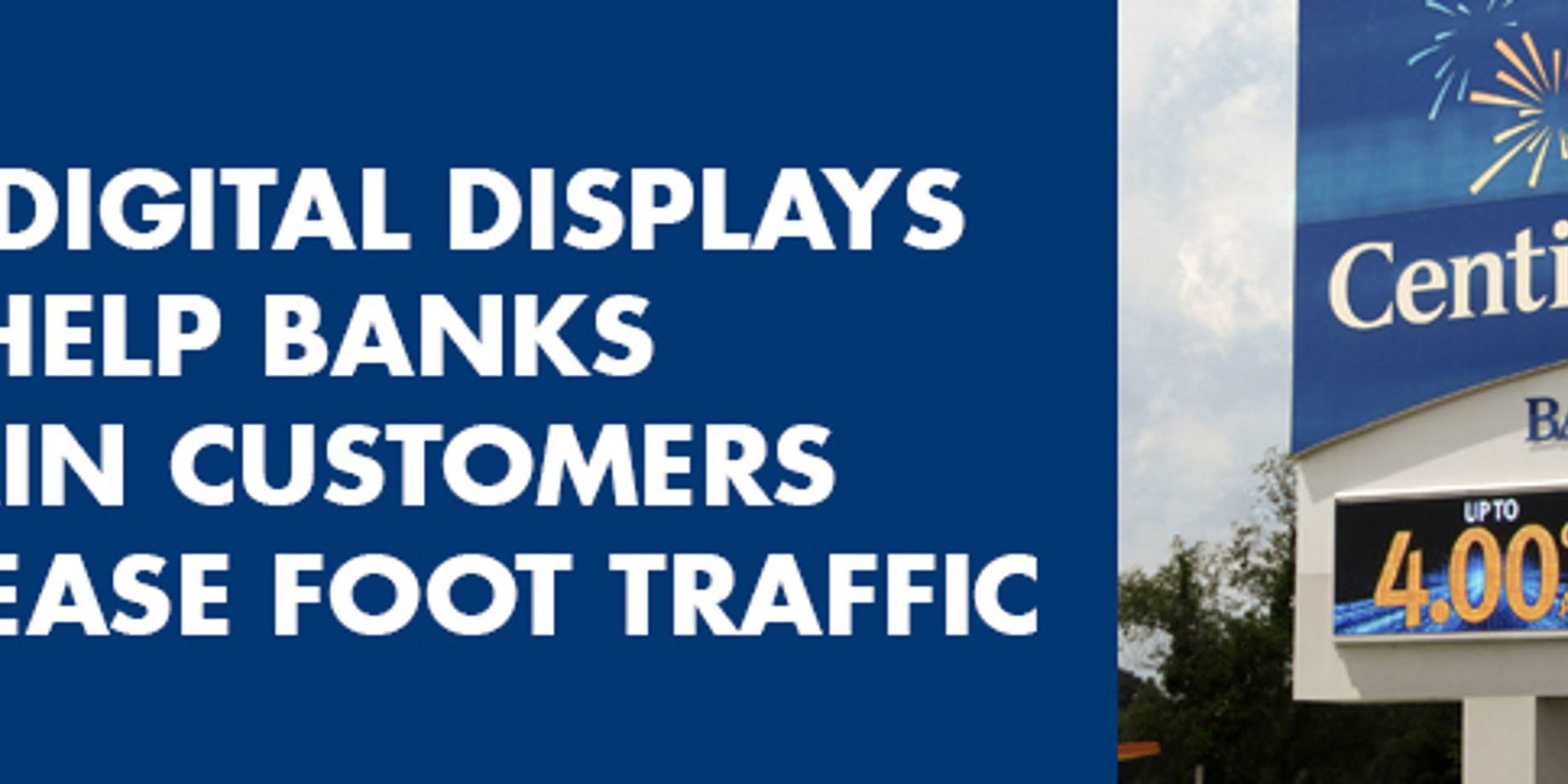 Currently, 5,400 United States banks fiercely compete to keep customers and reach new ones, says data from Forbes. And, online banks intensify the pressure by offering better interest rates.
We'd like to talk about your success, despite this competition, and how a digital sign attracts new deposits. If your customers can't see your sign or find your building, they won't visit your branch.
A digital display helps level the playing field for smaller and new facilities. It's the answer if a main artery has poor visibility, or products and services need more promotion. Or maybe a new branch needs to introduce itself to the community.
Let's take a look at three different ways you can use digital signage to grow business.
Digital marketing has placed us in an era of customer personalization.
"Digital signage serves to bridge the gap between all-digital banking and in-store banking. It has the power to foster and retain customer loyalty by making an emotional connection, intensifying the personal relationship with the customer and the bank," says David Little, director of Keywest Technology.
Be visible and be relevant. With outdoor and indoor signs, you can make an emotional connection with your customers. Post pertinent messages about life's milestones— graduation, marriage and retirement. Wish customers happy birthday. Invite them to get started with your help on a savings or retirement plan specific to their needs.
Use an outdoor display to welcome your guests and let them know you have free coffee and donuts inside. Run basic information, such as open hours. Content for the indoor digital sign could include your products and services, free checking, financial planners and in-house seminars. Also publish interest, bond rates and other market data.
Your numbers stay current because it's so easy to update the signs. The color and movement of a digital display impacts customers and helps them remember messages longer.
What are you doing to distinguish yourself? What do you offer that other banks don't? Remember, you're building a warm relationship with your customers. Take time to think about this—maybe review your mission statement. Keep in mind your customer service, customer accessibility and financial offerings, such as free checking. Is there anything that separates you from the competition?
Let customers know about the charities you support with messages on your outdoor and indoor signage. Some banks run a community section with a list of local events. A sign's message is a great way to let passersby know you're giving back.
Digital sign solution for financial institutions
A digital display is an advertising medium you completely own and control. It's the perfect interactive tool for customer engagement.
We've been working with banks since 1988. We installed our first Time and Temp display for Dakota State Bank, Milbank, South Dakota. After that, it seemed like all the banks wanted one!
We've added more options since then, including an indoor LED sign, outdoor LED sign, entry-level LED sign, and an indoor digital media solution used by financial institutes and other businesses.
Visit the "Digital Displays for Financial" web page for more information.
Potential ROI Use this calculator to gauge how much ROI you might expect by using digital signs.
---