Daktronics and Robotics: Preparing Students for Careers
Daktronics employees around the country are shaping students' futures by mentoring robotics programs.
3/31/2022
Categories: Business & Community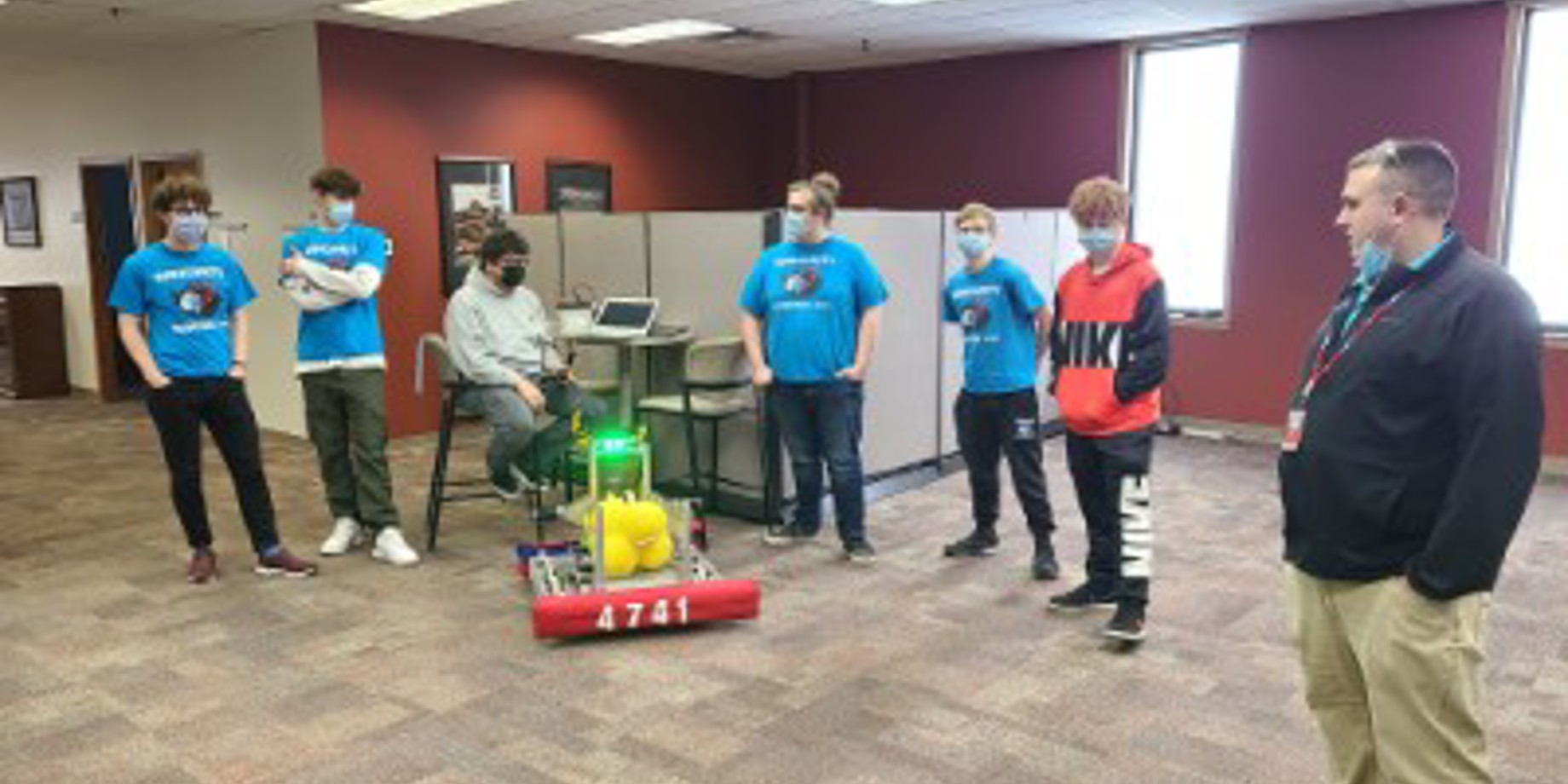 As the world relies more and more heavily on technology, the robotics field continues to grow and a need for engineers increases. At Daktronics, we care about the world's future engineers. That's why some of our employees have started partnering with local robotics teams to prepare students for STEM careers.
Our engineers encourage students as they learn and do their own experimentation. Available for questions and guidance, they let the students take control of the projects. This gives them more experience with critical thinking and problem solving while allowing them to take full credit when presenting and competing.
Here are a few places where Daktronics employees have stepped up:
Redwood Falls, MN
When the Redwood Area School District started the Wingnuts Robotics program, their mentor reached out to Daktronics for further expertise on building and programming robots. That's when Chad Johnson, one of our quality/test engineer, joined in to help the students excel in their competitions.
"I wish they would have had something like this when I was in high school," said Johnson. "It is so much fun watching them learn and grow each year."
In 2017, Johnson asked Danielle Raden, a process technician, to join the team as a mentor. As well as guiding students to solve problems refine new skills, she has boosted female involvement in the program, letting young girls know "STEM fields could be an option for them."
Raden loves seeing the many different ways student groups solve the same problem at competitions. She's excited to watch the Wingnuts Robotics program grow and see kids continue to develop skills they will need to enter the workforce.
Brookings, SD
In Daktronics hometown of Brookings, South Dakota, we had a mother-daughter duo on the junior high robotics team. One of our project coordinators, Stacy Brallier, was a parent coach while her daughter was in the program.
"It was great to see this group of kids making new friends and having an activity that challenged their critical thinking beyond what they had in their everyday classes," Brallier added. "The social and teamwork aspects were really good for this group of kids! I am glad that I was able to help facilitate this program." 
Another Daktronics process technician, Lou Bremer, helps with SDSU's BEST Robotics Competitions in Brookings. He has been a judge for seven years, evaluating student marketing presentations, engineering notebooks and tradeshow booth setups.
Watertown, SD
When the previous mentor for the Watertown High School Robotics Team quit in 2009, Daktronics account manager Todd Spies decided to take over the program. This team competed in two competitions every year – one local and one regional.
Spies enjoyed watching the kids, including his oldest son, learn how to use new equipment and build skills for STEM careers. His favorite part of being involved has been watching the students succeed in life and grow in their careers – he even had two students end up getting married!
He mentored the team for 5 years and has since judged events hosted by SDSU, something he'd like to do more.
Eau Claire, WI
Jacob Sydow, a manufacturing engineer, was on Immanuel Lutheran High School's FIRST Robotics Team 2143 in Eau Claire, Wisconsin, when he was a high school student.
After he graduated, he maintained involvement with the program as a mentor during his college years.
---
Robotics plays a huge role in Daktronics product development. Check out the amazing work our engineers do in our reliability lab.
---