Bonde Retiring After 12 Years of Service
Daktronics congratulates Brad Bonde on his retirement, and thanks him for 12 years of dedicated service.
6/5/2020
Categories: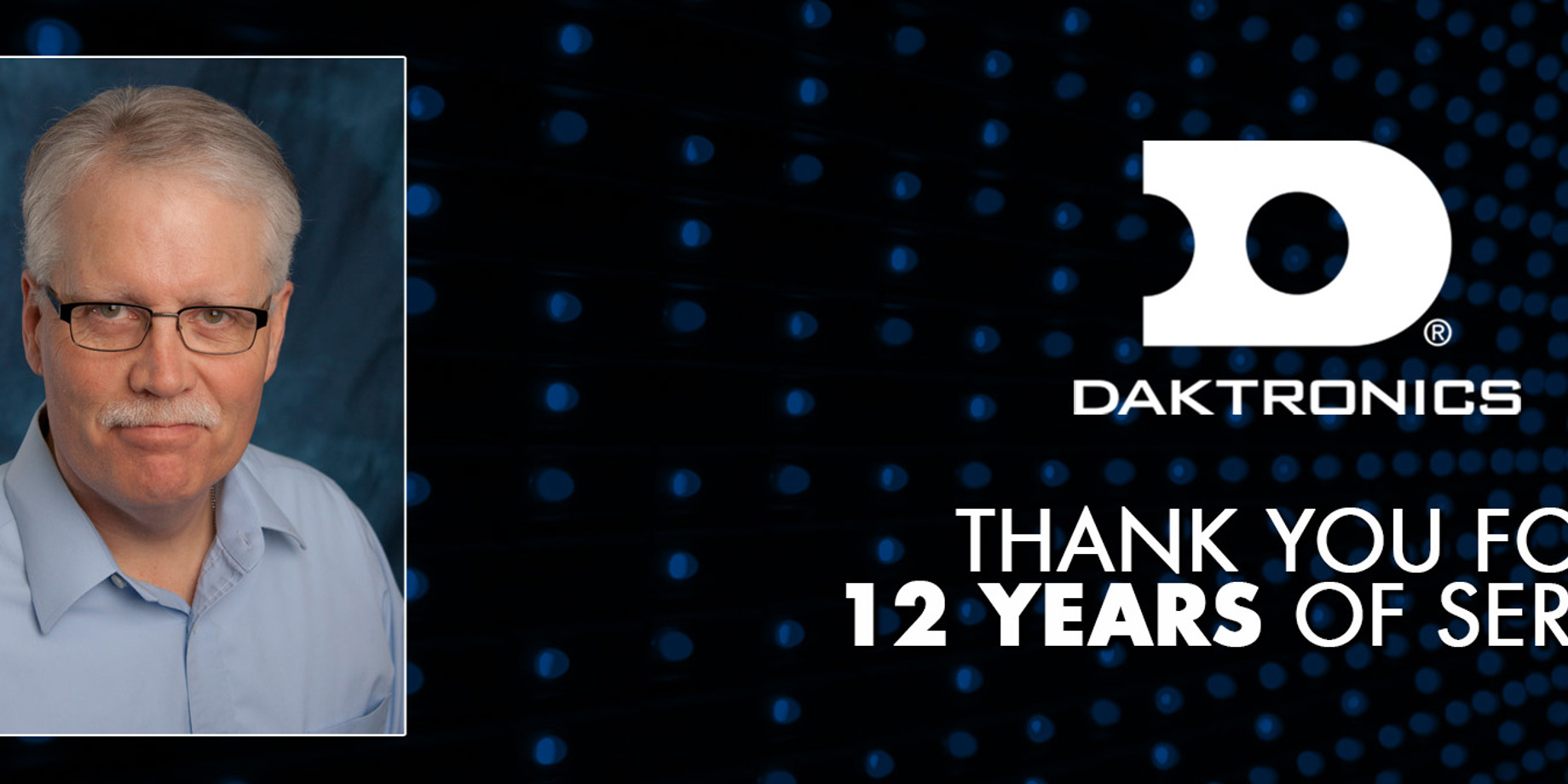 Daktronics congratulates Brad Bonde on his retirement, and thanks him for 12 years of dedicated service. Brad will retire on Friday, 12 June.
Brad grew up in Flandreau, South Dakota, and worked in his parents' department store. Brad said, "That was where I learned the importance of customer service. If you want customers to return and keep doing business, one needs to understand how to treat those important individuals."
Brad then spent over 30 years working in education before deciding to continue his career at Daktronics. His twin daughters, Danee and Davee, worked at Daktronics during their college years, and told their dad if he ever retired from teaching, they knew he would like the atmosphere and work of Daktronics. ​​​​​​​Brad was hired in 2008 as a trainer in Personnel, assisting with customer service and sales training. He then spent time writing The Fix newsletter for Services.
In 2012, Brad began establishing content and animations for the HSPR Market; with assistance from Creative Services and the expertise of HSPR salespeople, he put the HSPR Team Spirit packages into motion.
"Brad's previous career in education gives him insight into the HSPR customer base and how those organizations work," said his supervisor, Angie Wilson. "It allows him a unique perspective on these customers and how we can best meet their needs with the services we provide. A large part of Brad's role is to communicate with these schools and deliver content that meets their needs. With his background, he has the ability to provide insight to these schools on what they may need as they are beginning their video production journey.
"Brad is a very thorough and detailed employee. He is constantly reaching out and seeking information and guidance from those around him and from project team members while also ensuring that customer deadlines are met. It's a tricky balancing act during our busy season and Brad manages it well!"
Brad has enjoyed working with Daktronics salespeople, project managers, quote staff, and video display customers, all while working with content. Through his students and working at Daktronics, Brad said he has learned the people are what makes the work worthwhile.
"You get to have a terrific experience while working with some really incredible folks. I am going to miss that part. Daktronics is an outstanding organization and I am very proud to have worked with this company," he commented.
In retirement, Brad plans to spend time with family, especially his seven grandchildren, and continue to train, show, and sell miniature horses at Bonde's Bouncin' B Acres with his wife Machelle. Brad said, "There are so many fun projects that I am looking forward to getting completed."
Brad, thank you for all your contributions during your time at Daktronics. We appreciate your commitment to customer service and wish you the best in your future endeavors!
---