Digital Versus Static Signage at Event Venues
Exploring the differences of signage and the benefits of going digital at stadiums and arenas.
Justin Ochsner on 6/8/2020
Categories: Pro Sports and Colleges
A shift is taking place at event venues everywhere in terms of signage. While at one time facilities were covering walls and "dead space" with static signage, they are now opting to install digital signage in those and other areas. What's leading to this shift? Let's take a look.

Flexibility
The largest factor is flexibility. Digital displays allow for messages to be changed or adjusted within seconds with the click of a button. Also, multiple sponsors or advertisers can be attained for the same display and location, or on an event-by-event basis. This is especially important for multi-use facilities.
Static signage simply can't change without additional costs and time to install. While static signage is initially an inexpensive option, the price rises every time you need to change the message or a sponsor doesn't renew. And, it is limited to one message at a time for an entire event.
Durability
It also needs to be noted that digital signage can last for many, many years while static signage begins to show wear and colors fade. With every color fade, a sponsor is losing their brand consistency. Digital options will show those correct colors for years to come and can be calibrated after installation to ensure color uniformity. Ensuring the color doesn't fade on static options would include re-printing and additional costs.

Return On Investment (ROI)
With a flexible digital display, more sponsors and advertisers leads directly to more ROI. New sponsors that might not have had the opportunity due to the limited space of static signage might jump on board. These sponsors and advertisers can deliver more targeted messages as well – one message on entryway displays for mass appeal and another to concourses on suite and club level displays. The digital technology also allows for sponsors to brand an entire area of the venue. These options alone could entice more advertisers and generate more revenue.
If sponsors are worried about receiving their dedicated amount of time on the displays, look no further than Daktronics proof of play feature on our Show Control solution. It will share the details of the advertising's playtime.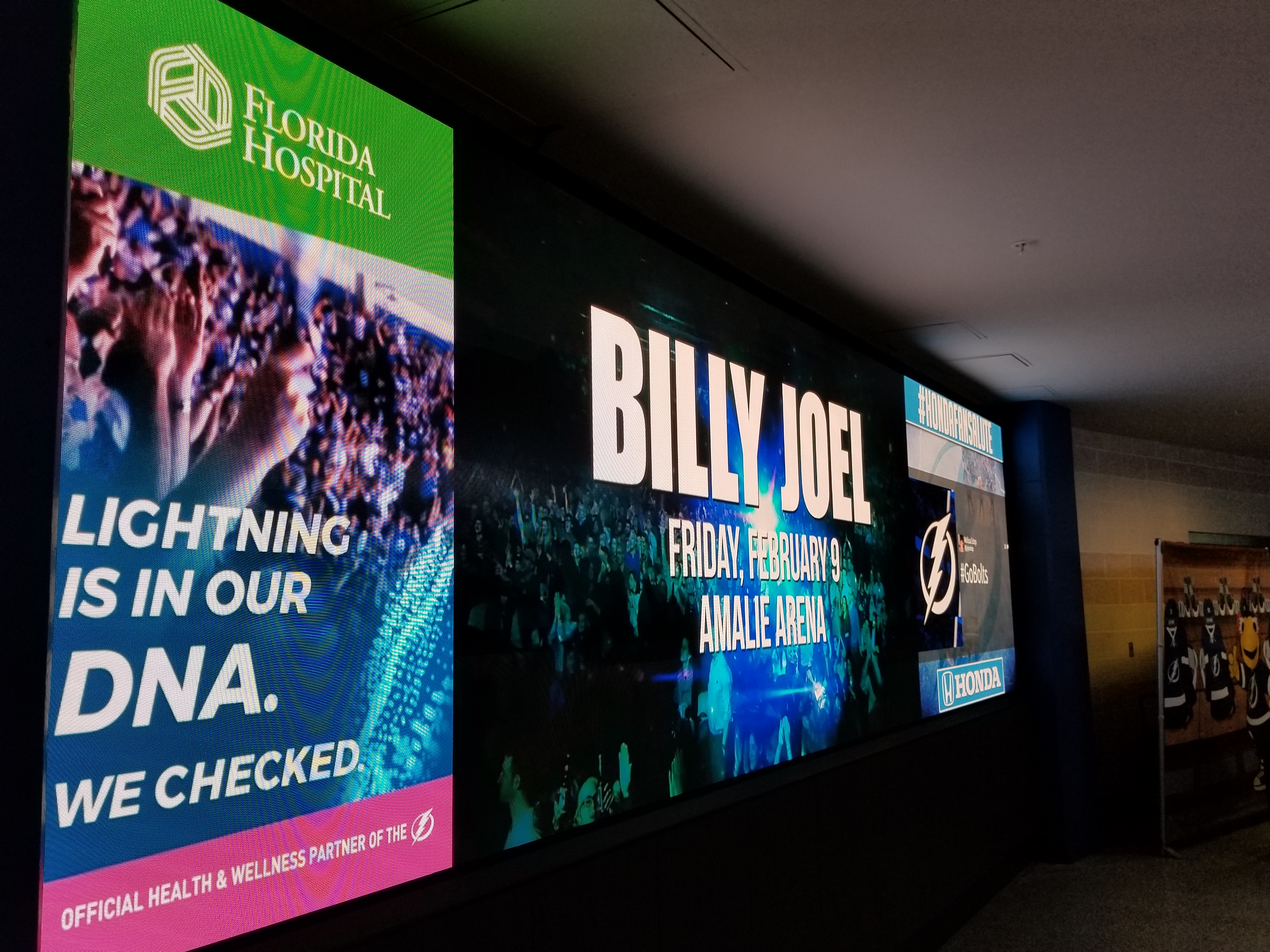 Dynamic Presentations
You should also note that sponsors and advertisers are looking for creative ways to generate brand recognition and connect with audiences during live events. Digital signage provides a much more dynamic presentation than static signage. With subtle movements and animated content options available, catching the attention of their target audience becomes much easier.
These sponsors and advertisers look even better on a digital display that can replicate exact brand colors and make them pop. It puts their brand in a better, more attractive light throughout the venue.

Press Conference Backdrops
One application that has transitioned from static to digital with success is the digital LED backdrop for press conferences. The high-resolution LED technology looks great on TV to share brands with the viewers watching from other locations. This option allows sponsors to get creative and connect with audiences in multiple ways as they build a stronger, mutually-beneficial relationship with teams and venues.
Who is taking advantage of digital LED displays at their venues today?
Many professional venues and teams are taking advantage of digital LED technology to share additional sponsorship messages throughout their facilities.

Mercedes-Benz Stadium went completely digital with zero static signs in their building outside of naming rights lettering. They maximize the versatility of the digital signage when switching from professional football games to professional soccer games, from the college football playoff to the biggest professional football game of the year. They can customize the messaging by simply adjusting the content and clicking a button. They don't have to remove or cover up existing static signage in the process leading to a clean, coordinated presentation for every event.

MetLife Stadium is another venue that hosts two professional teams. Implementing their digital signage allows them the same flexibility to brand the stadium completely one color for one team and then completely a different color the next week for the other team. The digital flexibility saves them time and money in preparing for each team's events.

Ford Field decided to install digital LED technology in a unique way to share their messaging. They call them Super Columns – building support structures that are cylindrical in shape and wrapped with LED technology. These two one-of-a-kind displays can be dedicated real estate for two of their big sponsors to show dynamic messaging and completely brand that area of the venue. They can also be used for special features, rotational sponsorships, eye-catching content and much, much more.
Daktronics engineering came up with a great design and a plan for our Super Columns and we think the results have been outstanding. The products provided by Daktronics and all these video boards give us more ways to engage our fans, and it also helps our team because we can do amazing things now to engage our fans and get them pumped up.
– Todd Argust, Detroit Lions Vice President of Operations.
View the full Detroit Lions testimonial video here.

The Chicago Cubs even decided to implement LED video display technology at Wrigley Field for the first time in the venue's storied 100-plus year history. The change was made to allow the team to provide them with more opportunities to add to the game-day experience for their fans including replays, statistics, content about their players and more.
Our new video boards allowed us to integrate new sponsorship opportunities that we would not have had in the past. Content that we really feel like fans will appreciate, we've now been able to attach a sponsor with which has really helped generate additional revenue.
– Matt Romito, Chicago Cubs Video Display Operations Manager at Wrigley Field
View the full Chicago Cubs testimonial video here.
There really is a plethora of opportunities to capitalize on by implementing digital signage and LED technology into the live event atmosphere. Looking at these reasons and examples, it's easy to see how digital LED technology can help improve the fan experience, game-day atmosphere, and return on investment for venues and sponsors, alike.
---