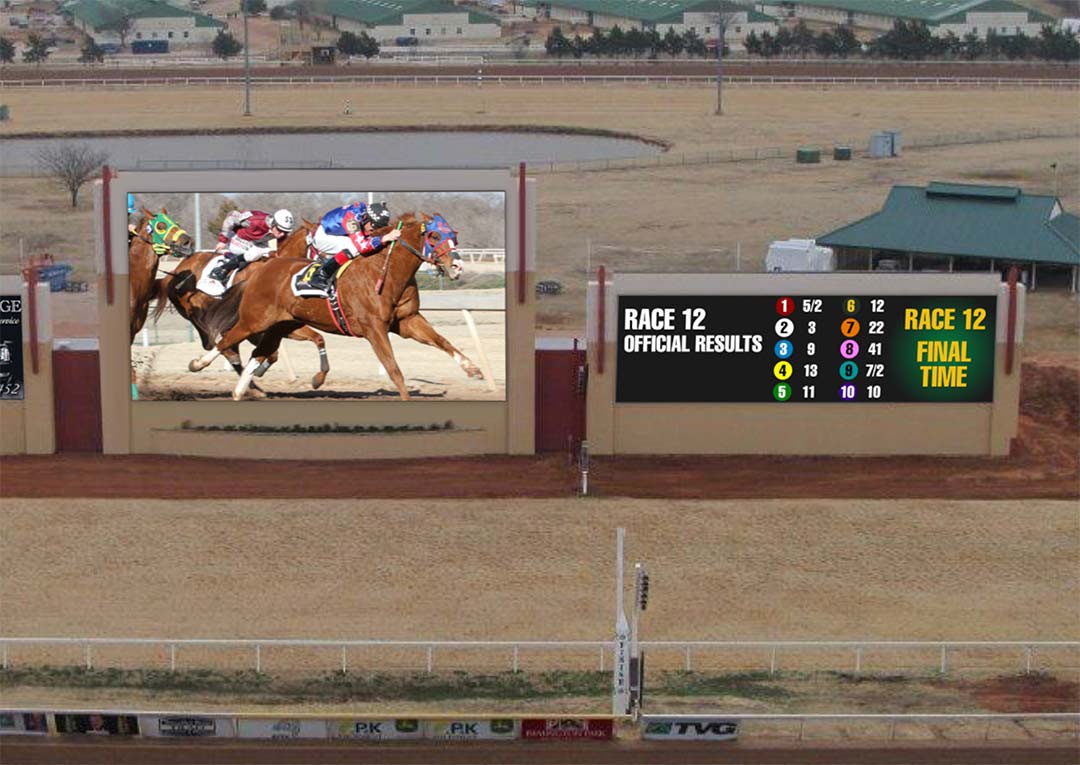 Visual Enhancements Coming to Remington Park from Daktronics
LED displays to deliver real-time updates at horse racing track
BROOKINGS, S.D. – Apr. 10, 2023 – Remington Park, the first world-class parimutuel track in Oklahoma, has turned to Daktronics (NASDAQ-DAKT) of Brookings, South Dakota, to design, manufacture and install two LED displays for the venue in Oklahoma City. Installation is slated for the summer of 2023 to bring the track to life in the fall.
"Remington Park is thrilled to have Daktronics refresh our high-definition infield display screens," said Matt Vance, Remington Park executive vice president of racing operations. "Our guests have enjoyed the presentation these screens offer during racing and other events since 2011 and we look forward to this amenity upgrade."
Located out in the middle of the racetrack, the new main video display will measure approximately 34.5 feet high by 61 feet wide and the new tote display will measure nearly 18 feet high by 61 feet wide. Both feature 10-millimeter pixel spacing to deliver excellent image clarity and contrast as they update viewers on the live racing action.
"We've been delivering top-notch products and services to Remington Park for a number of years and we're excited to continue our long-standing partnership with this new installation," said Perry Grave, Daktronics sales representative. "It's going to be a great addition to an already fantastic venue with improved resolution and improved brightness that will be noticeable to their viewers."
The displays are capable of variable content zoning which allows each to show one large image or to be divided into multiple zones of content. They can show live video, instant replays and photo finishes, up-to-the-minute odds and racing information, graphics and animations and sponsorship messages.
A custom Daktronics control solution, including Venus Control Suite, is integrated with the installation. It includes web-based software for easy display management at any time from anywhere.
​About Daktronics
Daktronics helps its customers to impact their audiences throughout the world with large-format LED video displays, message displays, scoreboards, digital billboards, audio systems and control systems in sport, business and transportation applications. Founded in 1968 as a USA-based manufacturing company, Daktronics has grown into the world leader in audiovisual systems and implementation with offices around the globe. Discover more at www.daktronics.com.
Safe Harbor Statement
Cautionary Notice: In addition to statements of historical fact, this news release contains forward-looking statements within the meaning of the Private Securities Litigation Reform Act of 1995 and are intended to enjoy the protection of that Act. These forward-looking statements reflect the Company's expectations or beliefs concerning future events. The Company cautions that these and similar statements involve risk and uncertainties which could cause actual results to differ materially from our expectation, including, but not limited to, changes in economic and market conditions, management of growth, timing and magnitude of future contracts, and other risks noted in the company's SEC filings, including its Annual Report on Form 10-K for its 2018 fiscal year. Forward-looking statements are made in the context of information available as of the date stated. The Company undertakes no obligation to update or revise such statements to reflect new circumstances or unanticipated events as they occur.