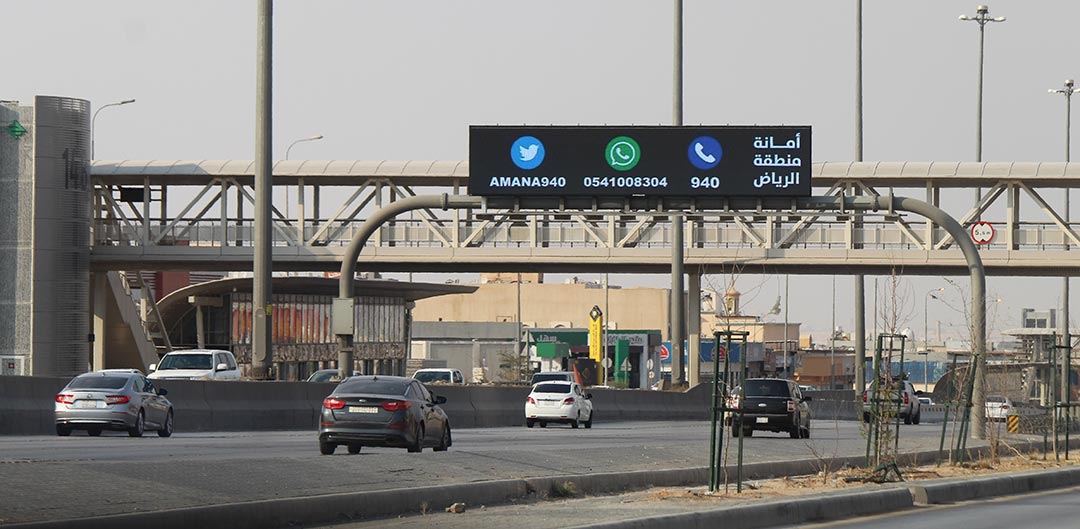 Riyadh Municipality Refreshes Digital Roadway Signage with Daktronics
Ministry of Transportation's intelligent traffic management systems receive latest technology and specifications
BROOKINGS, S.D. – Nov. 1, 2023 – Daktronics has continued a partnership with the Ministry of Transportation and Riyadh Municipality to design, manufacture and deliver 60+ Variable Message Signs (VMS) around the city of Riyadh in Saudi Arabia. The project was installed throughout 2023 and is currently displaying messages and guiding motorists in the region. 
These signs bring optimal viewing angles for passing traffic and pedestrians in key areas of Riyadh as well as improved legibility of text, graphics, logos and other approved visuals. They integrate with other systems within the municipality's centralized controlling system and the adaptation of full color, multi-functional VMS allows the flexibility to show variable speed limits, travel time, lane control indicators, up-to-date warnings and more. 
"Riyadh Municipality is always keen to adopt the latest technologies within their facilities and systems," said Ahmad Dahmash, Daktronics regional director for the Middle East. "Doing so improves the intelligence technologies and uses advanced innovations which contribute to improving the Saudi capital within the framework of the Saudi 2030 vision goals to transfer Riyadh to a smart digital sustainable city to increase the road safety to all the motorists, implement intelligent mobility and enhance the commuters' journey and experience."
Daktronics partners with our customers to provide world-leading dynamic digital displays. Agencies can guide passengers efficiently to their next destinations, communicate day-to-day changes, promote facilities and make patrons feel welcome. Daktronics has experience designing and installing as well as offering a complete range of display technologies including message signs and video systems for these varying applications.

About Daktronics
Daktronics helps its customers to impact their audiences throughout the world with large-format LED video displays, message displays, scoreboards, digital billboards, audio systems and control systems in sport, business and transportation applications. Founded in 1968 as a USA-based manufacturing company, Daktronics has grown into the world leader in audiovisual systems and implementation with offices around the globe. Discover more at www.daktronics.com.