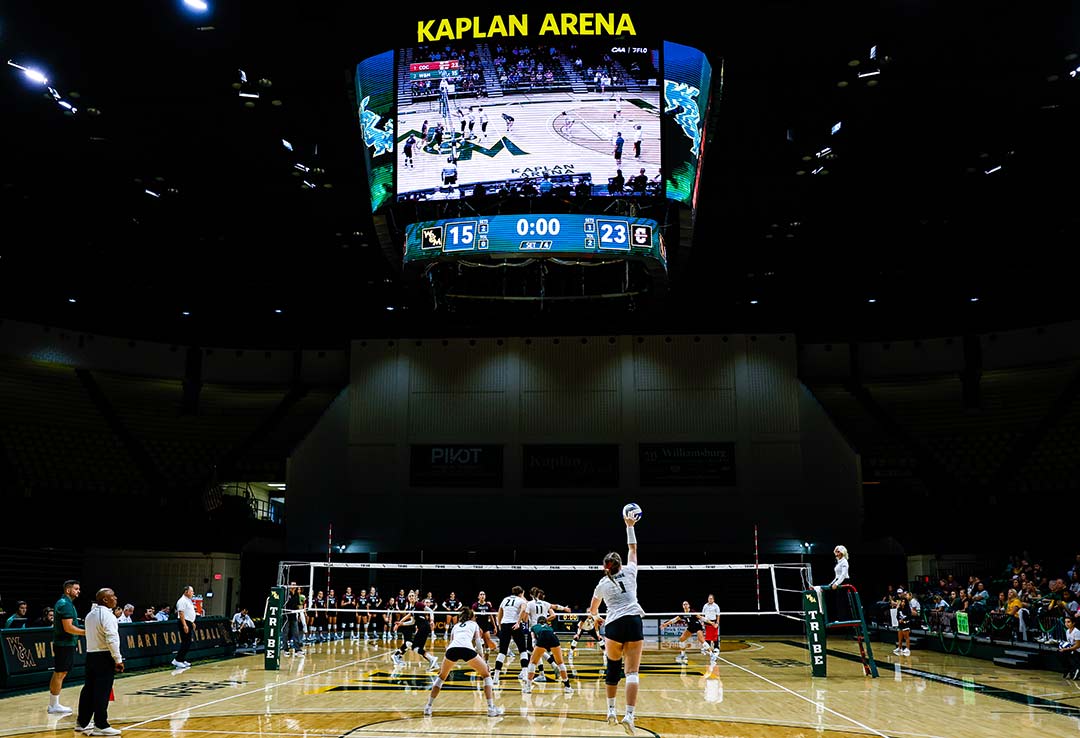 New Centerhung Experience Add at William & Mary from Daktronics
Nine displays totaling 1,000+ square feet of LED technology to entertain Tribe fans
BROOKINGS, S.D. – Nov. 6, 2023 – To inform and entertain William & Mary fans, Daktronics (NASDAQ-DAKT) of Brookings, South Dakota, was selected by William & Mary to design, manufacture and install a nine-display centerhung system at Kaplan Arena in Williamsburg, Virginia, ahead of the fall sports season. The centerhung features more than 1,000 total square feet and 2.6 million pixels of digital display space.
"We expected the video board to bring an improved experience for our student-athletes and fans, but the centerhung board has greatly exceeded our expectations and has brought a new level of enjoyment to events in Kaplan Arena," says Brian D. Mann, William & Mary's director of athletics. "The brilliant sharpness of the displays and the ability to show in-game highlights as well as recognize our sponsors, all confirm we made the right decision to go with Daktronics."
Centerhung Details
The centerhung consists of four main video displays, four corner displays and a lower ring display. Each of the main video displays measure 10 feet high by 16.5 feet wide while each of the corner displays measure 10 feet high by 5 feet wide as they fill the space between the main displays. The lower ring measures 2.5 feet high by 64 feet in circumference. All nine displays feature 5.9-millimeter pixel layouts. 
"We are pleased to be part of this exciting renovation of the sporting event experience at Kaplan Arena," said Charley Bocklet, Daktronics region manager. "The fans and athletes have waited a long time for a first-class, full video centerhung. The new system is sure to provide William & Mary fans enjoyment for years to come."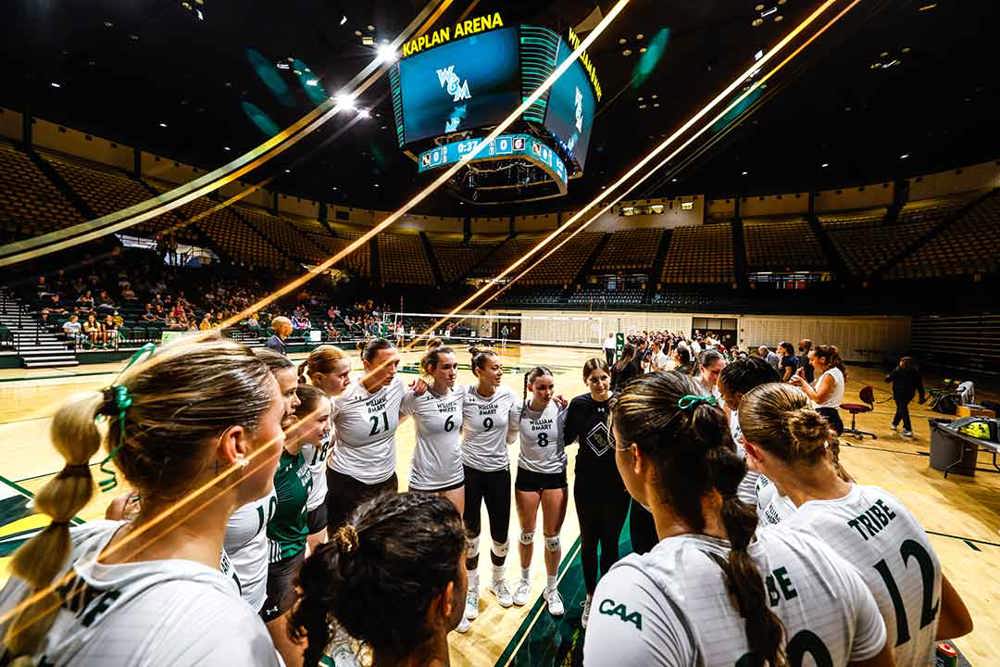 The main displays are capable of variable content zoning which allows each to show one large image or to be divided into multiple zones to show any combination of live video, instant replays, up-to-the-minute statistics, graphics, animations and sponsorship messages. 
The corner displays and ring display allow the opportunity to highlight sponsors and partners throughout events. They can also show supplemental graphics and information to main video displays to keep fans engaged and entertained. 
Daktronics also included a complete Show Control solution. This industry-leading control system provides a combination of display control software, world-class video processing, data integration and playback hardware that forms a powerful yet user-friendly production solution. For more information on Show Control, visit www.daktronics.com/show.
Included with the equipment installation, the Tribe received a content package to be produced and delivered by Daktronics Creative Services.
Daktronics has grown with the sports industry from the company's beginnings in 1968. Today, the company has LED video display installations at hundreds of colleges and universities across the United States. For more information on what Daktronics can provide for the collegiate market, visit www.daktronics.com/college.
About William & Mary
Founded by Royal Charter in 1693, William & Mary is the first university in the United States and the Alma Mater of the Nation. Providing the most personal educational experience of any public university, W&M combines the depth and breadth of a liberal arts and sciences education with the disciplined exploration and innovation of a leading, global research university. A vibrant and inclusive community, William & Mary cultivates creative thinkers, principled leaders, and compassionate global citizens equipped for lives of meaning and distinction. As a "Public Ivy," the university convenes great minds and hearts to meet the most pressing needs of our time.
About Daktronics
Daktronics helps its customers to impact their audiences throughout the world with large-format LED video displays, message displays, scoreboards, digital billboards, audio systems and control systems in sport, business and transportation applications. Founded in 1968 as a USA-based manufacturing company, Daktronics has grown into the world leader in audiovisual systems and implementation with offices around the globe. Discover more at www.daktronics.com.