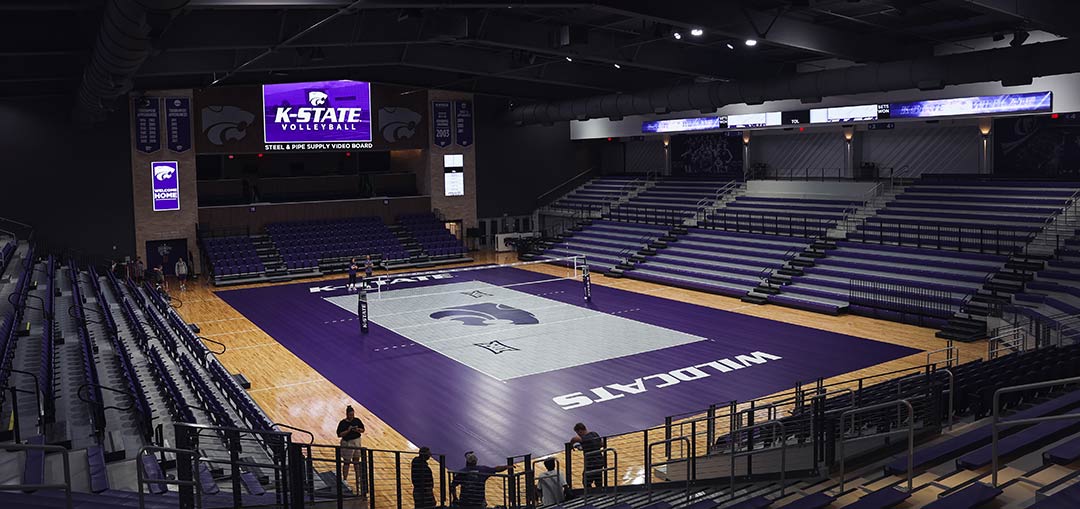 Kansas State University is Set for Volleyball Season With Daktronics Displays
Main and auxiliary displays, ribbons, and scorers tables ready to enhance every match experience
BROOKINGS, S.D. – Aug. 31, 2023 – When Kansas State University Wildcats fans return to Morgan Family Arena on campus in Manhattan, Kansas, they'll be greeted by 14 new LED displays designed and manufactured by Daktronics (NASDAQ-DAKT) of Brookings, South Dakota. The project was recently completed ahead of the fall sports season and is ready for action.
"We are looking forward to opening the new Morgan Family Arena this weekend," Athletics Director Gene Taylor said. "Our fans will have a first-class experience when attending matches in this beautiful facility, and a big part of that will be the 14 new Daktronics LED displays throughout the arena. We appreciate them being great partners and helping provide an atmosphere that we believe will be the envy of college volleyball programs around the country."
Video Display Details
Four video displays were added to Morgan Family Arena for the 2023 season with one located on each end and one located on each side. The west main display measures 14 feet high by 26.5 feet wide and the east main display measures 10 feet high by 23 feet wide. On each side of the arena, the auxiliary displays each measure 5 feet high by 10 feet wide. All four displays feature 5.9-millimeter pixel spacing to deliver crisp, clear imagery to fans in every seat. 
These video displays are capable of variable content zoning which allows each to show one large image or to be divided into multiple zones of content. This means they can show live video, instant replays, up-to-the-minute statistics and game information, graphics and animations, and sponsorship messages – all the information fans crave that immerse them in the live action.
"Building a new game-day experience is always an exciting task and these LED displays at Morgan Family Arena are sure to deliver for K-State and their fans," said Ryan Kuzman, Daktronics sales representative. "We're extremely excited to continue our partnership with the university and its athletics department as they continue to set the bar high for their live events, and this project is no exception."
Additional Displays
On each side of the arena, two ribbon displays are mounted to the seating fascia. Each features 10-millimeter pixel spacing and measures 2.5 feet high by 88.5 feet wide. Additionally, along the sidelines at court level, eight LED scorers tables were installed. These displays each feature 5.9-millimeter pixel spacing and measure 2.5 feet high by 10 feet wide. They can be arranged in any configuration to meet the needs of events held at the arena. These displays also provide the opportunity to share additional statistics and graphics while also highlighting sponsors throughout events. 
Rounding out the installation, eight locker room clocks were included to keep everyone aware of the pace of play and on time for each match.
Included in the equipment installation, K-State will also receive a content package to be produced and delivered by Daktronics Creative Services, an in-house, award-winning creative team.
Daktronics has grown with the sports industry from the company's beginnings in 1968. Today, the company has LED video display installations at hundreds of colleges and universities across the United States. For more information on what Daktronics can provide for the collegiate market, visit www.daktronics.com/college.
​About Daktronics
Daktronics helps its customers to impact their audiences throughout the world with large-format LED video displays, message displays, scoreboards, digital billboards, audio systems and control systems in sport, business and transportation applications. Founded in 1968 as a USA-based manufacturing company, Daktronics has grown into the world leader in audiovisual systems and implementation with offices around the globe. Discover more at www.daktronics.com.
Safe Harbor Statement
Cautionary Notice: In addition to statements of historical fact, this news release contains forward-looking statements within the meaning of the Private Securities Litigation Reform Act of 1995 and are intended to enjoy the protection of that Act. These forward-looking statements reflect the Company's expectations or beliefs concerning future events. The Company cautions that these and similar statements involve risk and uncertainties which could cause actual results to differ materially from our expectation, including, but not limited to, changes in economic and market conditions, management of growth, timing and magnitude of future contracts, and other risks noted in the company's SEC filings, including its Annual Report on Form 10-K for its 2018 fiscal year. Forward-looking statements are made in the context of information available as of the date stated. The Company undertakes no obligation to update or revise such statements to reflect new circumstances or unanticipated events as they occur.