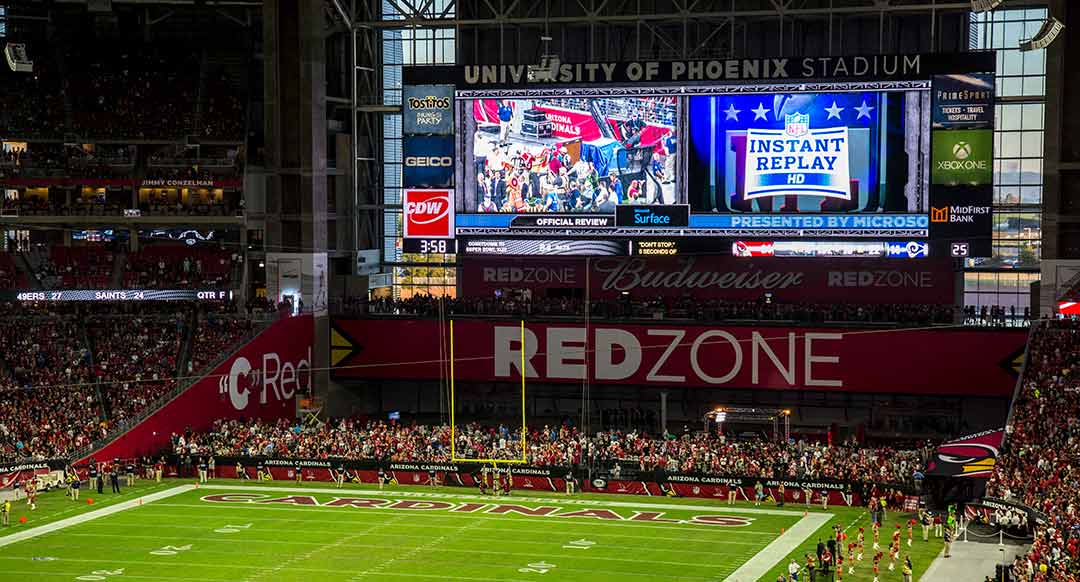 Football's Big Game Held at Daktronics-Equipped Venue in Arizona
State Farm Stadium installed new end zone display, ribbon displays ahead of hosting this year's football championship
BROOKINGS, S.D. – Feb. 6, 2023 – Daktronics (NASDAQ-DAKT) of Brookings, South Dakota, has equipped many football stadiums with LED displays and technology to support live events of all kinds and to enhance the experience for all in attendance. When football's championship game kicks off on February 12, 2023, at State Farm Stadium, home of the Arizona Cardinals, the company's products and services will support the 18th of the past 19 big games.
"These big games and exciting moments in sports are why we strive to provide the best products and services available on the market today," said Daktronics Vice President of Live Events Jay Parker. "State Farm Stadium now has a full season under its belt with new displays and they are ready to put on the best show possible for football's biggest and final game of the season. We're proud to play a part in the overall experience they provide and look forward to a great game!"
Daktronics will have a service technician on site starting February 6-9 to help prepare for the game. Three technicians will be at the stadium February 10-12 for pre-event checks, dress rehearsal and support during the game to ensure everything operates as expected and are available to jump in if their help is needed for a smooth production.
In the summer of 2022, a new north end zone display was installed at State Farm Stadium. It measures 30 feet high by 117 feet wide, an increase of 44% over the previous display. Two ribbon displays were also installed along the seating fascia to provide additional statistics, graphics and information.
In total, the venue features 19 displays that combine for more than 20,700 square feet of digital real estate. These displays will connect with fans as they arrive and captivate and entertain them while they watch professional football's biggest game. 
​About Daktronics
Daktronics helps its customers to impact their audiences throughout the world with large-format LED video displays, message displays, scoreboards, digital billboards, audio systems and control systems in sport, business and transportation applications. Founded in 1968 as a USA-based manufacturing company, Daktronics has grown into the world leader in audiovisual systems and implementation with offices around the globe. Discover more at www.daktronics.com.
Safe Harbor Statement
Cautionary Notice: In addition to statements of historical fact, this news release contains forward-looking statements within the meaning of the Private Securities Litigation Reform Act of 1995 and are intended to enjoy the protection of that Act. These forward-looking statements reflect the Company's expectations or beliefs concerning future events. The Company cautions that these and similar statements involve risk and uncertainties which could cause actual results to differ materially from our expectation, including, but not limited to, changes in economic and market conditions, management of growth, timing and magnitude of future contracts, and other risks noted in the company's SEC filings, including its Annual Report on Form 10-K for its 2018 fiscal year. Forward-looking statements are made in the context of information available as of the date stated. The Company undertakes no obligation to update or revise such statements to reflect new circumstances or unanticipated events as they occur.