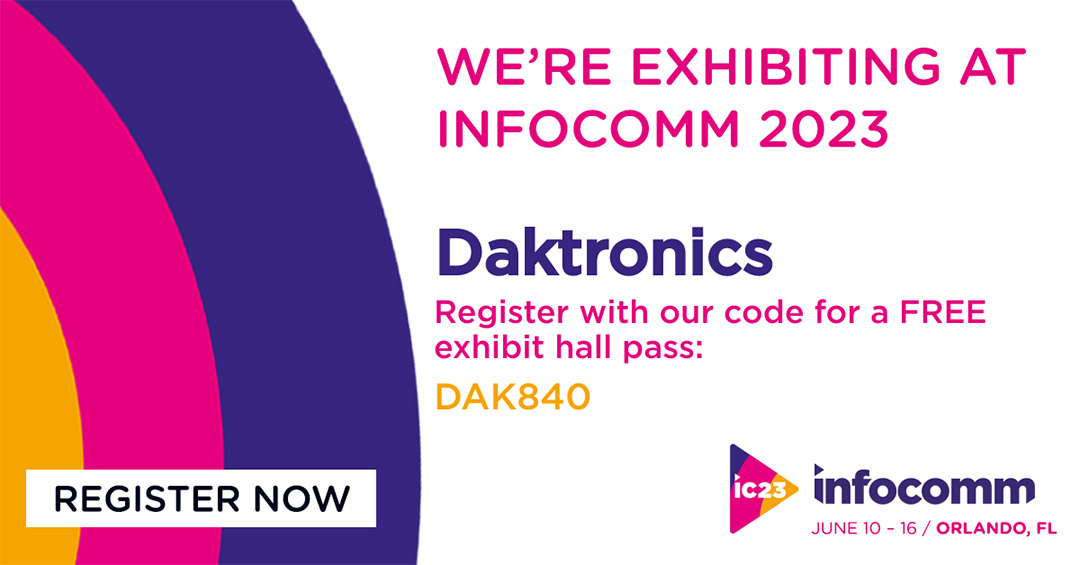 dvLED Products and Building AV Channel Relationships with Daktronics at InfoComm 2023
Discover the latest in LED technology and AV integration at Booth 3226
BROOKINGS, S.D. – June 5, 2023 – As the AV industry prepares for InfoComm 2023, the largest pro-AV trade show in North America, Daktronics (NASDAQ-DAKT) of Brookings, South Dakota, is ready to share the latest in dvLED products and technology as well as the strides the company is making within the AV channel at Booth 3226. The show takes place June 14-16 at the Orange County Convention Center in Orlando, Florida.
The AV industry continues to crave tighter and tighter pixel spacings to deliver more versatile, better-looking products for all of the wide range of applications the industry is seeing. These requirements have pushed dvLED (direct view LED) into the forefront of AV professionals' minds when looking for products to fit their needs. As such, Daktronics continues to innovate and engineer solutions to meet those ever-evolving needs.
"We're here to serve our AV integrator partners with the best possible LED solutions," said Jim Vasgaard, Daktronics national sales manager for the AV sales channel. "Whether that means innovating new dvLED options to our product lines or delivering better, faster ways for AV teams to install our products so they are up and running for their customers, we're stepping up to the plate to build those solutions and to help make their lives easier on the project site."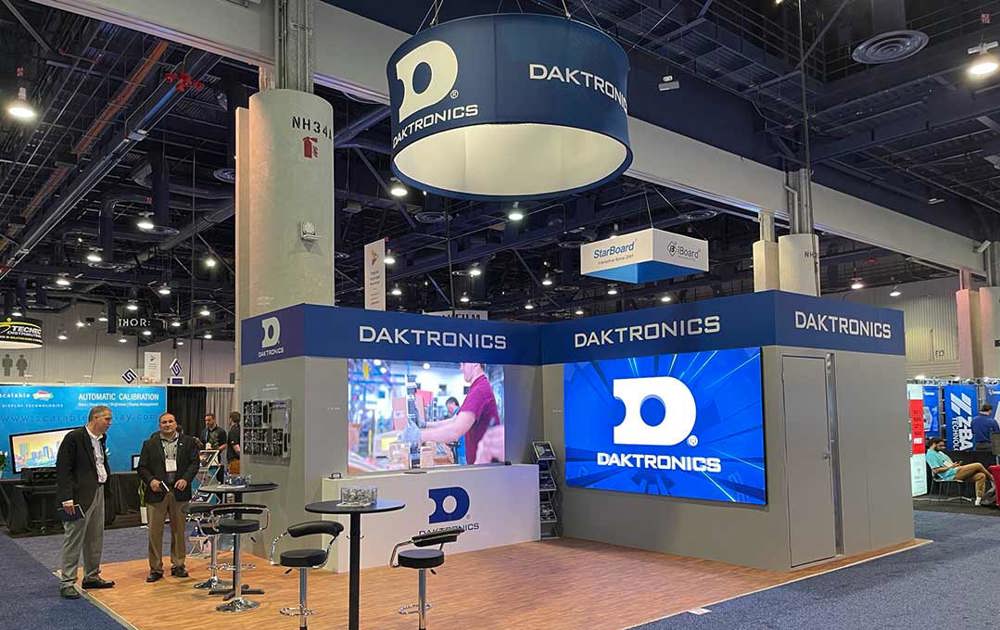 With the ever-tighter pixel pitches in mind, the company will feature two displays with pixels spaced less than one millimeter apart at 0.7- and 0.9-millimeter pixel spacings. These displays feature IMD (Integrated Matrix Device) technology consisting of red, green and blue pixels mounted in a 2x2 array to achieve extremely close pixel spacing. The company will also be showing an LED floor screen that can be walked on by attendees for those advanced applications where standing on a display can introduce a special wow factor.
Not so long ago, Daktronics introduced a speed frame wall mounting process to streamline installations for nearly half the time as traditional methods. The company also brought an all-in-one smart display line to market for quick and easy installation of a fine pitch LED product.
"These recent developments are part of our company's long-standing dedication to learn from the AV market in order to deliver the best possible products and services for the AV market," added Vasgaard. "If you're for a cup of coffee, come on by, grab a cup and catch up with everything Daktronics has to offer."
For more information regarding Daktronics at InfoComm 2023, or to schedule a meeting during the show, please visit www.daktronics.com/infocomm.
​About Daktronics
Daktronics helps its customers to impact their audiences throughout the world with large-format LED video displays, message displays, scoreboards, digital billboards, audio systems and control systems in sport, business and transportation applications. Founded in 1968 as a USA-based manufacturing company, Daktronics has grown into the world leader in audiovisual systems and implementation with offices around the globe. Discover more at www.daktronics.com.
Safe Harbor Statement
Cautionary Notice: In addition to statements of historical fact, this news release contains forward-looking statements within the meaning of the Private Securities Litigation Reform Act of 1995 and are intended to enjoy the protection of that Act. These forward-looking statements reflect the Company's expectations or beliefs concerning future events. The Company cautions that these and similar statements involve risk and uncertainties which could cause actual results to differ materially from our expectation, including, but not limited to, changes in economic and market conditions, management of growth, timing and magnitude of future contracts, and other risks noted in the company's SEC filings, including its Annual Report on Form 10-K for its 2018 fiscal year. Forward-looking statements are made in the context of information available as of the date stated. The Company undertakes no obligation to update or revise such statements to reflect new circumstances or unanticipated events as they occur.