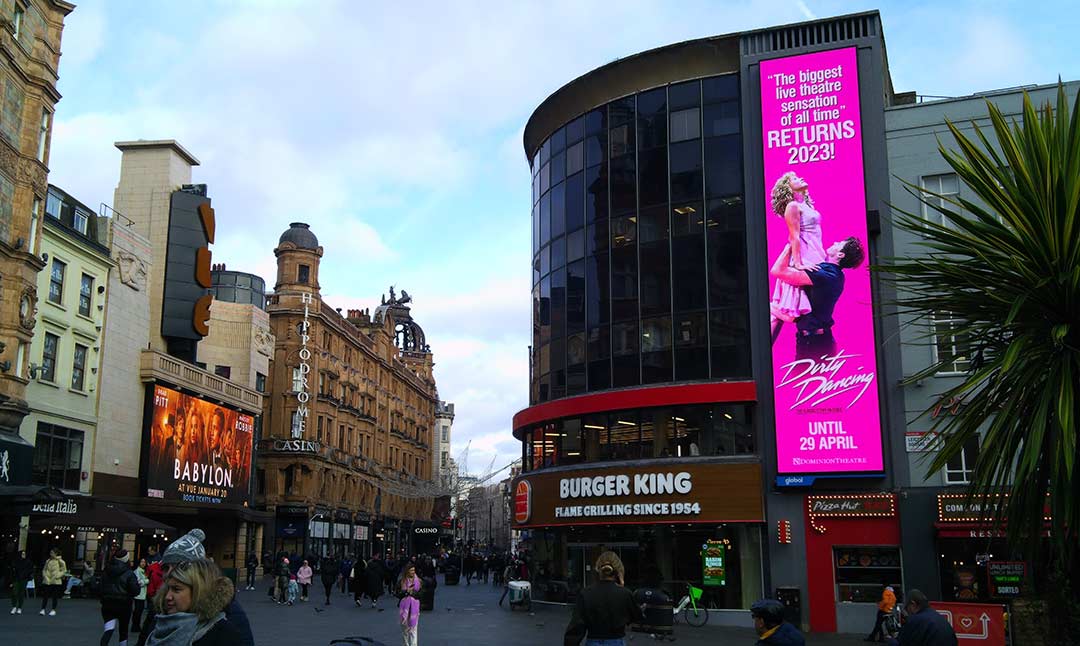 Daktronics Delivers Video Display Experience at SOHO Estates
Two LED displays added to building's exterior to delight audiences
BROOKINGS, S.D. – Feb. 15, 2023 – Daktronics has partnered with SOHO Estates Portfolio Limited to deliver an enhanced visual experience on the exterior of its building in London. The installation is currently taking place and will soon be switched on to share messaging and information with people passing by this prime location within the city.
"We are delighted to add these screens to this vibrant area of London. The screens aim to promote new and innovative ideas. Leicester Square is a cinematic destination and Soho Estates is happy to enhance this." John James, Managing Director, Soho Estates Limited.
"These displays bring an exciting and enticing view to messages being shared in London," said Patrick Halliwell, Daktronics regional director. "Working with SOHO Estates has been a great experience and we're looking forward to the commissioning of these new displays to bring light to this great location."
Each of the two LED displays will measure 12.8 meters high by 2.88 meters wide and feature 6-millimeter pixel spacing to deliver crisp, clear imagery to people as they pass by this location. They feature industry-leading environmental protection to ensure they operate as expected in the outdoor elements of London.
Daktronics provides digital technology solutions that offer flexible scheduling for multiple advertisers as well as quick and easy changes in content, as can be seen by installations such as the Piccadilly Lights. Additional services provided to the OOH industry add value and generate revenue for customers. For more information on digital billboard technology, visit www.daktronics.com/OOH.
​About Daktronics
Daktronics helps its customers to impact their audiences throughout the world with large-format LED video displays, message displays, scoreboards, digital billboards, audio systems and control systems in sport, business and transportation applications. Founded in 1968 as a USA-based manufacturing company, Daktronics has grown into the world leader in audiovisual systems and implementation with offices around the globe. Discover more at www.daktronics.com.
Safe Harbor Statement
Cautionary Notice: In addition to statements of historical fact, this news release contains forward-looking statements within the meaning of the Private Securities Litigation Reform Act of 1995 and are intended to enjoy the protection of that Act. These forward-looking statements reflect the Company's expectations or beliefs concerning future events. The Company cautions that these and similar statements involve risk and uncertainties which could cause actual results to differ materially from our expectation, including, but not limited to, changes in economic and market conditions, management of growth, timing and magnitude of future contracts, and other risks noted in the company's SEC filings, including its Annual Report on Form 10-K for its 2018 fiscal year. Forward-looking statements are made in the context of information available as of the date stated. The Company undertakes no obligation to update or revise such statements to reflect new circumstances or unanticipated events as they occur.