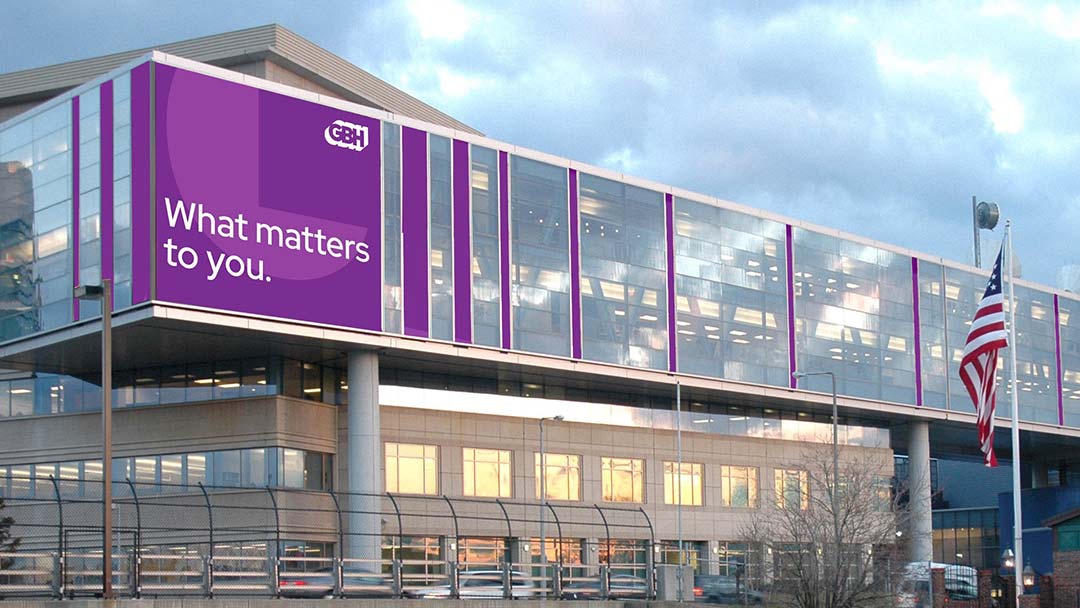 Daktronics Delivers Marquee Display and Architectural Sliver Displays for GBH in Boston
14 displays light up headquarters building along Interstate 90
BROOKINGS, S.D. – Mar. 20, 2023 – Working with GBH in Boston, a non-profit public broadcasting company, Daktronics (NASDAQ-DAKT) of Brookings, South Dakota, designed, manufactured and installed 14 LED displays for the company's headquarters in 2022. The marquee display and architectural sliver displays are visible to eastbound lanes of Interstate 90 heading into Boston, Massachusetts.
"I can now monitor the health of the mural and change content from my phone," said Glenn Heath, senior manager of engineering and broadcast operations for GBH Radio and Television.
The marquee display, dubbed the GBH Mural, features GBH branding, event promotion and messaging with static-only content creating a digital mural effect. During the night-time hours, stars and other night-themed content is shown on the display.
The sliver displays are narrow and tall and span outward from the marquee display to share supporting, eye-catching color and create an aesthetically-pleasing ambiance along the building's exterior.
"This project is nothing short of refreshing a landmark display in a well-known area of Boston," said Bob Messier, Daktronics sales representative. "It was great to work with the team at GBH as they were very accommodating to the needs of the project including access to the area and staging space to work within. Our teams were able to collaborate seamlessly and adapt to the conditions to deliver this amazing new GBH Mural."
The main focal point of the installation is a marquee display measuring 30 feet high by 35 feet wide on the corner of the building. Thirteen vertical sliver displays – 10 to the right and three around the corner to the left of the marquee – are installed to complete the architect's vision for the façade. These displays all measure 30 feet high and range in width with nine at 1.2 feet, two at 2.5 feet and two at 3.5 feet wide. All displays feature 16-millimeter pixel spacings.
Daktronics products are extensively tested for environmental protection to ensure they operate as expected in any form of weather. The company's reliability lab tests products and components past the point of failure in order to improve product design for the best results after installation.
"One reason we chose Daktronics is how their displays are manufactured as enclosed cabinets," added Heath. "On traditional displays, the panels are attached to a frame which is open in the back. Our previous mural ran into issues with power supplies corroding and failing because of the exposure to weather. With our mural located high on the building, it was getting costly to rent a lift every time we needed to replace one. We felt Daktronics design provided better protection from the elements."
The GBH Mural is an eco-friendly digital landmark designed to brighten the ride for commuters with a theme a day that provokes thought, inspires curiosity, and reflects the content and values of public media. It exemplifies the company's goal of engaging the communities they serve.
About GBH in Boston
GBH is the leading multiplatform creator for public media in America. As the largest producer of content for PBS and partner to NPR and PRX, GBH delivers compelling experiences, stories and information to audiences wherever they are. Headquartered in Boston, GBH has been recognized with hundreds of the nation's premier broadcast, digital and journalism awards. Find more information at gbh.org.
About Daktronics
Daktronics helps its customers to impact their audiences throughout the world with large-format LED video displays, message displays, scoreboards, digital billboards, audio systems and control systems in sport, business and transportation applications. Founded in 1968 as a USA-based manufacturing company, Daktronics has grown into the world leader in audiovisual systems and implementation with offices around the globe. Discover more at www.daktronics.com.