Where's Teddy At? – A RoughRiders Original
Across the country, Minor League Baseball (MiLB) is known for providing major entertainment for their fans. From family friendly theme nights to quirky fan games, MiLB has it all! The Frisco RoughRiders, in particular, are known for keeping fans guessing when it comes to using their Daktronics system for creative and interactive games. Two theme […]
Daktronics Control Panel on 5/31/2018
Categories: Pro Sports and Colleges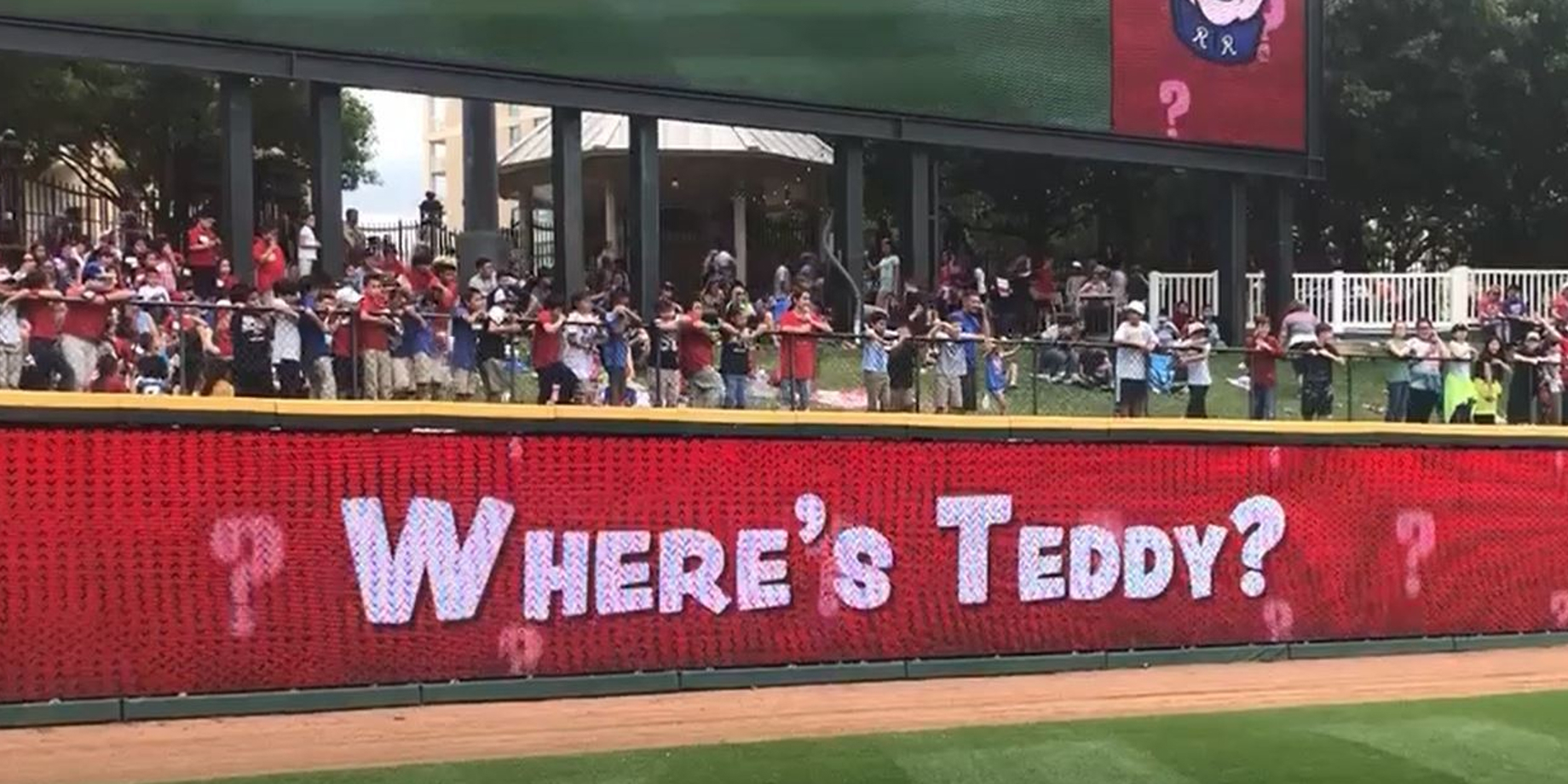 Across the country, Minor League Baseball (MiLB) is known for providing major entertainment for their fans. From family friendly theme nights to quirky fan games, MiLB has it all! The Frisco RoughRiders, in particular, are known for keeping fans guessing when it comes to using their Daktronics system for creative and interactive games. Two theme nights from earlier this year included a terrifying Jurassic Park backdrop in Are You Faster than a T-Rex? and the race against a bouncing SpongeBob SquarePants.
More recently, the RoughRiders partnered with our Creative Services team to produce yet another exclusive game for their fans called Where's Teddy? A spoof of the popular children's book Where's Waldo?, the game of Where's Teddy? allows two fans to compete against each other to find Teddy, the team's beloved mascot, as he hides among the western frontier on two of the stadium's outfield displays. If you haven't seen it, it's worth a watch!
Creative Services Account Manager Brett Hansen has worked with the RoughRiders for four years and enjoys watching them maximize their Daktronics display and control systems. However, it's even more rewarding when he can collaborate with the team to implement original ideas like this.
"After watching the races with a few co-workers, we started talking about ideas for other interactive games," said Brett. "Our team had an idea for a Where's Waldo?-type game where the contestant would run to each display and look for a hidden object. After finding the hidden object they would run to the next display. I ran the original idea by Garrett Young (Manager of Game Entertainment) with the RoughRiders. We settled on a concept and our team began production."
With a deep understanding of the control and display systems, all Creative Services needed was the display dimensions. From there, the digital artists designed, tested and delivered each piece in the recommended file formats and ready for use! However, Brett does emphasize that projects like this require a lot of collaboration.
"Since the point of the contest was for a contestant to chase after Teddy, we wanted to do some tests to make sure he wasn't too small/big or slow/fast," explained Brett. "We first created a rough draft with a background and a simple 2D character and sent the file. They recorded an intern trying the contest and we realized we needed to make a few tweaks. We then sent a second version that worked perfectly."
Interactive games like Where's Teddy? are a great example of how flexible and powerful Daktronics Show Control system is when combined with unique ideas. These types of applications always help to take the overall fan experience to a new level.
Brett would encourage all customers, regardless of the type of control system they use, to reach out to their Creative Services Account Manager if they are interested in implementing content of this type.
"If you have an idea for an entertaining contest, don't hesitate to engage your Creative Services rep," encourages Brett. "We can first check with an Applications Engineer or Control Systems Specialist to make sure you have the necessary equipment to pull it off. Even if you can't do your original idea, we might be able to offer suggestions to make the game easier to execute."
A special word of thanks to the RoughRiders for keeping us on our toes! Who knows where Teddy…I mean…where the RoughRiders will take us next this season!
---